The goal at Xometry always been to create a platform that is predictable in quality, time, and experience for our customers as well as consistent, profitable work for our partners. This takes scale and critical mass to achieve. Over the past half decade, thousands of customers and manufacturing partners have told us what is needed to make an on-demand, distributed model work. Our hundreds of brilliant minds have disseminated and incrementally introduced and tested the tools necessary for a company to produce work blindly with a new vendor. Our partners now have access to thousands of customers and our customers gained access to an enormous supply base with over 2,500 machine shops, 3d printing services, and injection molding companies with diversified offerings ranging from CNC machining, lathe, EDM, waterjet, laser cutting, SLS, SLA, FDM, DMLS, PolyJet, sheet metal fabrication, urethane casting, and injection molding — say all that 3-times fast.

The core technology our now merged companies has produced is trust. You trust our pricing algorithms are within range due to the efforts of our data science team, you trust we will place your work with the best vendor for the job (and vice versa) and if there is ever a problem, you trust we will correct it respectfully on both sides. This is something that scale and consolidation brings, and we are beyond excited for what the future holds.
Our technology is simple in proposition and extremely robust. We have invested millions building the best pricing, communication, and supplier matching platform available on the nation's largest network of manufacturing partners. Behind this, we have built best-in-class supply chain, engineering, partner, and operations teams to make sure what you ordered is what you get when you want it, as well as giving our partners a shoulder to lean on with expert advice. Even sweeter is that we aren't doing this on our own machines. We are doing it on machines owned and operated by talented machinists and manufacturers from across the country, helping increase capacity utilization throughout America's supplier base.
There is still so much work to do. We must aim to innovate faster than the thinking behind the parts that come to us. We must stay ahead of innovation in order to deliver today's products tomorrow. This is a hard task, as the landscape of part making is growing in order quantity and complexity.
How We Got Here
Since the 2008 recession, orders and capacity are tracking much more closely. There has been an approximate 3% capacity utilization drop in the past 5 years while orders saw a moderate increase. The dramatic capacity utilization increases prior to the recession and tightening post-recession points to an increased commitment to efficiencies, leaner principles, and investment in technology among manufacturers.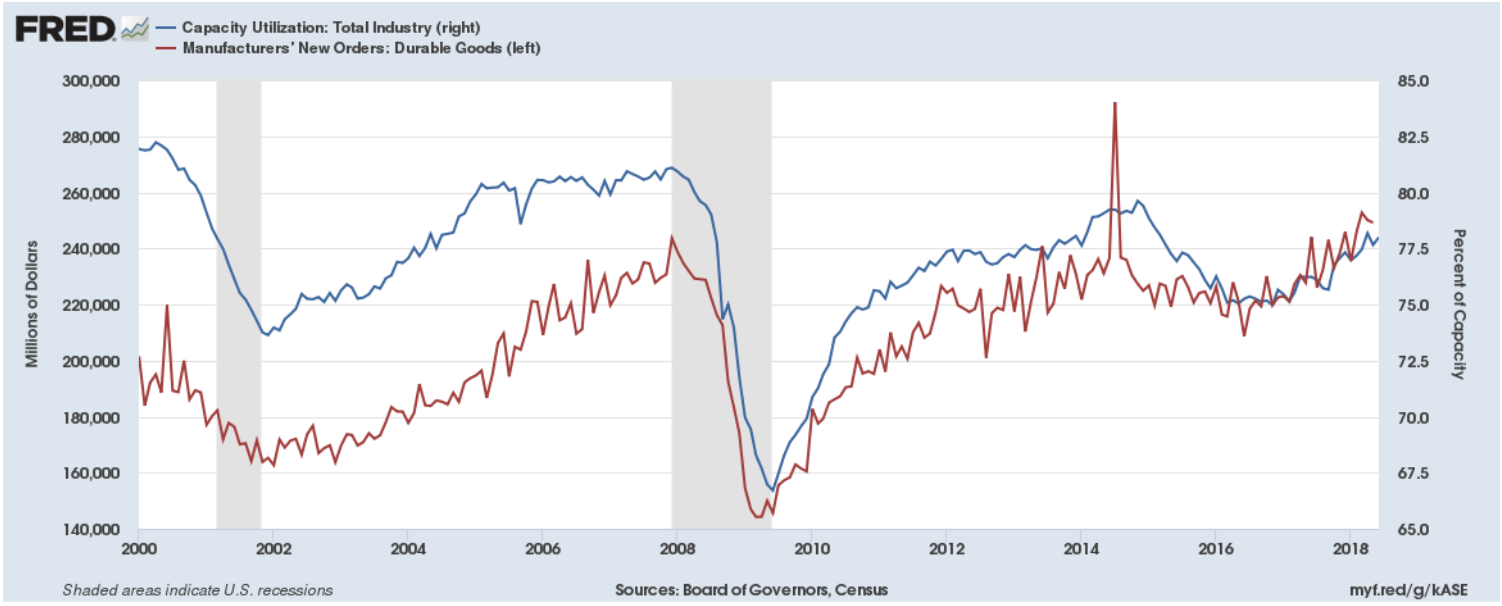 We are doing more with less and technology is the key. At Xometry, we love providing consistent, predictable revenue to our manufacturing partners and delivering predictable outcomes to our customers. The continued success of our model at scale is a win / win for both sides. Increased revenue to partners allows for increased investment in technology, processes, and management practices which allows for greater success across the board.

Apriori did a study several years ago in which they priced the same part /material across the US and world. The outcomes were, as you expect, wildly disparate. With part prices ranging from $0.25 in China to $5 in Kansas, this study shows how pricing is often not what it should be. They go on to discuss quote variance in greater detail. The main takeaway is that true economic cost is not the main driver. Given this, for most people, time is better spent developing new product lines and taking them to market than determining and negotiating cost / price.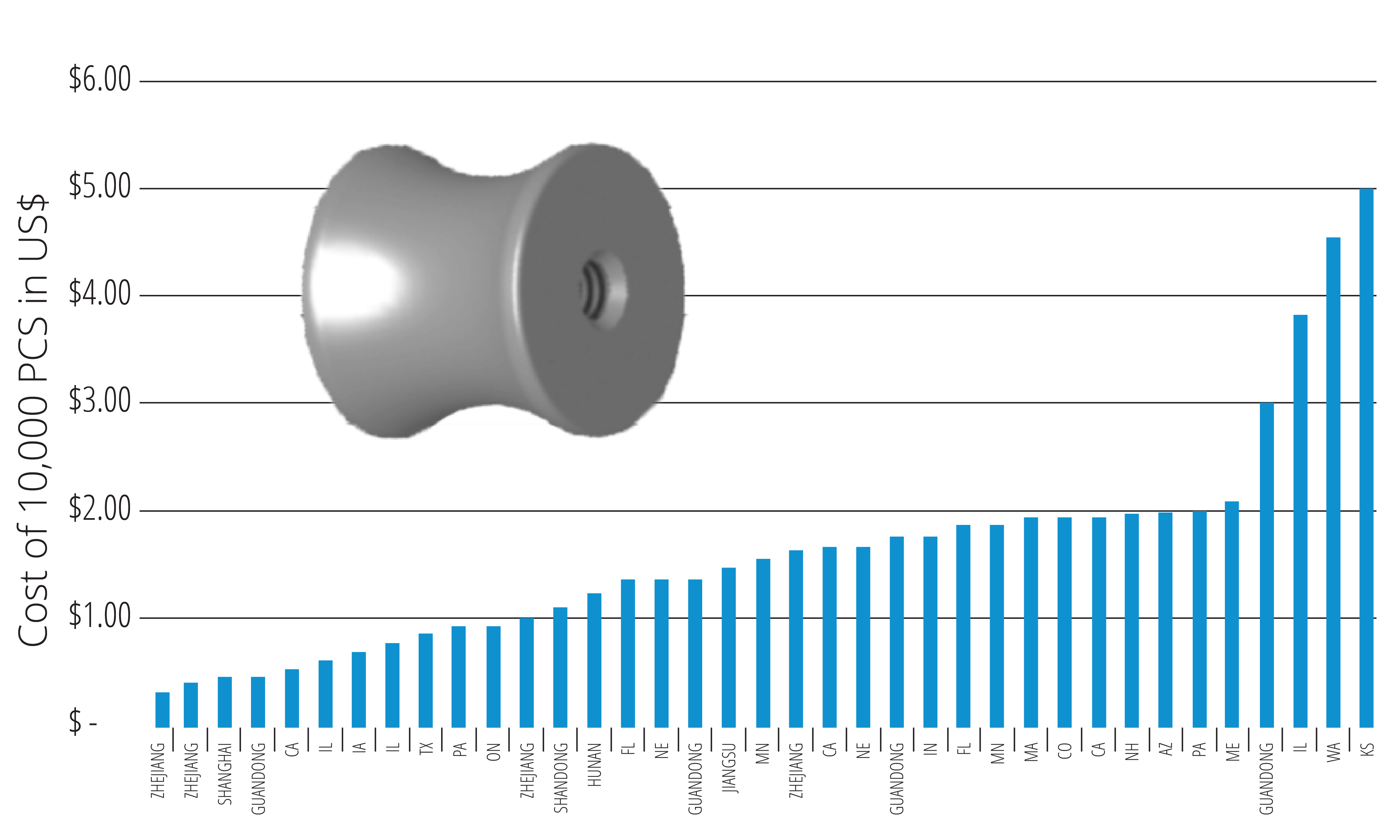 We obsess over this and have built a pricing system that learns, grows, and can apply itself across multiple processes. In order to build a fair, scalable system, we need to start rallying behind open learning systems vs. dead-end pricing systems based on one shop or a machine's capability. Xometry's AI-based pricing capability is unmatched.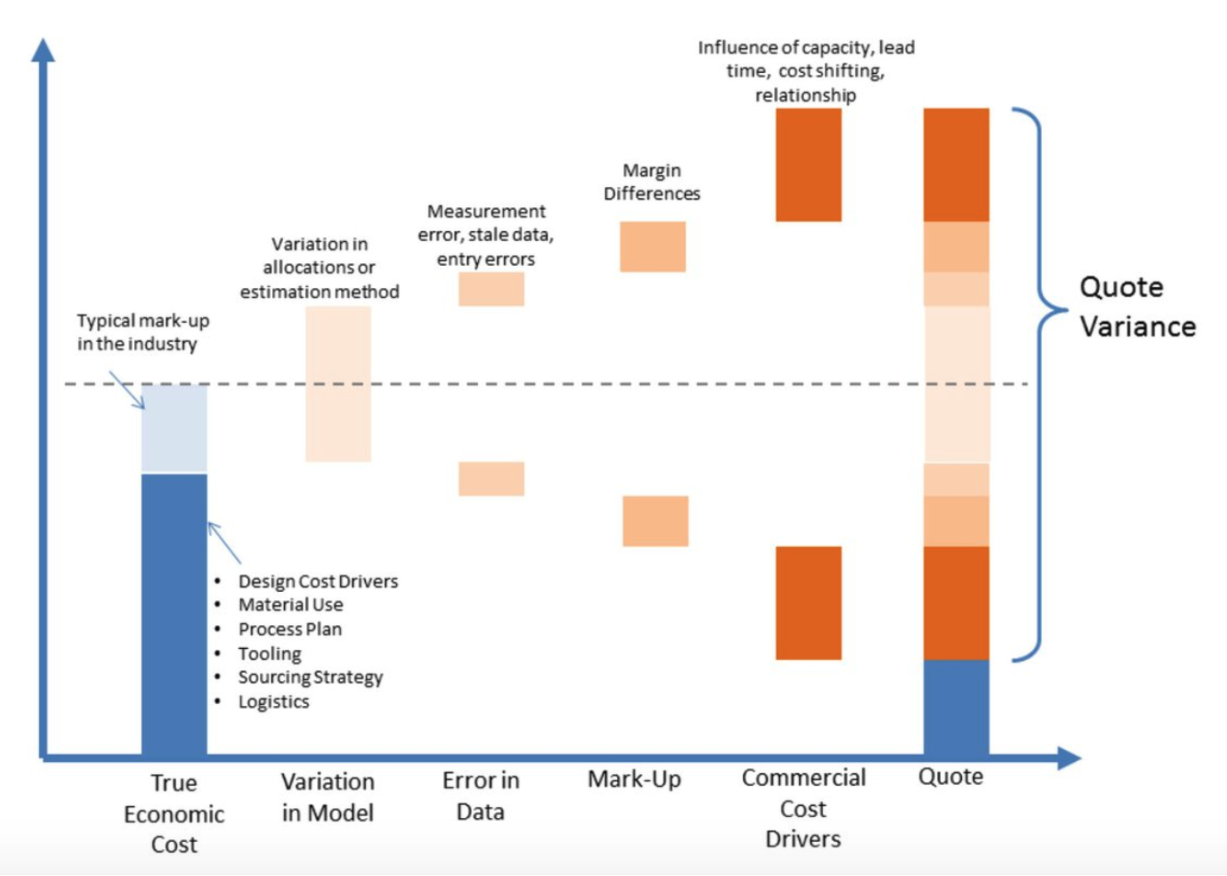 If anyone ever wondered if it's easy to deliver industry-best on time, at quality, and rework percentages, it totally isn't. There are so many reasons why this is hard to do, but we do it through a combination of technology and better human operating systems. There is no standard for communication in manufacturing. How this happened we have no idea, but we do know that the platformization of manufacturing is critical to alleviating this. We must ask the same questions, standardize benchmarking (one person's shop at quality is not another's) and centralize how we track success among partners.

Our commitment to price and predictability is paying off in spades. Through the past five years, we have amassed 15% of the US part supplying base on our platform, producing parts for every sector from prototype to launch. Engineers find our platform easy to use, procurement professionals can scale through us, and entrepreneurs, job owners, and managers put their future in our hands every day. For our growing customer base and expanding partner network, fair price and predictability define trust, and the one thing we can all agree on over the next five years is that we need more trust in an increasingly volatile global marketplace.
---
The next post in this series will look at what Xometry is doing to maintain its position as the most trusted on-demand manufacturing platform in the market.