Greg Paulsen, Xometry's Director of Project Engineering, lays out the essential tools of the trade on his desk
Whether it's troubleshooting 3D CAD designs or managing project timelines and customer services, our Director of Project Engineering, Greg Paulsen, and his team are constantly juggling their time each day between any number of essential tasks.
So what do project engineers need to do their job more efficiently? We asked Greg to show us some of the items he keeps on his desk that he can't live without. Take a look below, and be sure to drop us a line on Facebook, Twitter, or Instagram with a picture of the essential items you keep on your desk!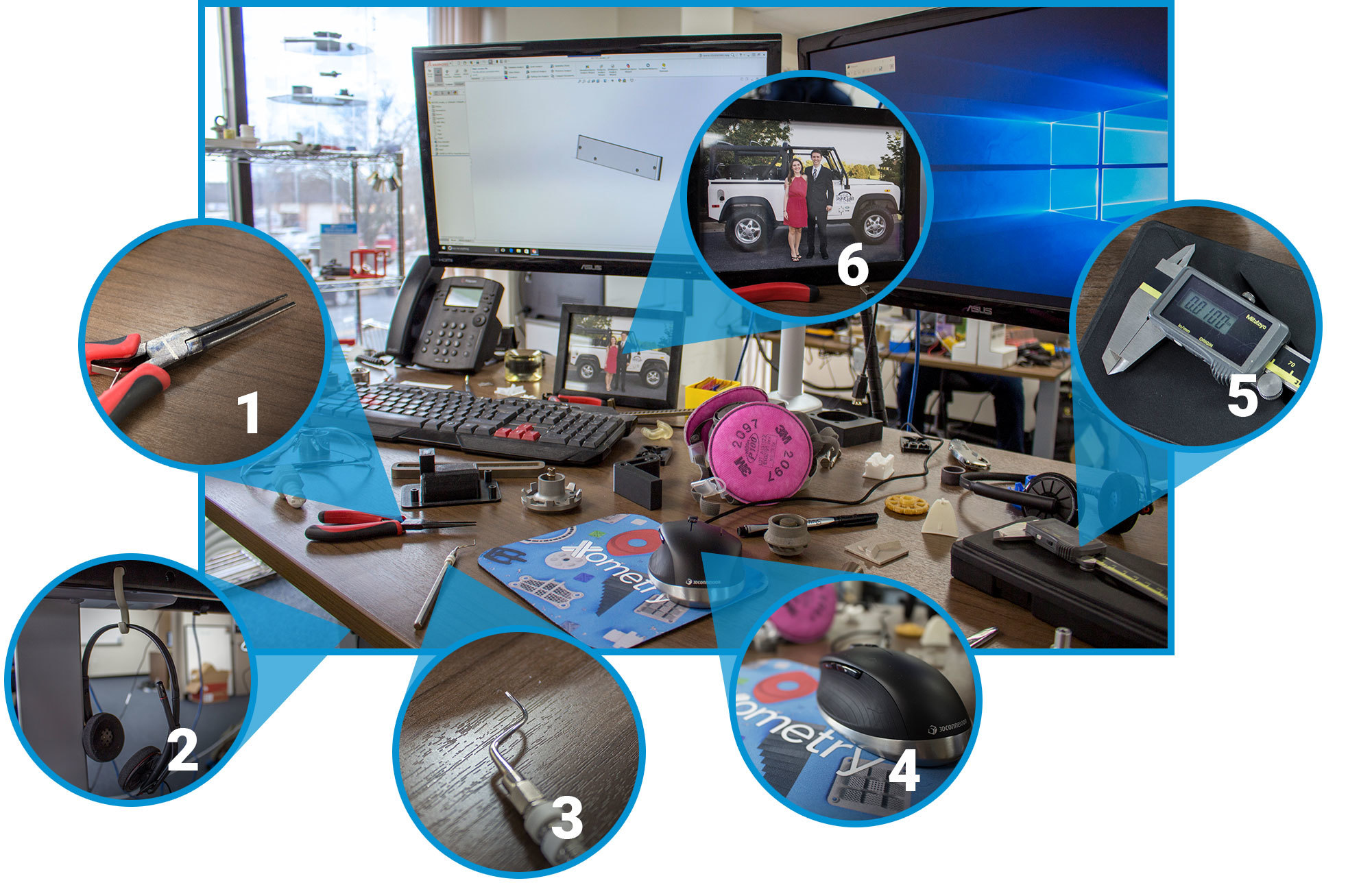 1. Pliers and die cutters
"Great all purpose tools for making adjustments to prototyped parts!"
2. S-hook for my headset
"If I don't have an amenity, why not make one? At least I can clear my headset off my desk by hanging it instead. The S-hook was originally designed to help route cables over and integrated 1" pipe in our shop. I took advantage of our SLS nylon's flexibility to allow it to snap in place."
3. Dental picks and assorted tools
"Scrape, scratch, etch, clean, pick, and de-burr. Depending on what materials you work with the most you'll have your go-to tools. Because my grandfather was a dentist I happen to have a stockpile of dental picks and custom tools that are handy in a pinch!"
4. 3D Connexion CAD Mouse
"I'm a big fan of the 3D Connexion CADMouse. It's designed specifically for working with CAD programs so it's comfortable and intuitive and makes working on designs more efficient. 3D Connexion also has great design resources for engineers and designers. I recommend The Creativity Handbook for 3D Professionals for tips on habits, tools, and hacks to boost your engineering design creativity!"
5. A reliable caliper
"A good measuring tool is essential – this one does the trick. Although we have a full-stocked inspection team it is always worth having a caliper available for the random parts that end up on my desk. I recently upgraded to a solar version because I was getting tired of replacing batteries!"
6. A picture of my wife
"I love my wife!"
CAD software
"This is must for any project engineer. We use SOLIDWORKS at the office. If you're a SOLIDWORKS user, too, you can design and quote directly within the platform using our instant quoting Add-In. And if you're looking to quote on our site, we accept virtually any 3D CAD file type."
Assorted Random Parts
"Hundreds of parts come across my desk, usually just scrap and set up pieces or prototype parts going through design iterations. They help as visual references as well as fidget tools when I'm on the phone or thinking."
A pin vise and some common drill bits
"These often come in handy for clearing holes of debris. One of our CNC machinists built the pin vise I use via our live-tooling lathe with some scrap aluminum."
Are you attending SOLIDWORKS WORLD 2017? So are we! Come visit us at booth 216 February 4-8th. Greg Paulsen will present "Design for Additive Manufacturing: SLS" and be a featured expert on the "Additive Manufacturing Panel Discussion" on Wednesday, February 8th.