Whether you love it or hate it, having a Facebook Page for your business isn't just "nice to have" anymore. It's become an essential tool for businesses looking to expand their sales efforts. Almost 8 out of every 10 Internet-using American adults are already on Facebook. The manufacturing sector is no exception to this trend. According to a recent study by Engineering.com, nearly 31% of engineers surveyed said they use social media for work and 42% of engineers surveyed indicated that they regularly stumble upon work-related materials when they use social media in their personal lives.
Facebook users looking at your business's page are likely to be learning about your business, checking out other customers' comments and deciding whether to work with you.
I researched approximately 100 machine shops for this article and found 56% of them had a Facebook Page, while another 13% had an "unmanaged" Facebook Pages. That means that Facebook has created a framework for your business based on people searching for you or checking in to your location.
To help your shop get ahead of the competition, here are quick tips to help you maximize your Facebook presence and drive sales. Start small at first with a few minutes getting your Page set up or updated. A couple hours a month can go a long way.
1. Get started by creating a business Page or claiming an unmanaged account
If you don't already have a business Page, you can log into your personal account to set one up. Facebook's setup instructions are easy to follow and it only takes a couple of minutes.
When creating your machine shop's Page, be sure to complete the following steps:
Fill out all information in the About Section as completely as possible.
Upload a cover photo that showcases work from your shop.
Set up your "Preferred Page Audience." These are the people you want to see your new Page. Try to target groups that match the kinds of parts you make. For example, if your shop specializes in auto parts, you may want to include "Automotive Industry" in your targets.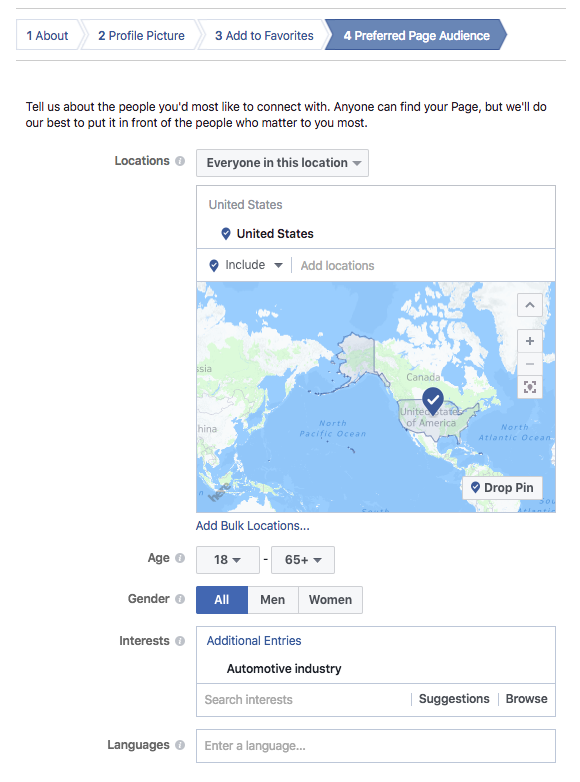 Sometimes, a Page may exist for your business even if you did not create it. Often these "unmanaged" Pages are automatically created because customers have "checked in" to your business. An unmanaged Page is generated to represent your location. Claiming your Facebook Page is easy. Simply follow the steps here.
Once you've set up your Page, you're ready to start populating your Page with content about your machine shop!
2. Post helpful information and respond to questions and comments
When people want to find out about a local business, they turn to Facebook more than any other social channel. Try posting new Facebook content a few times per month, and be sure respond to customers and followers that interact with your Page.
Setting up a post and answering questions shouldn't take more than a few minutes. If you have a company blog or running promotions or sales on your site, I recommend cross-posting them on Facebook.This will give them more exposure, improve your site's Search Engine Optimization (SEO). However, don't just post content from your site. Mix it up a bit with current events such as recognizing holidays or events or by sharing interesting industry-related articles that appeal to you and your customers.
3. "Pin" important posts to the top of your Page
Each time you post new content on your Page, older posts get pushed further down on your timeline. But sometimes you may want a specific post – that did very well – to stay at the top of your Page even after you've published updates.
To pin a post, click the drop-down arrow in the top right corner of your post and then click "Pin to Top." Now your post will stay at the top of your Page until you decide to remove it.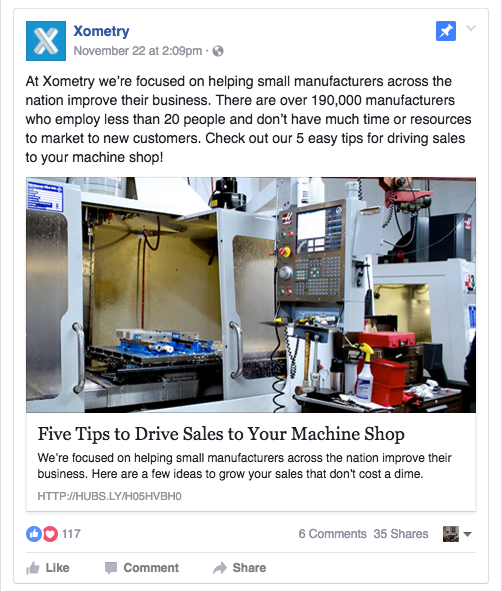 4. Use photos and videos
We know your shop is in the business of creating quality parts. If you have permission from your customers, don't be afraid to show off your work online! Photos and videos have proven to be the most engaging type of content to post on Facebook. Incorporating visual elements into your posts is a fast and easy way to create engaging content for your target audience. I've seen a number of businesses have great videos on their site and even a handful of YouTube pages so many of you already have the content.
5. Reaching the right audience
Facebook Insights is a free, built-in tool that allows you to analyze the data associated with your shop's Page, including your Page's reach, likes and actions taken on your Page. It is automatically activated once your Page receives 30 likes. It even allows you to compare your Page's performance with other Pages like it, giving you valuable information on other business similar to yours.
Access Insights by navigating to the Insights tab at the top of your Page. Your data will display on the left hand side of the screen.
---
Facebook may not make a dramatic change overnight, but a solid foundation and and regular posts can go a long way.
If you found this article helpful, check out my post on Five Tips to Drive Sales for Your Machine Shop and consider joining Xometry's Partner network if you haven't done so already. Please feel free to ask me any marketing related questions at bcronin@xometry.com or @billcronin15 on Twitter.
Xometry's Partner Network provides members with free access to jobs through our online platform. Only take the jobs that are a fit for your shop and your capacity. Sign up for free and try it with no fees or commitment!