Xometry offers over 25 finish options for parts machined through its network in the Xometry Instant Quoting EngineSM. These finishes and more are also offered through Xometry Finishing Services for parts that have already been machined through other suppliers. Our latest X-tiles video series answers various questions our customers often ask about CNC machined metal finishes.
Know Your Anodize: Type II vs. Type III

Anodizing is one of the most practical means of providing long term corrosion resistance, additional durability, and a permanent nonconductive surface finish to metals. Anodizing works best for metals like aluminum, titanium, and magnesium. The most common anodizing process is done per MIL-A-8625 standards. Typically this finish is applied to CNC machined parts or sheet metal components after fabrication, but before operations like part marking or adding inserts.
Type II, Class 1, anodizing is commonly found in clear, black, or colored varieties. In the video, you can see examples of Type II and how it affects the surface finish. If the part requires higher wear resistance, Type III, Class 1, anodizing may be the best option due to an increased thickness of the oxide layer—acting as a protective shell for the part.
This video compares Type II and Type III anodized aluminum and why you may choose one over the other.
Anodizing vs. Metal Plating
Anodizing is not the only option to ruggedize or enhance the properties of CNC machined metal parts. In this video, anodizing is compared against metal plating—specifically, electroless nickel plating. Also known as E-Nickel Plating, this process produces a uniform coating of nickel-phosphorus through a chemical dip bath. Metal plating utilizes the conductivity of the metal to attract and bond a different metal to a part's surface. Examples of metal plating are nickel, zinc, tin, gold, and silver. Like anodizing, nickel plating can give a part excellent corrosion resistance as well as high wear resistance. Beyond aluminum, nickel plating is popular for materials that can rust, like steels, or softer metals to prevent wear marks. Precious metal plating, like gold, can enhance external conductivity and prevent oxidation. Gold plating is typically applied to copper CNC machined or sheet metal parts.
It is important to understand that plated parts maintain electrical conductivity where anodized components are non-conductive.
This video shows how metal plating can be applied to any conductive material (e.g. CNC or sheet metal parts).
Anodizing vs. Chromate Conversion Coating
Chemical chromate conversion coating, sometimes called chem film, adds a protective coating that is electrically conductive. It is often applied to materials like Aluminum 6061, 7050, or 7075 as a preparation for other surface treatments. It is not uncommon to have multiple finishes, starting with a clear or gold anodize then moving to powder coat, metal plating, anodize, etc. Chem film is most popular with electromechanical assemblies because it allows the part to be a ground plane while preventing oxidation on the contact surfaces. Chromate conversion is not wear-resistant like anodize, which should be a consideration depending on the lifetime use of the part.
Watch this video to see how chromate conversion coatings (chem film) are used to prevent corrosion and act as a base for other finishes, like powder coating. Anodize cannot be powder coated.


About the X-Tiles
The X-Tile series takes a show and tell approach to manufacturing outcomes using various platforms, materials, technologies, and finishes. You can check out the other posts in the series here:
What is an X-Tile? We took the 'X' from our Xometry logo and designed a custom part that is about 1.5 inches square. It has flats as well as angled surfaces. The tile is producible in multiple manufacturing processes and acts as a good comparison part for material finishes and cosmetic features like layers.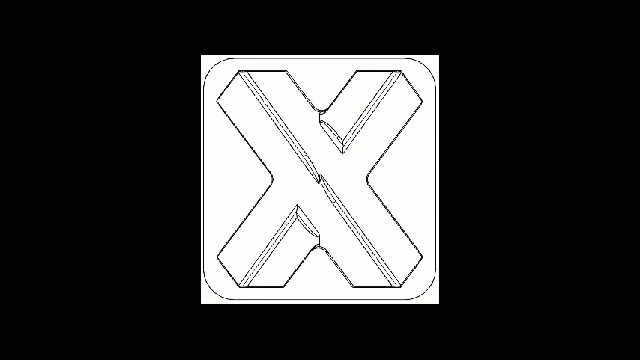 Xometry's X-Tile
If you have a suggestion for an X-Tile spotlight or comparison, let us know! Subscribe to Xometry's YouTube page to get the latest video content as it comes out!
---
Xometry offers a variety of common and custom metal finishes on parts machined through the Xometry Instant Quoting EngineSM. For parts that are manufactured elsewhere, Xometry Finishing Services offers these finishes too.
The image to the right shows the instantly-quoted finish options for CNC machined aluminum, like 6061-T6 or 7075-T6. Xometry's auto-quoted, turnkey finishes include:
Standard (As-Machined)
Bead Blast
Anodize

Type II Black
Type II Blue
Type II Clear
Type II Gold
Type II Green
Type II Orange
Type II Purple
Type II Red
Type II Yellow
Type III Black Hardcoat
Type III Clear Hardcoat
Type III Gray Hardcoat

Chem-film

Clear Chromate Conversion
Gold Chromate Conversion (Iridite)

Metal Plating

Electroless Nickel Plating
Gold Plating
Silver Plating

Electropolish
Passivation
Powder Coating
Heat Treatments

Annealing
Temper
Through Harden

Custom Finishes and Combinations