Since our last issue of XomReplay, we've had another round of enhancements to our offerings and services. For the month of January, we're over the moon about our product updates such as:

An additional material certification option: DFARS
RFQ form saves and custom bid due dates
Updated STL file repair functionality
Updated HP Multi Jet Fusion pricing
A faster Parts Library
And more
Now, in addition to our standard material certification and domestic material certification, you can choose to certify your parts as DFARS compliant. For an additional $15 per part and an extra two days of processing time, we can guarantee that your metal parts only use materials from DFARS compliant countries.

That's a total of three material certifications! Make your momma (or your boss) proud with your law-abiding self.

DFARS Certifications cost an additional $15 per part

When we launched HP Multi Jet Fusion in November, we boasted our new capability's speedy production times of up to 10X faster than other 3D printing processes. Now, our pricing model for HP Multi Jet Fusion is up to speed too. When you quote in high quantities, your parts will be priced more appropriately.

In the past, if you uploaded an .STL file that was corrupt, you might be prompted to request a manual quote or make design corrections to your part to receive an instant quote. We don't like to ruin the party, so we've enhanced our repair functionality.

Now when you upload a part with an open face, for example, our software constructs the outer hull of this part and performs any other repairs to generate a valid, closed 3D polyhedron. Once our software heals your part's geometry, it can be instantly quoted and ordered without delay. Similarly, if a part contains overlapping surfaces like two intersecting cubes (Figure 1), our software will remove the overlapping surfaces and stitch together the outer surfaces to form a watertight mesh.
These overlapping cubes will be repaired to form two valid, closed polyhedrons
We've made major changes to the RFQ portal so you can create RFQs worry-free. Now, as soon as you upload a file to your RFQ creation form, your work will save. You'll automatically receive an RFQ ID and you can name your form for easy reference. This way, if you exit the page before finishing your RFQ, any uploaded CAD files, prints, and notes will automatically save. Leave and come back to your RFQ as you please—when you're ready to go, your work will be too.
Previously, we set the time limit for RFQ bids from machine shops for seven days after your submission. Now you can choose to set a custom due date for your RFQ bids—from as few as seven days to any time in the future. You will also receive an email notification when one of our manufacturing partners submits a response to your RFQ.

Try our new and improved RFQ service here.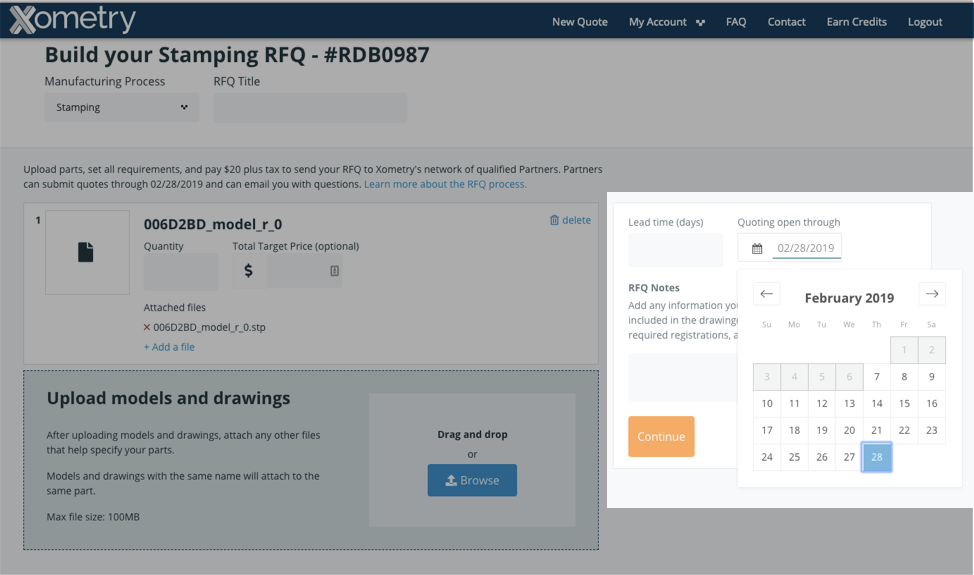 You can now set custom due dates for receiving a RFQ bid using the calendar feature in our RFQ service
Not only do we have faster quote and order history pages, we now have a sped up Parts Library. These sped up pages will help you experience all of the Parts Library features even more efficiently. These features include:
Easily finding all the parts you've quoted in the past
Universally updating model revisions
Quickly adding previously quoted parts to new quotes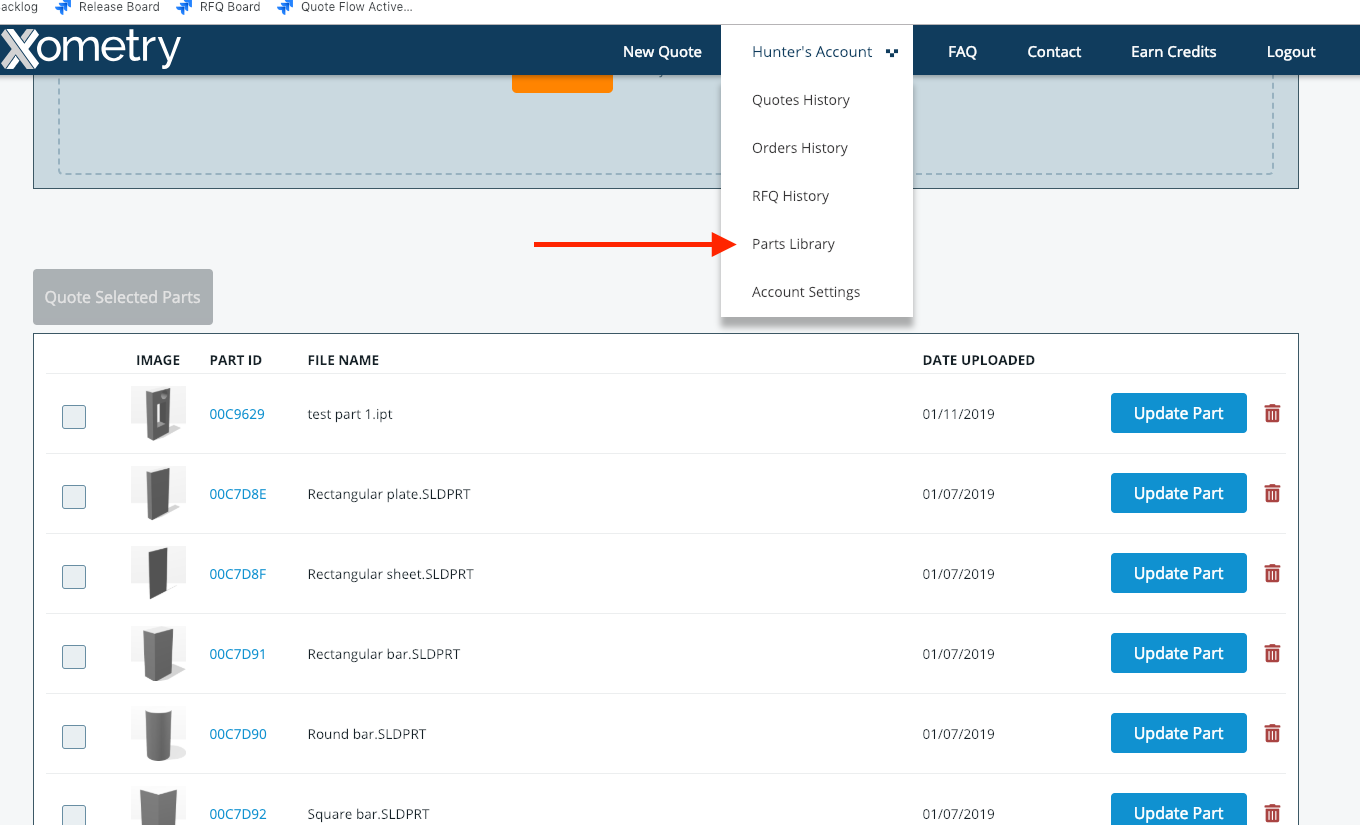 We've enhanced our communication efforts so now you see more specific error messages when you upload an unsupported file type. No need to decipher messages—we tell you exactly what's happening and what to do if your CAD file is:
Now, we tell you exactly what's happening and what to do if your CAD file is:
No longer supported
Not yet supported
Too large (over 100 MB)
None of these problems
Here's an example of what happens when your file is no longer supported:

That's it for now! Have other suggestions? Reach out to Product Manager, Hunter Guerin, at hguerin@xometry.com.