Metal forming, fabricating, welding and finishing all come together at FABTECH, North America's largest metal fabrication technology show. This year's FABTECH will be in Atlanta, GA from November 6th through the 8th, and provides an opportunity to meet world-class suppliers and see the latest developments in the industry. From robotics to CNC machines and 3D printers to welding equipment, FABTECH has all the tools one needs to improve productivity and increase profits.
As a bunch of fabrication tech nerds ourselves, Xometry will be on hand at the show in booth #B5555 to demo our instant quoting engine and talk about the amazing tech behind our manufacturing network. If you're at the show, we encourage you to stop by our booth, say hi, and pick up some free swag. If you haven't registered for FABTECH yet, you can still do so here.
Of course, FABTECH isn't just about the exhibitors and amazing tech, it's also an opportunity to learn from industry leaders. You're just as likely to walk away from FABTECH with industry knowledge and new ideas as you are a fancy machine and free swag.
Did I mention there will be free swag at Xometry's booth?
Knowledge is Power
This year at FABTECH, Xometry will be participating in two different education sessions. The first is Revolutionizing 3D Additive Manufacturing starring Xometry's own Greg Paulsen, Director of New Manufacturing Technology, along with Bryan Semple and Jonathon Reilly from MarkForged. This education session will cover 3D printing, the Fourth Industrial Revolution, and how to pick between additive and subtractive manufacturing methods for your next project. You can tune into this education session in room B313 on Tuesday, November 6th from 8:00 AM to 10:00 AM. If you have any interest in additive manufacturing and its real-world applications, you definitely won't want to miss this.


You will next be able to find Xometry at the Knowledge Bar on Wednesday, November 7th from 2:30 to 2:50 PM. Here, Chris Brown, Xometry's Director of Sales, will be on hand to help you choose between additive and subtractive manufacturing methods for your next project. He will walk you through the key technologies, design considerations, and decision factors to consider when picking between these precision manufacturing processes.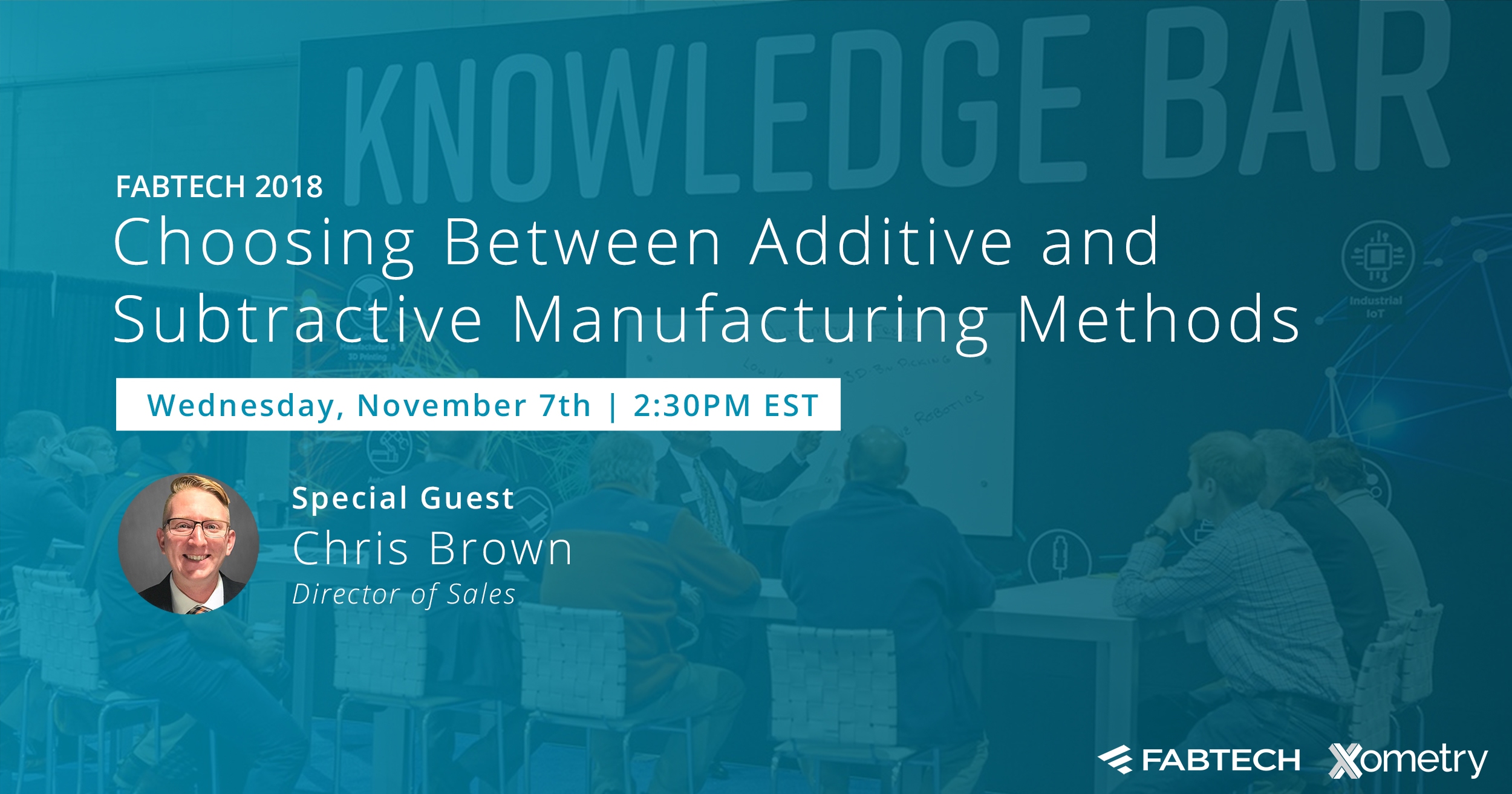 The Knowledge Bar will be on the show floor in the 3D/Additive Manufacturing Pavilion and it's where small group sessions are held that provide the opportunity ask questions about specific 3D/additive manufacturing challenges and get "the scoop" from industry experts. Knowledge Bar sessions are presentation-free and all about engaging with knowledgeable people, working through challenges and meeting specific information needs.
Beyond the Show Floor
There is plenty more to see and do at FABTECH. Here are a few highlights.
An unmissable opportunity on Wednesday, November 7th is the Women of FABTECH Breakfast, a networking event and celebration of women in manufacturing. The breakfast will feature Laura Cox Kaplan, founder and host of the popular "She Said, She Said" podcast as she interviews BASF's Veronica Braker, VP of Operations Performance Materials North America, a certified Six Sigma Black Belt. Together, they will share their insights, unique perspectives and passion for improving the representation of women in manufacturing and technical roles. The breakfast will conclude with a tech tour on the show floor, highlighting the latest industry innovations and manufacturing revolutions – a unique opportunity to get hands-on with emerging technology.
The Smart Manufacturing Hub is where you'll want to go to learn about some of the industry's most advanced smart technologies. You'll learn from experts on automation, advanced materials, 3D printing, IIoT, and more. If you have questions about the Internet of Things and Big Data and a desire for increased productivity, this is the place you'll want to visit.
Additive Manufacturing is one of the fatest-growing industrial technologies of the 21st century. The 3D/Additive Manufacturing Pavilion is where you will find the latest technologies and solutions to build or expand your 3D printing capabilities. In fact, this is where you'll find our booth — #B5555 — along with other additive manufacturing giants such as Autodesk, MarkForged, Ultimaker, Stratasys, and 3D Systems.
Finally, and let's be honest, the most important location you'll want to visit at the show is FABTECH Blues, Brews & BBQ. This unique meeting area is the perfect place to take a break, make connections, network and enjoy some brews and BBQ. FABTECH Blues, Brews & BBQ is located outside between buildings B & C and is open during show days from 11:00 AM until close.
These exciting opportunities are only scratching the surface of what's available to see and do at FABTECH 2018. Registration is still open and show floor admission is complimentary if you register by Nov. 2, 2018. After the deadline and on-site, the fee is $50 — a very small price to pay to see cutting-edge tech, learn from industry experts, and network with your peers.
We'll see you at the show!