Since our first issue of XomReplay, we've had another round of enhancements to our offerings and services. For the month of January, we're excited to bring you key updates on:

More affordable CNC pricing for select parts
Splitting CNC quotes for faster lead times
Easy access to past quotes and orders
Streamlining the new user experience
And more
Say hello to more cash flow: we launched a new pricing model for select CNC Machined parts. If these parts meet certain criteria, they may be up to 20 percent cheaper. These criteria are:
Parts can't have deep pockets
Parts can't have any off-axis holes or surfacing
Parts can't have special features other than standard threading
There's more to these select CNC parts. Now you can choose to automatically split qualifying parts from other parts in your order. The benefit is getting these select parts shipped to you sooner, with lead times as fast as three days.
How CNC Split Orders Work
When you upload parts that qualify along with those that do not, you will be prompted to split your order into two parts (see image below). When you click the "Split This Quote" button, your order will be split in two, with your current web page containing only the select CNC parts that meet our criteria and are eligible for the faster lead time. A link containing a unique quote ID will appear at the top of your page. This is where the rest of your parts with a longer lead time have now been placed.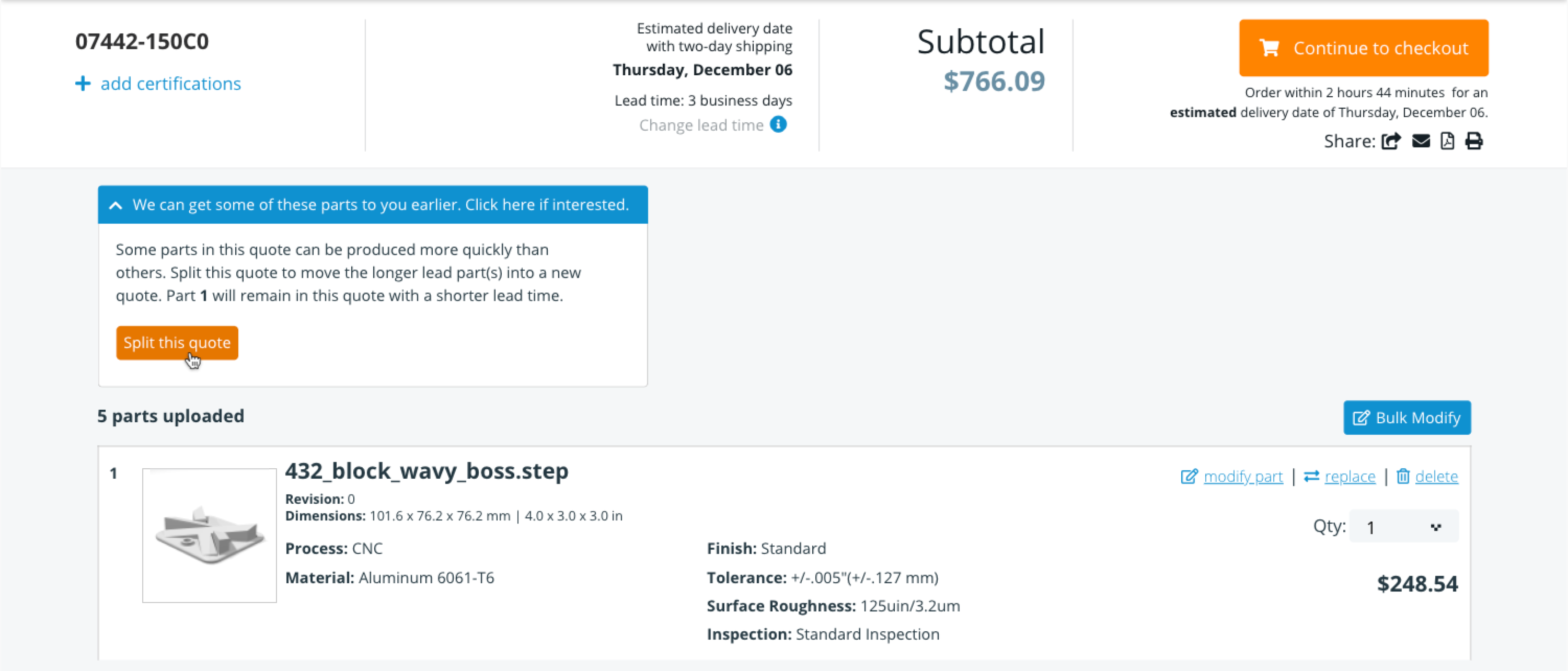 Try quoting flat sheet metal parts to see what manufacturing on demand really means. Now you can get these parts in as fast as three days. In the past, these parts were grouped with other sheet metal parts that required work on a brake and, therefore, additional time to manufacture. We now distinguish these parts to help you get your parts as quickly as possible!
Are you tired of scanning through lines of text in your quote and order history? Fear not: we now display part icons in your account history page.

We've also cleaned up our code on these pages, so no matter how many quotes and orders you have, pages will load quickly. What are you going to do with all that extra time?
We no longer make it easy for new users to skip the steps. Why? Filling out crucial information such as your name, contact information, and consent to our terms and conditions saves you from the headache of issues during checkout. No one wants to be held up at the very end of the line, so we now prompt users to register before sharing quotes with other colleagues or friends. This will save you time when you're ready to order, since you'll no longer have to backtrack.

HP Multi Jet Fusion parts can be ordered dyed black at no additional charge
That's it for now! Have other suggestions? Reach out to Product Manager, Hunter Guerin, at hguerin@xometry.com.