Since our last issue of XomReplay, we've had another round of enhancements to our offerings and services. For the month of April, we're over the moon about our product updates such as a new pricing model for SLS glass-filled nylon parts, hardware traceability certifications, email notifications for completed uploads, and more.

Our data science gurus have developed a new pricing model for glass-filled nylon. By retraining neural networks and introducing single part discounts, customers may see prices up to 5-10% lower. Before, customers might see a comparable discount when adding multiple part files to the same quote. Now we've cut out the complexity and we're bringing you better pricing not only at scale but on an individual part basis.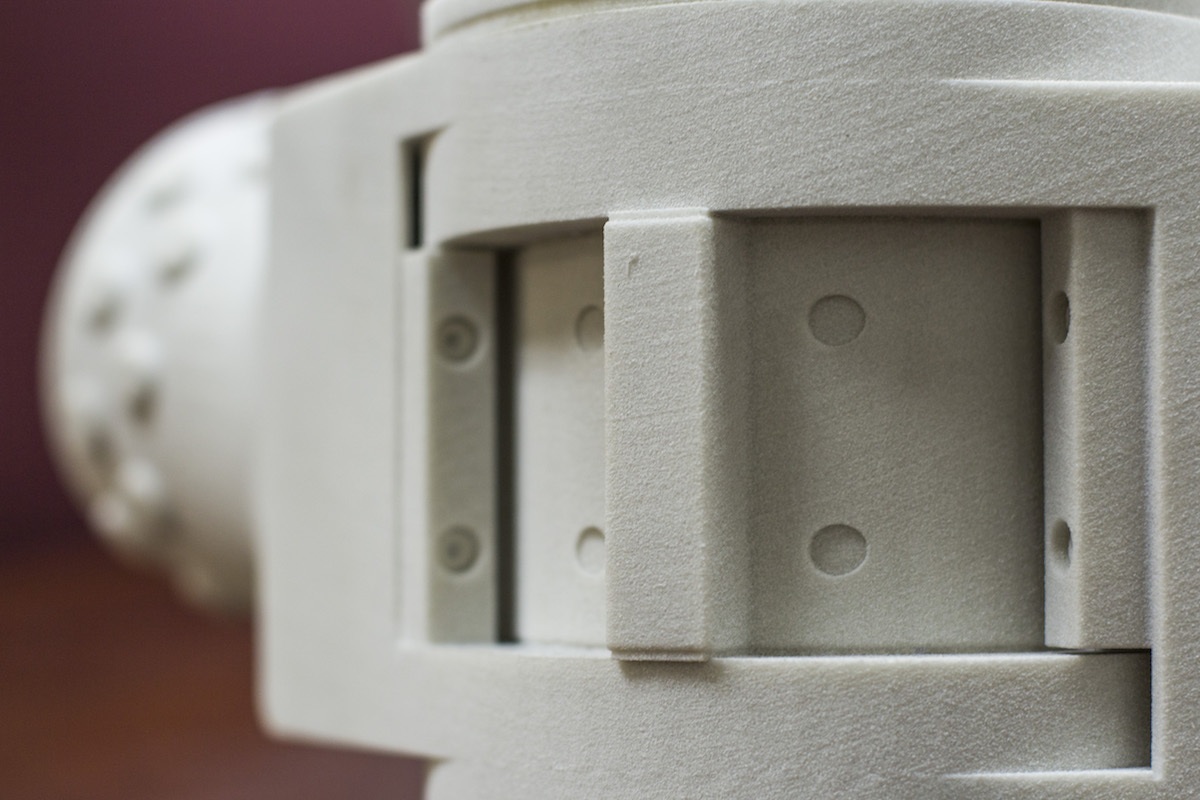 This SLS glass-filled nylon part may be 5-10% cheaper than before

In the past, you may have gotten a hardware certification on your parts by manually requesting it through your sales representative. Now, we've added hardware certifications to the list of available certification options directly in the Instant Quoting Engine.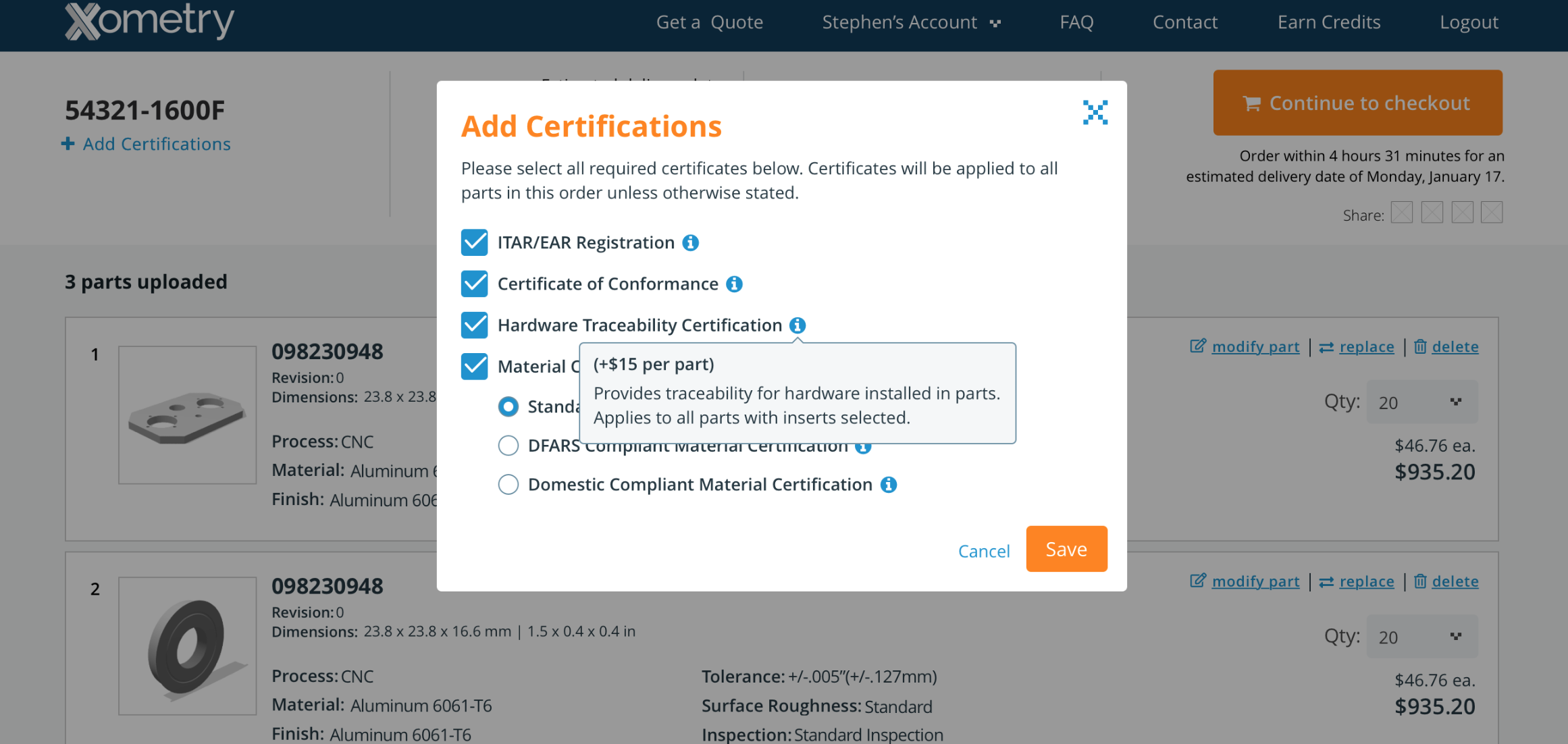 You can find hardware traceability certs in the left top corner of the quoting engine
The hardware certification allows you to receive traceability documentation for all inserts installed on your parts. For an extra $15 per part, this certification is an added benefit to our customers who are required to show sourcing information for their inserts. This will include material test reports that state the mechanical and chemical properties of the hardware material, lot or heat number, and the specification with which the hardware material complies (AMS, EN, ASME, ASTM, etc.).

Although 90% of the time, the Xometry Instant Quoting Engine is truly instant—you'll see a price for your parts in less than 20 seconds. But for especially complex parts or quotes where many files are uploaded at once, it can take a few more minutes. When this is the case, we save you time watching loading spinners—whether the Apple beach ball of doom or the Windows snake game. Instead, you can now choose to receive an email notification when your quote has finished processing.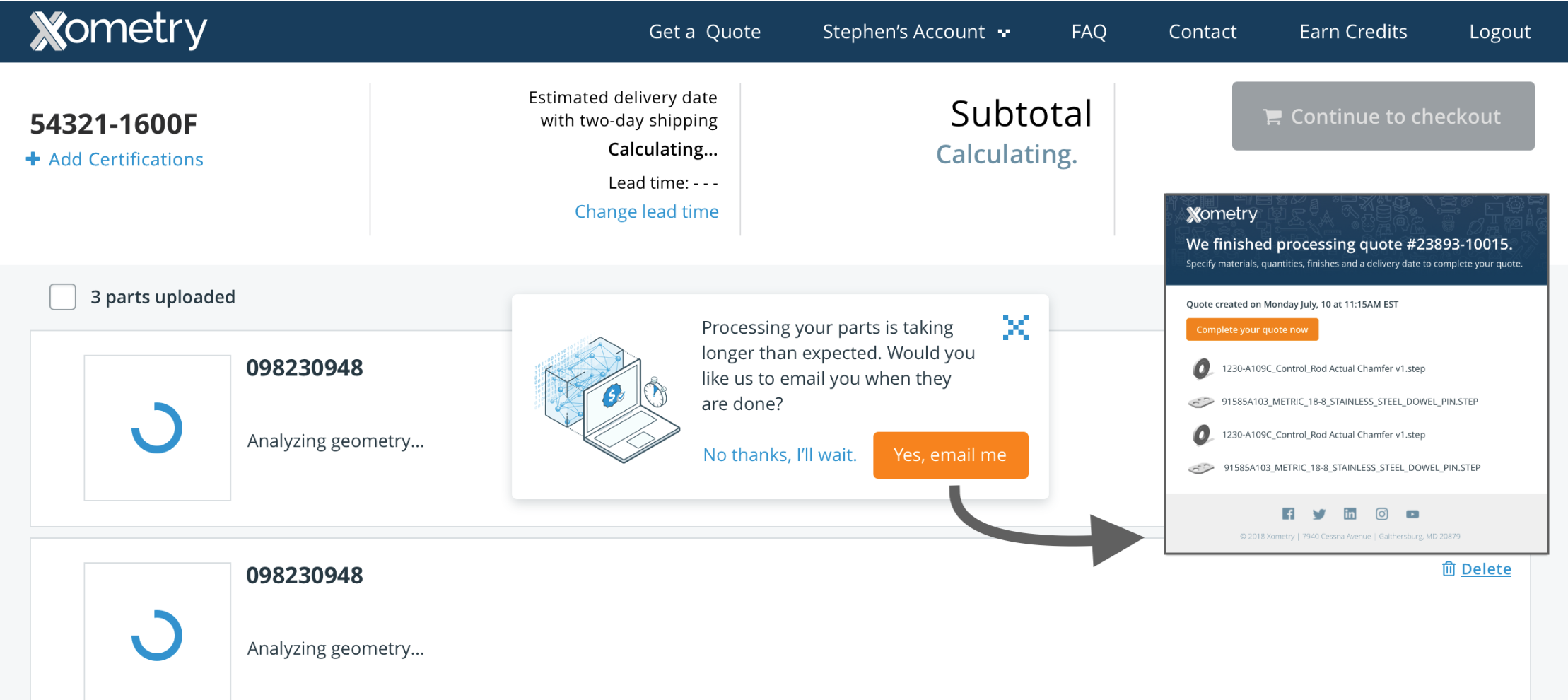 A pop-up appears when your large upload is taking extra time to process. Click this to get an instant email update when your parts are ready.
To get an email notification, simply click "yes, email me" on the pop-up that appears. The email will show you all the parts that are ready and will direct you back to complete your quote. This is an added benefit to the powerful quoting we introduced last month, which allows you to close out of Xometry's website and come back to your quote at any time.
STL files are elusive, unitless creatures that do not carry the metadata that the Instant Quoting Engine℠ needs. Now when you upload an STL file, we ask you to choose a default unit of measurement before getting a price for the part.
That way you, intelligent sentient being, can call the shots and tell our quoting engine what units you need your part quoted in, instead of letting the quote default to mm. In the past, this default may have led to a prompt to RFQ your teeny tiny part. Now if your part is a 1 x 1 x 1 .stl file, we'll let you, not our quoting engine, speak for your units. See it in action.
Sheet Metal parts can now be ITAR-certified and still be eligible for quick turn lead times. Putting all your eggs in one basket never looked better.
Now when you quote in Injection Molding, you'll see a quantity 50 minimum. Since injection molding is often used to make end-use parts in higher quantities, this minimum quantity helps us price your parts more accurately. But if you chose injection molding by accident and you're saying, "Wait, what's this?," you'll see a message explaining that other processes may be more appropriate for quantities less than 50.

Our default of quantity 50 on injection molding quotes will help you get the appropriate price and lead time

If you previously received an error message related to the availability of a sheet metal gauge, never fear: we now use a standard tolerance of +/-0.005 in (0.127 mm) to check for and ensure the manufacturability of your parts
RFQs now show part thumbnails so you'll know what is what at a glance