Cash flow is one of the biggest challenges that our manufacturing partners face. From the high upfront costs of materials and tooling to paying the bills to keep the lights on and machines running, it can sometimes be hard to find the cash to do it all.
With this in mind, Xometry has completely overhauled our payment process for our manufacturing partners and launched the new Xometry Advance Card to alleviate cash flow woes and provide a streamlined payout process for work.
Let's take a closer look!
Invoice-less Payouts With New Shop Finances Experience
We've rewritten the playbook on payouts for Xometry jobs with our entirely new Shop Finances experience. Next time you log in to the Partner Portal, you'll notice a new tab called Shop Finances. This is the new home of everything related to job payouts for your Xometry work.
Once you complete a job and mark it as such in the Partner Portal, the payout will be automatically scheduled per Xometry's payment calendar. We now payout every week, instead of twice a month as before, so you'll receive payouts more frequently. At any point in time, you can see scheduled payouts, review your finances, and check the balance on your Xometry Advance Card (more on this later) on the new Shop Finances tab.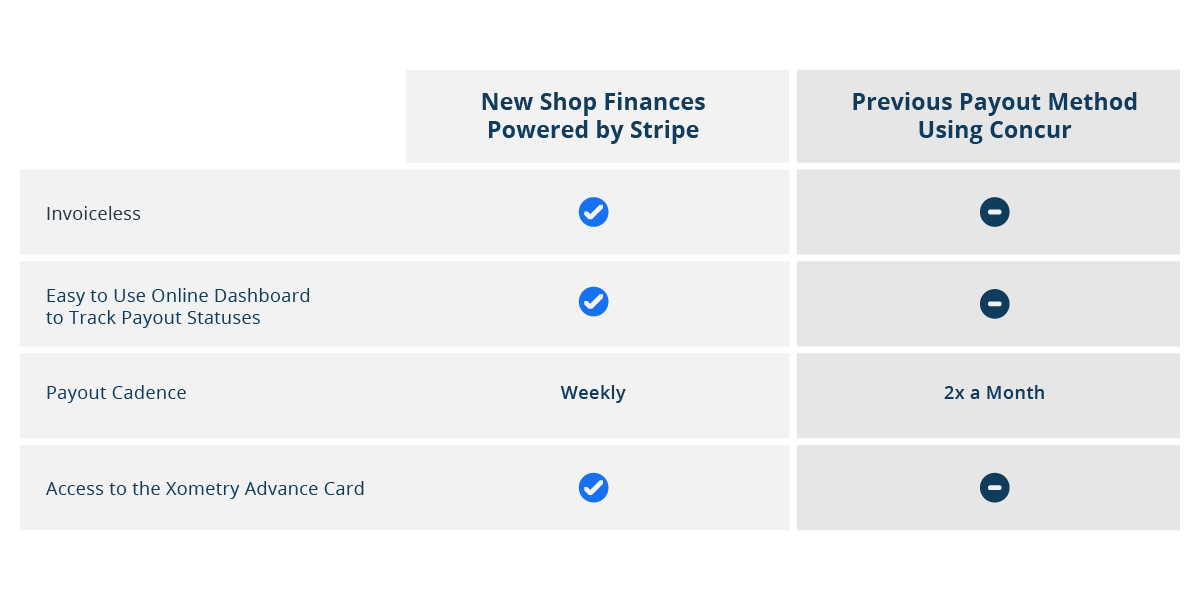 It's also entirely invoice-less, meaning you no longer need to submit invoices to Xometry to receive payment. It's all automatic thanks to our integration with the financial technology company Stripe.
To take advantage of the new Shop Finances experience and avoid disruption to your Xometry payouts, you need to register at work.xometry.com/shop-finances.
If you have any questions, you can check out the Xometry Payout FAQs in the Xometry community.
Finally, a Card That Works With You
The most exciting part of the new Shop Finances experience and the integration with Stripe is the ability for us to offer you the new Xometry Advance Card. If you opt-in for your very own Xometry Advance Card, you will receive up to 30%* of the value of eligible Xometry jobs immediately on the card for you to use to cover any business-related expenses such as materials and tooling. Have other business needs? No problem. You can use the Xometry Advance Card wherever VisaTM is accepted. If you don't use all of the funds on your card, they will simply be paid out according to your Shop Finances payout schedule.
---
"Sometimes I can't accept jobs that are perfect for my shop because the upfront cost for materials is just too high. With the Xometry Advance Card, that's no longer an issue." - Ryan Warner, WarnerWerks
---
The best part about the Xometry Advance Card is that it's completely risk free. There are no bills, interest rates, fees, or impact on your credit rating. If you sign up for the card now, you also receive a limited time offer of $100 upon activation of your card to get started right away.
To sign up for your very own Xometry Advance Card, head to the new Shop Finances tab in your Partner Portal or go to work.xometry.com/register-xometry-advance-card. To learn more, visit our FAQs in the Xometry Community.
The entirely reworked Shop Finances experience and the new Xometry Advance Card are just a few of the ways Xometry helps small- to mid-sized machine shops grow, streamline, and improve their business.
*Subject to Terms and Conditions