Over 75% of all manufacturing firms in the United States have fewer than 20 employees. The Xometry Small Manufacturing Index (SMI) highlights the outlook of these 190,000+ small businesses on a regular basis.

The latest Q2 2018 SMI results showed that the majority of small manufacturers in the U.S. are more optimistic about the market in the near future than they were a year ago.
49% of Xometry manufacturing partners surveyed expect a strong increase in business vs. 21% for non-Xometry network manufacturers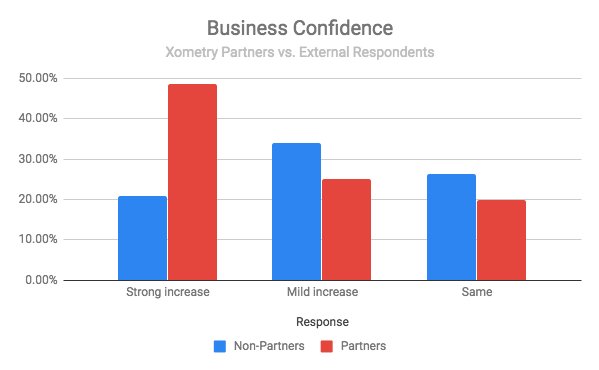 34% of small manufacturers surveyed said that they are planning to hire more employees in the coming year, while 60% said that they will maintain the same number of employees.

Over 36% of Xometry manufacturing partners surveyed expect an increase in hiring vs. 31% for non-Xometry network manufacturers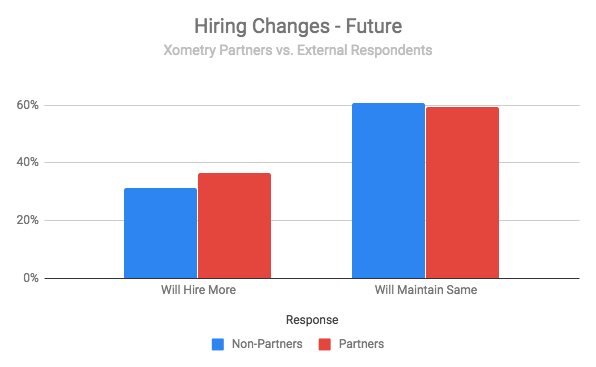 The Small Manufacturing Index, released quarterly by Xometry, takes the pulse of the heart of American manufacturing by analyzing and quantifying the performance of small to mid-size manufacturers. The index is developed through a survey that asks members whether they expect to see growth in business compared to previous months and prior years, what they expect to be their anticipated growth sector, actual hiring and expected hiring trends.

The Small Manufacturing Index is drawn from Xometry's partner network of small to mid-size manufacturers as well as from out-of-network shops. The index aims to highlight trends over time to provide analysis and predictions on the national outlook for small to mid-size manufacturers.

The Xometry Partner Network provides members with real manufacturing jobs through our online platform without the need for their own marketing, sales, or bidding. Our nationwide network includes over 2,300 machine shops and small and medium-sized manufacturers across 50 states. We provide product designers and engineers the most efficient way to source high-quality custom parts, with 24/7 access to instant pricing, expected lead time and manufacturability feedback. Our nationwide network of partner manufacturing facilities enables us to maintain consistently fast lead times while offering a broad array of capabilities, including CNC Machining, 3D Printing, Sheet Metal Fabrication, Injection Molding and Urethane Casting. Xometry has over 10,000 customers, including BMW, General Electric and NASA.
For press inquiries, contact Bill Cronin, Senior Vice President, Marketing at bcronin@xometry.com. We are also happy to provide references for manufacturing partners that are available to speak with you.