Xometry Partner Guide
Version 5.4 | July 3, 2019
Welcome
Thank you for joining the world's premier manufacturing-on-demand network. This guide outlines Xometry's Manufacturing Partner policies and addresses common questions during the sign-up process. Please be sure to read this prior to taking your first job.
---
How It Works
The Xometry Instant Quoting Engine℠ analyzes the geometry of each part and determines a price, lead times, and design feedback instantly as a customer uploads their 3D CAD files. Its pricing and sourcing algorithms are securely trained on one of the largest datasets of custom part manufacturing jobs ever assembled using the latest neural net-based Machine Learning techniques.
Customers are able to order their parts directly from the instant quote in an e-commerce check-out experience, so by the time you see the job in your Partner Portal, the job is already secured. There is no need to quote and wait for a response.
Our sorting algorithm matches each job to partners based on unique requirements such as manufacturing process, finish specifications, shop certifications, inspection capabilities, and capacity. For example, a CNC lathe job with an ITAR certification requirement and a CMM inspection report will be matched to shops that meet those requirements. You are only able to view jobs that match your shop's profile. Therefore it is imperative for you to fill out your shop capabilities as thoroughly as possible and to keep them up to date.
---
Setting Up Your Account
Add your shop's capabilities, including machines, finishing capabilities, and certifications. We will use that information to match jobs that are best suited to your shop.
Sign our non-disclosure agreement (NDA) due to the highly sensitive nature of our customers' work.
Fill out a short demographic on-boarding questionnaire about your shop.
Once you have filled out the required information, we will reach out to you with instructions for completing the first job with Xometry, which is the final step in the on-boarding process.

---
Onboarding Process
---
---
---
---
---
Our Statistical Sampling Plan is based on ASQC Z1.4 2008 Level II to an Acceptance Quality Level (AQL) of 2.5% with Zero rejects as shown in Table 1.
Table 1
---
---
---
---
---
---
---
Please ensure that all parts have been deburred and are free of dirt and oil prior to shipping. To ensure all parts are received by the customer unharmed and free of dings and scratches, we recommend the following packaging procedures:
Single Walled Boxes
- This type of box is acceptable for additive parts (SLS, FDM, and Poly Jet)
Double Walled Boxes
- Double walled boxes are the preferred box for CNC and sheet metal orders
- Boxes that are over 24" should be double walled
Note: DO NOT RE-USE BOXES. (Examples: Amazon boxes. boxes with logos or other company names, etc.)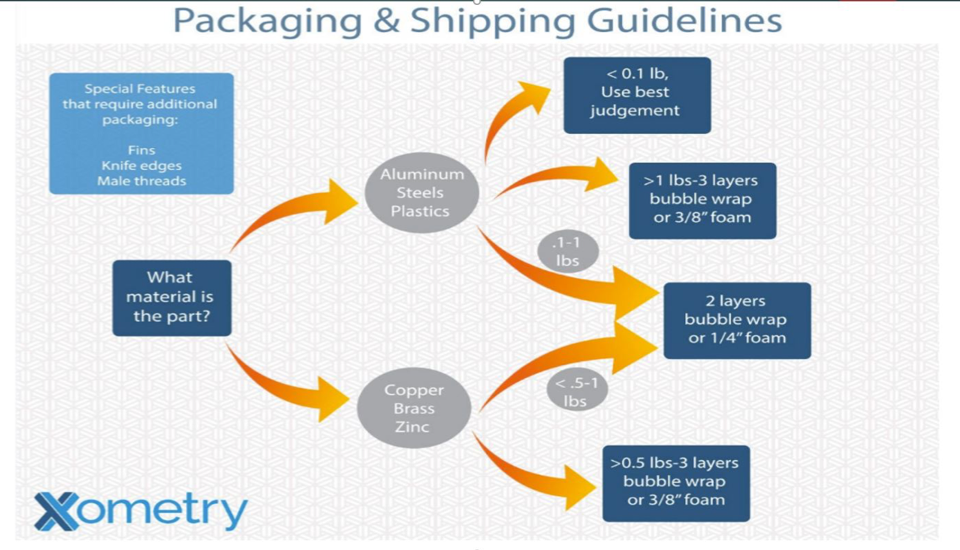 - The most important factor that determines how something should be packed is what material the part is made out of. Soft metals (copper, brass, and zinc) should be packed with more care. A minimum of 2 layers of bubble wrap (3/16" standard small bubble) is needed no matter the size of the part.
- "Use Best Judgement" but minimally these small parts need to be put in individual poly bags. Zip Lock sandwich bags are not an acceptable substitute for poly bags.
- Use Cardboard separators between heavy parts. This will prevent them from hitting each other during shipment.
- Keep a minimum of 1 inch between the part and box.
- If you can feel a sharp edge or corner of the part through the bubble wrap or foam, then add more packaging material.
- Conduct a "Shake Test" on the box. If you can hear parts hit each other, or parts moving in the box, then it needs to be packed tighter. This can be achieved by adding more filler into the box, or adding more bubble wrap to the parts.
- Thin parts (less than ⅛") should be sandwiched between 2 pieces of cardboard.
Large bubble wrap (½ inch or bigger) is not preferred for large parts. The voids between the bubbles will cause part to part contact, which will ultimately result in damage.
- If you are direct shipping to customers, the Xometry sticker/decal should be attached and visible on the outside of the box.
- All Shipments must receive an origin scan at a FedEx office location prior to the locations scheduled drop-off time.
- Packages must not be deposited in a drop box, or FedEx approved location (Walgreens, Safeway, etc) We do not consider an order complete, and you will be solely responsible for all losses if we do not receive an origin scan.
- If we do not receive an origin scan, you will be solely responsible for all losses, and we will not consider the order complete.
---
---
The 3D models, drawings, and specifications that the Customer uploads to the Xometry Properties are the exclusive property of the Customer who submitted them via the Website. Partner is hereby granted a non-exclusive, non-transferable, non-sublicensable, limited license to use, the 3D models, drawings, and specifications and any other that is provided by the Customer for the sole purpose of performing its obligations hereunder. Partner agrees that within 18 months upon the completion of its manufacturing obligations for any Work Order, or upon request from Xometry, it will return or destroy the Specifications for such Work Order.
Partner further understands and agrees that the 3D models, drawings, and specifications and other information uploaded by the Customer are the confidential and proprietary information of the applicable Customer, and will not disclose the such models or information to any third party, without the prior written consent of Xometry or the applicable Customer; provided, that, Partner may disclose such models and information to its employees who have a need to know and who are bound by confidentiality obligations no less restrictive than those contained herein.
You will maintain, for a period required by applicable law, or if no such period is applicable, for a period of at least five (5) years after the manufacture of a Part in accordance with applicable Quality Standard(s), complete and accurate books and records related to the manufacture, inspection, validity of inspection equipment, test, rework, repair, identification, traceability, and subcontract for the product or service supporting your compliance with such Quality Standard(s), including books and records related to any retention periods and disposition requirements related thereto. Upon request, you will permit Xometry, the applicable customer, and regulatory authorities to inspect such books and records, as well as the areas of your facilities applicable to the manufacture of such Parts, to confirm your compliance with these Terms and Conditions during normal business hours.
The Quality Standards are as noted in the Purchase Order or in the Partner Terms and Conditions.
---
---