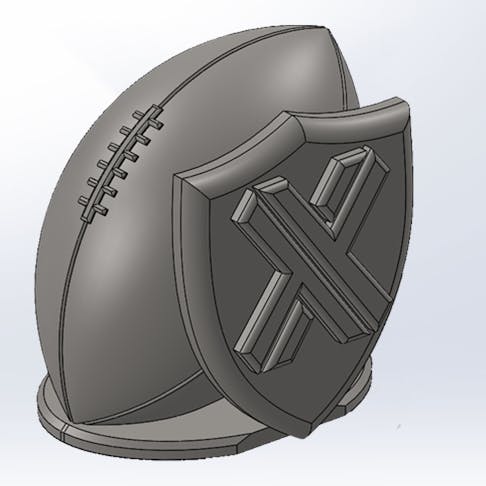 Our Fantasy Football Inspired "CAD of the Month"
Customize a mini-version of our fun fantasy football trophy CAD design! Don't fumble an opportunity to instantly quote.

By Team Xometry
October 8, 2020
 3 min read
We've been getting really into our Xometry fantasy football competition! One of our project engineers, Sean, had the idea to manufacture a 3D printed trophy for the winner of our office league. We are excited to share a CAD file with you in the spirit of the football season!
Here's the play-by-play of how Sean turned his idea into a life-sized, physical trophy.
"Considering how seriously everyone is taking our Fantasy Football League, I knew this trophy had to be spectacular," Sean said regarding inspiration for our Xometry trophy. He knew he wanted the design to incorporate a classic and timeless look, but still have a "wow'" and "X" factor.
The next step was creating the CAD file - Sean used SOLIDWORKS to design because of its industrial capabilities, and took advantage of Xometry's free instant quoting Add-In. He was able to efficiently check for manufacturability feedback all within one integrated CAD workspace. Sean used some creativity to make the trophy resemble the shape of a real football, even incorporating laces and seams in to the geometry of the part. He then added a shield for the prestigious look of a trophy, and topped it off with our Xometry logo.
Our office true-to-size trophy was designed and optimized for the Selective Laser Sintering (SLS) 3D printing process. Sean noted, "The SLS process gives a natural finish which is great in a way that it matches a lot of the texture a real football might have!" We took extra time and effort to finish this sought-after trophy. Our trophy's logo was plated in a bronze patina to really make it pop, and then the logo and laces were also sanded for a smoother finish. You can choose from a variety of finishing options like these that we offer on our instant quoting platform for your own custom parts!
We were so excited about this finished design that we knew we had to share a fun-sized version with all of you in the spirit of the football season!
Now, we're kicking it over to you - we've revamped our big trophy into a fun desktop accessory size CAD file. This fun-sized version is also optimized with SLS nylon in mind, which our team designed using our SLS Design Guide.
Simply download this Xometry fantasy football CAD of the month file and customize by adding your own winning team, logo, or name on the shield in SOLIDWORKS or other CAD design software. Then you could scale the trophy up to be as big as our office's version, add your team name, logo, or #1! Upload your CAD to Xometry and choose from numerous material and surface finish options, and more - the choices are endless! You can even nickel-plate the design to achieve a similar eye-catching finish as our office's true-to-size trophy. Here are some ideas for customizing the design:
Don't fumble this opportunity to explore our instant quoting platform! Quote your own desk-top football trophy for your league and customize any way you and your team members desire!
Are you ready to win your fantasy league?
What will you put on your trophy? Share your CAD designs with us on Facebook or Twitter using the hashtag #XometryCAD - we can't wait to see what you come up with!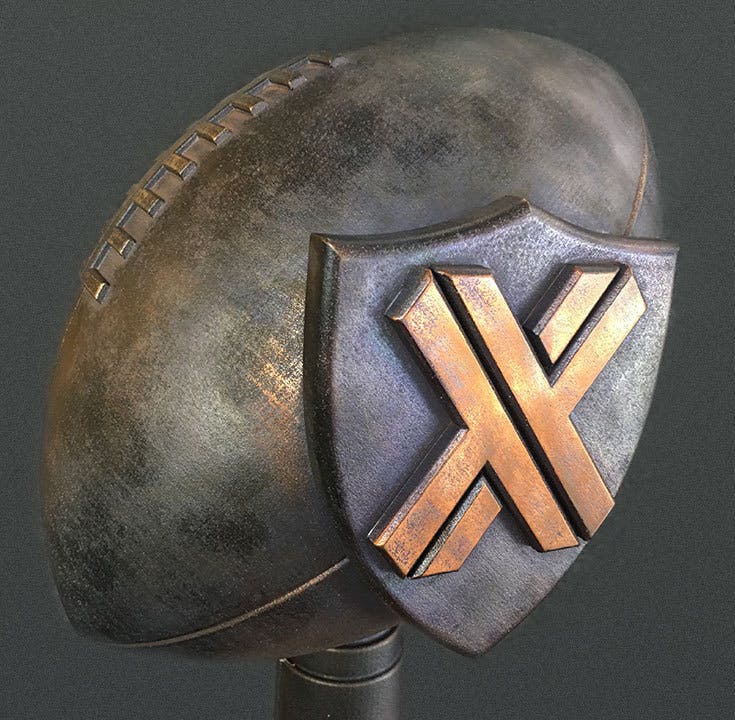 Get the Fantasy Football Trophy CAD File

Team Xometry
This article was written by various Xometry contributors. Xometry is a leading resource on manufacturing with CNC machining, sheet metal fabrication, 3D printing, injection molding, urethane casting, and more.