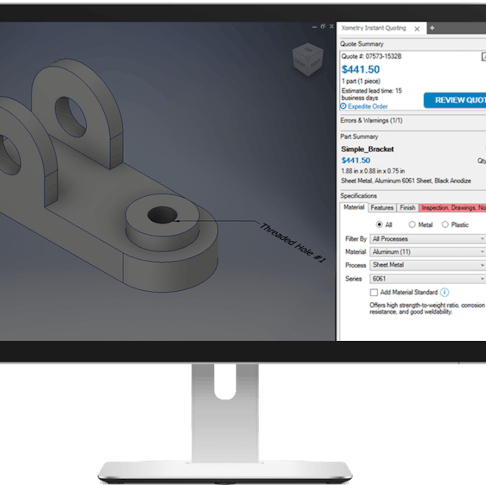 Experience The Greatest Autodesk Inventor Add-In Ever
Welcome, Xometry Inventor Add-In v4.0. All the add-in features you love are now up to 3X faster.

By Serena Ngoh
October 9, 2020
After a recent round of updates, the Xometry CAD Add-In for your favorite workspace, AutoDesk Inventor, is the fastest version yet. Introducing v4.0: The Greatest Xometry Autodesk Inventor Add-In Ever! Get quotes up to 3X faster* so you can design, get instant feedback, and order more efficiently, all within your design environment.
Witness the speed improvement:
For those less familiar with Xometry Add-In for Autodesk Inventor, this tool is a powerful and direct integration with Xometry's Instant Quoting Engine℠ that allows you to simultaneously design your parts and weigh considerations of cost and lead time in a single CAD environment.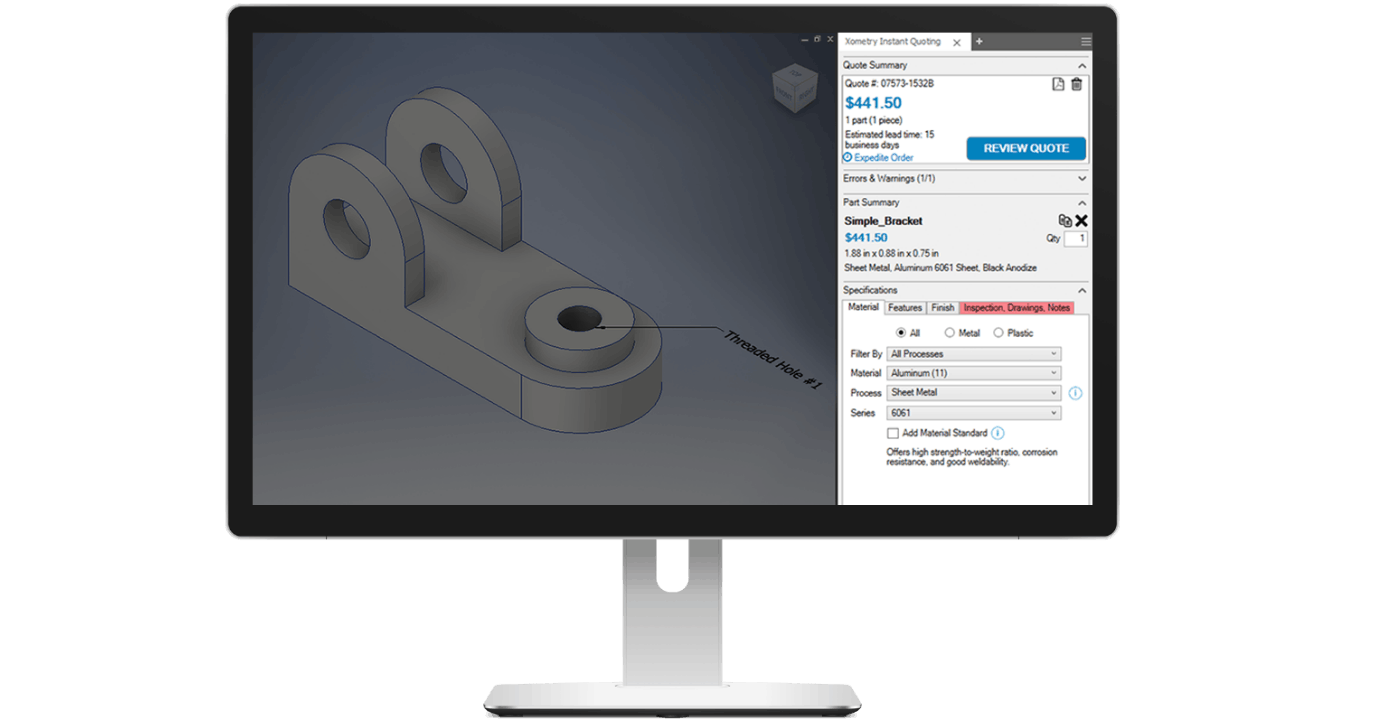 Download the latest Autodesk Inventor add-in now
How the Add-In Works
With Xometry's Add-In for Inventor, we use our machine learning algorithms to give you an instant price by analyzing the part's geometry and factoring in manufacturing requirements such as the process, material, features, finish, and inspection type. Then, we produce a lead time, cost, and manufacturability (DFM) feedback in mere seconds. For any design or manufacturing requirement changes you make to your part, the quote instantly updates the price, lead time, and DFM feedback to reflect the changes.
When you're ready to order the part, you can click to purchase within the platform. You don't have to worry about translating data to a different platform. You can do it all in in one integrated CAD workspace.
Core Benefits
Instant Pricing and Lead Time Updates
Instant quoting within the Xometry Add-In can help you design with the cost and full lifecycle in mind. If you change any feature of your design or change your manufacturing requirements, the price and lead time will automatically update to help you see the direct impact of any given change.
Instant DFM Feedback
Receiving DFM error messages when you're ready to check out can be frustrating, and subsequently redesigning parts is time-consuming. With the Xometry Add-In for Inventor, you can get manufacturing feedback directly in your CAD environment, allowing you to optimize your design based on real-time feedback. You can iterate quickly and use your spare time to tackle other challenges.
Order From the Add-In
When you shift platforms and contexts, there's a transaction cost: time. With Xometry's newly sped up Inventor Add-In, you can save both time and mental energy by designing and quoting within your CAD workspace, then jumping directly to the checkout page to finalize your shipping and billing information.
Access to all Xometry Products and Updates
Not only does Xometry now have 13 manufacturing capabilities and 200 materials to choose from but we are constantly adding new processes and features to the Xometry Instant Quoting Engine℠. By using the Xometry Inventor Add-In, you benefit directly from these continuous enhancements.
Since the launch of the Inventor Add-In, we've updated our pricing algorithms on CNC, sheet metal, and 3D printing to reflect true market costs. We have two new capabilities, stereolithography and HP Multi Jet Fusion, and two-day lead times on FDM and PolyJet 3D orders. Since we now offer first article inspections and source inspections, you can easily generate inspection reports and attach them to your order within Inventor. With the Xometry Add-In for Inventor, you can access all of our product updates instantly.
We want to make your experience designing and quoting custom parts as seamless as possible. Now with Xometry's mightiest update yet to the Inventor Add-In, you can move from concept to assembly to production all in one integrated CAD environment.
FAQs with Hunter Guerin, Product Manager and CAD Add-In Expert
We've compiled our answers to frequently asked questions from our CAD Add-In users so you can get the most value out of this newly updated integration.
Q: How can users with older Add-In versions get value out of this update?
Hunter: All you need to do is update your version. Inventor users will get a prompt to update their add-in directly in Inventor.
Q: I opened Inventor and I can't find the Xometry Add-In. Where is it?
Hunter: If you can't see the Xometry add-in inside Inventor, you may have disabled your Inventor add-ins. Open the Add-In inside Inventor on the ribbon by clicking Tools tab > Options panel > Add-Ins. In the Add-In Manager dialog box, double-click "Xometry Instant Quoting" in the list of add-ins to switch to Startup/Loaded. Click OK.
Q: What if I want inspections and tight tolerances?
Hunter: You can add tight tolerances in the "Features" tab all the way down to +/-0.001". You can add inspection requirements in the "Inspections, Drawings, Notes" tab.
Q: Do I need to leave my Inventor workspace to access other Xometry features?
Hunter: Yes, to check out and to access all of your old quotes, orders, and parts, you will find these in your account on our web platform.
Q: What's your favorite thing about the Inventor Add-In?
Hunter: I love that you can make design trade-offs and check the cost impact immediately. As a thermal engineer in a previous life, it would have been great to quickly compare a part's price if produced in copper versus aluminum. With the Xometry Add-in, that's super easy to do.
For any other questions or concerns, you can reference our Inventor Add-In user guide.

Serena Ngoh
I write about Xometry and all things manufacturing. You might also see me hosting webinars, designing infographics, producing videos, and working directly with customers to tell their manufacturing success stories.