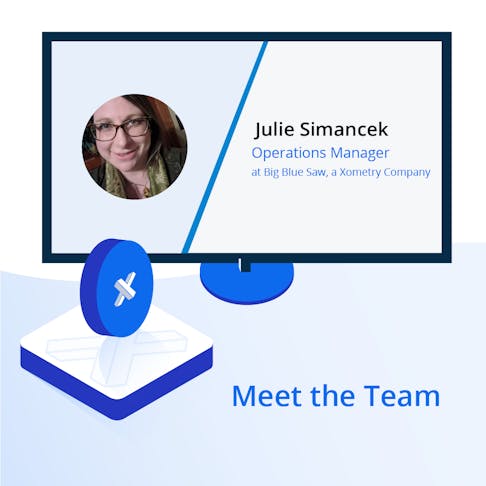 Meet the Team: Sheet Metal Master Julie Simancek
We want to take a moment to highlight some of our internal sheet metal expertise by introducing you to Julie Simanceck, Operations Manager for Sheet and Flat Metal Materials at Big Blue Saw, a Xometry Company.

By Team Xometry
January 7, 2022
 2 min read
Julie is a new addition to the Xometry family, having just joined us when we acquired her long-time employer Big Blue Saw last November. Although she hasn't been with us long, it didn't take long for her to make an impact. She has been an integral part of our sheet metal expansion, and an invaluable resource for our customers.  
Julie's experience working with metal began well before her time with Xometry. She has been working with metal her whole life. Her grandfather and father were both machinists running a family business. This early passion for metal fabrication led her to pursue a Masters of Fine Arts in Jewelry and design from the Edinboro University of Pennsylvania. This love for metal stretches far beyond her academic and professional career; She also formed the Battlebot team Bombshell alongside her husband. Her passion and expertise helped strengthen the team, which competed on the show for two seasons.
We asked Julie what she would want you to know if you are placing a sheet metal order for the first time with Xometry.
" I want you to know that the people at Xometry are just as excited about making your project happen as you are. We are honored that you choose to use our service for your inspiring, insightful, and sometimes wild designs. It makes coming to work every day worth it."
Julie Simanceck,
Operations Manager for Sheet and Flat Metal Materials at Big Blue Saw, a Xometry Company.
Julie isn't the only fan of fun and fantastical fighting robots. If you want to learn more about Xometry's love for Battlebots, check out our case study for the upcoming team Riptide. We are excited to see this Xometry-sponsored team make a splash in the 2022 season of BattleBots.

Team Xometry
This article was written by various Xometry contributors. Xometry is a leading resource on manufacturing with CNC machining, sheet metal fabrication, 3D printing, injection molding, urethane casting, and more.