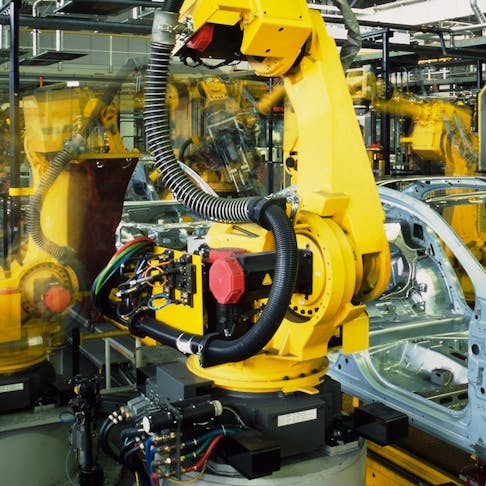 3D Printing in the Automotive Industry
Industrial 3D printers, with their large build sizes and fast speeds, have become indispensable in automotive manufacturing. AM now plays a key role in functional prototyping, design, tooling production, and end-use parts fabrication.

By Aaron Lichtig
October 9, 2020
 4 min read
3D Printing for Cars
When most people think of automotive manufacturing, they typically think of clanging metal parts, CNC machines, and sheet metal punching and stamping. But increasingly, additive manufacturing (AM), which uses plastic resins as well as metals, is becoming a key part of the automotive manufacturing process. SmarTech Manufacturing estimates the 3D automotive printing will bring in $2.3 billion in revenue by 2021.
Industrial 3D printers, with their large build sizes and fast speeds, have become indispensable in automotive manufacturing. AM now plays a key role in functional prototyping, design, tooling production, and end-use parts fabrication. Auto companies can print anything from single-use FDM prototypes to 3D printed metal parts that go directly into working vehicles. The technology is also used to make accessories that make driving safer and more fun. In the future, entire automobiles will be printed from complex metal lattice structures, enabling massive leaps in fuel efficiency.
Automotive parts have different manufacturing requirements than those used in other industries. They often require thin walls, meshes, curved surfaces, and channels for conformal cooling. Fortunately, additive manufacturing can meet the challenge of creating these unique features.
Applications of 3D Printing in the Automotive Industry
Miniature Scale Models and Replica Components
In the early stages of the design process, additive manufacturing can be used to create accurate, colorful models of entire cars (or parts thereof). SLA and binder jetting are two processes commonly used for this purpose.
Rapid Tooling
Many companies are finding additive manufacturing to be a fast, cost-effective way to make custom tools, jigs, and fixtures for the shop floor. Examples of companies who have used 3D printing include BMW, who has created custom tooling for decal and trim installation, and Standard Motor Company, who has 3D printed tools to reduce tooling lead times by 70% and costs by 90%. Common processes used for tooling include Stereolithography (SLS) and Fused Deposition Modeling (FDM). Materials like ABS perform well because they can hold up to wear and tear.
Aftermarket Parts
Companies like GoWesty often use 3D printing to create aftermarket parts like those for vintage Volkswagen camper vans. According to 3DPrintingIndustry.com, following in the footsteps of Volkswagen, German car manufacturer Porsche is taking advantage of 3D printing technology to create spare part replacements.
Production Parts
Increasingly, AM is being used to produce high-quality end-use parts. UPenn's Electric Racing team, which once held the Western Hemisphere record for the fastest student-produced car, used Xometry's 3D printing service to create a set of high precision parts for the accumulator substack endplate.
Real-World Testing
Additive manufacturing is ideal for creating turn-key parts for testing. Companies use SLS, FDM, and SLA parts in crash tests, performance tests, and more.
Functional Mounting Brackets
AM excels in making highly complex, but lightweight brackets for mounting. Making brackets with additive technologies is easier because it shortens the time from design to assembly. Brackets made with CNC machining often take longer and are more expensive to produce.
Whole Cars
Yes, it's possible to 3D print an entire car. According to Machine Design, in 2014, Local Motors printed the first 3D-printed car from an ABS carbon-fiber blend called Strati. Today, the company has three models and an autonomous electric-powered shuttle named Olli. In the future, these cars may become more common. They will offer increased fuel efficiency and performance relative to cars made with traditional manufacturing methods.
Xometry's Work with Automotive Companies
Xometry works with top automotive manufacturers such as BMW, Tier 1 and 2 suppliers, and 44% of the Fortune 500 motor vehicles and parts companies to simplify their supply chain and dynamically scale their manufacturing capacity. We work across all stages of the manufacturing cycle, from prototyping to production. Our skilled engineering team has decades of experience working at top automotive companies like Magna and Toyota.
To see how Xometry's 3D printing services can help your company, get an instant quote or book a meeting with our experienced team now.

Aaron Lichtig
VP of Growth Marketing at Xometry, Jeopardy! winner, and proud father of two. When I'm not crunching numbers or playing trivia, I enjoy writing about manufacturing design and innovation.