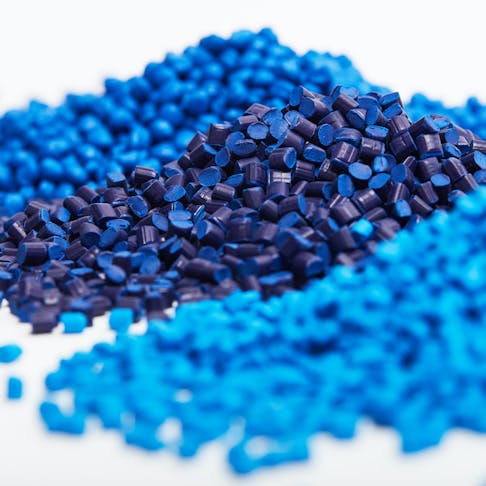 A Chat with Engineer Kyra Stawson on Getting Started with Injection Molding
Which processes are best for prototyping injection molded parts? What are the cost drivers for injection molded parts? Learn the basics of injection molding in this Q&A with Injection Molding Engineer Kyra Stawson.

By Serena Ngoh
October 10, 2020
 6 min read
Kyra Stawson is a Technical Sales Engineer for the injection molding division at Xometry. She graduated from Penn State Behrend with a degree in Plastics Engineering and has experience in automotive manufacturing from Toyota, where she oversaw injection molding quality as part of the plant production engineering team. At Xometry, Kyra consults with customers during the design stage of injection molding. I sat down with Kyra to learn more about the major considerations when getting started with injection molding.
First Things First. What Is Injection Molding (IM)?
Injection molding is a process used for the mass production of plastic parts. For each unique molded design there is a dedicated tool, or mold, that is custom made to produce thousands upon thousands of that part in succession. This tool consists of at least two halves that, when mated together, have an empty cavity in the exact shape of the part. The tool is set up on a machine, called a press, that closes the mold halves and injects a measured amount of molten plastic into the mold through a small hole in the tool called a gate. The plastic then hardens, and the mold opens up for the part to release. This process repeats to produce parts faster than almost any other custom manufacturing process. Injection molding can make parts in various types of plastic, rubber, and silicone. You can even mold material over other parts using a process called overmolding or insert molding.
What Are Some Applications of Injection Molding and When Should I Consider It?
Injection molding is typically used for anything that has complex geometry and that other manufacturing processes like extrusion cannot handle. Some common examples of injection molding parts are enclosures and device application enclosures. Almost anything you see when you're sitting in the drivers' seat is injection molded, as well as various functional parts under the hood of your car like automotive connectors, caps, electrical connectors, and intake manifolds.
During this time specifically, Xometry has had a huge influx of medical device orders. This is because injection molding is huge in the operating room. If you look around, you'll see syringes, face masks—if they're made of plastic, of course—thermometer housings, screen enclosures, pill containers, and more. All of these have likely been injection molded.
Typically, if you know you need a number of parts over 100, or even between 50-100 pieces, I would definitely start looking into injection molding. Xometry's minimum requirement is 100 pieces, and there may be pricing break-evens with other processes like 3D printing or urethane casting, at which point it will definitely be more cost-effective to pursue injection molding.
What Is the First Step in Injection Molding? Or Can I Simply Go Buy a Mold?
Typically, I would move to the mold design after you prototype a part. Prototyping is good to confirm the idea and function of your part. But remember that the design requirements are different between manufacturing processes, and you don't want to have this great prototype that works just the way you need it for one process, and then you have to go back and change it so it works for injection molding. If you are not designing your prototype with IM in mind, you are designing yourself into a corner. The change required for injection molding might mess up the function of the part.
If you don't know what the long term volumes of the part are that you need to produce, then you may not need to restrict your design. 3D printing has virtually no requirements, whereas in injection molding you have to design with two halves of the mold and side actions in mind. But if you are set on injection molding and you already know you need high volumes early on in prototyping, bear in mind that there will be design changes to account for the change in the process capabilities.
What Bridge Processes Are Best for Transitioning from Prototyping to Injection Molding?
3D printing is great for prototyping injection molded parts if you want to get quick and dirty parts. Urethane casting is another great option and is the closest way to simulate an injection molded part since you don't get the layers that you would see with 3D printed parts. This means the part is solid, like an IM part, and will act as close as possible to IM parts with good abrasion and impact resistance.
CNC machined plastics is another great option, but the best way to get quick and dirty parts is ultimately 3D printing. And what I mean by quick and dirty is that there are almost no design limitations with 3D printed parts. You can 3D print virtually anything, so you can use that to validate a feature, especially when the name of the game is speed.
What Are the Cost Drivers for Injection Molding?
The cost drivers totally depend on the part itself. There are many factors that go into it, like the material of the part and tool, size of the part, and quantity. Typically, the greater the part size (the overall bounding box of the part) and the more features it has, the more expensive the molding order will be. A 2-part open and close mold, which is used for parts that have more simple geometry, is cheaper than a mold requiring side actions, which is used to create undercut holes and other complex features. The part material is another significant driver; abrasive materials like glass-filled materials will wear down the tooling faster and require a tool with a more durable and expensive material like steel or hardened steel. There's also the manual labor that goes into the cost; side actions in low volume production tooling are hand-loaded with every cycle.
The location of where the part is molded is another major factor. There may be an average of 40-60% decrease in production costs for parts made with Xometry's overseas Manufacturing Partners instead of in the US, but getting parts offshore may also mean that the delivery time is longer.
Why Is Injection Molding a Good Choice? What Makes the Injection Molded Parts Unique?
IM is only ever growing, in my opinion. When I started college, there were only 4 colleges that had a plastics engineering program. By the time I graduated, there were 6. At Xometry, we've been seeing more need for injection molded parts and I think we'll continue to see more. This is because the options for creating parts are virtually limitless with injection molding. You can choose from thousands of materials—more than even 3D printing. IM is the most repeatable plastics production process out there and is good for long-term, higher volumes. At Xometry, you also own the mold and can scale up at any point at a low cost per unit.
At the end of the day, injection molding makes things lighter and more cost-effective. Injection molding is here to stay and I think we're just getting our feet wet.
Who Can I Reach Out to for a Quote?
When you visit xometry.com and upload your 3D file, a sales representative will provide a quote in 24 hours. Xometry has a technical consultation team, including myself, to help you see whether injection molding is right for you and to walk you through the next steps. If you need more information about injection molding to confidently quote and order something, you can always reach out to me at kstawson@xometry.com.

Serena Ngoh
I write about Xometry and all things manufacturing. You might also see me hosting webinars, designing infographics, producing videos, and working directly with customers to tell their manufacturing success stories.