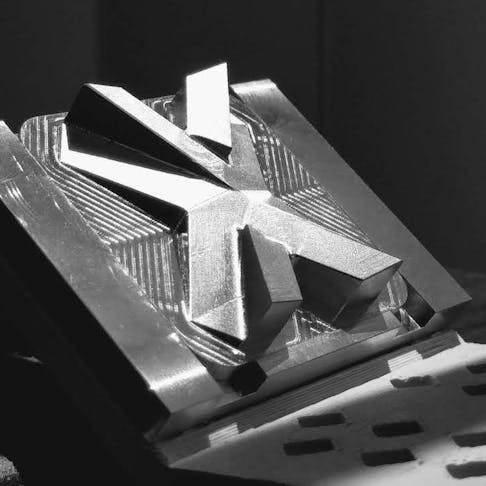 Start at the Finish: Xometry's Industrial Finishes for Custom Parts
There are over 50 unique finishes you can use on your custom components. We dive into the categories of finishes and their applications.

By Greg Paulsen
October 9, 2020
 4 min read
Finishes on custom-made components are often necessary to enhance the overall aesthetic of a part or may be integral to the function of the part. Luckily, with global manufacturing networks like Xometry, engineers, designers, Xometry Partners, and more can source over 50 types of industrial grade finishes, coatings, part markings, and heat treatments. Some of the most common treatments for custom parts are used to increase corrosion resistance as well as the durability of machined and sheet metal fabricated parts. Ahead is a discussion of the different types of finishes for metal parts—how they work, what they're used for, and how they relate to other finishes.
Adding Performance to Metal Parts through Finishing
Chemical conversion coating (chem-film) and Type II or Type III (hardcoat) anodize: Parts like electromechanical housings made out of aluminum may require chemical conversion coating (chem-film) to prevent metal oxidation while maintaining conductivity of the surface. A chem-film finish can be combined with other finishes like powder coating and Type II or Type III (hardcoat) anodize to increase durability and change the cosmetic appearance of a metal part. Chem-film also prepares surfaces for powder coating and painting.
Electroless or Electrolytic nickel plating is suitable for any conductive metal to add significant durability and environmental protection. Great candidates for nickel plating are steel parts, such as 1018 or 4140 steel, which may easily rust or corrode without protective finishing. Many nickel-plated parts are used in high-wear environments, like factory automation. Nickel also provides a bright shine to the parts.
Electropolishing and passivation: Metal parts, particularly stainless steels like 17-4pH or 316L, may require additional electropolishing to improve the surface finishing. This, combined with cleaning and passivation provides an ideal finish for medical instrumentation.
Pickle and oil: If you are building a weldment out of steel, you may require pickle and oil services to remove impurities from the metal and packaging to prevent contamination before welding.
Dry film lubricants: Other surface finishes that can help prepare a part for its use could be applying dry film lubricants or other coatings.
Changing Material Properties through Heat Treatment
Annealing and stress relieving: Heat treatment can be used to soften metal parts through annealing. It also is popular for stress relieving large metal components before precision milling at high tolerances.
Carburizing, induction hardening, and flame hardening: Heat treatment can also change properties to make parts significantly stiffer, such as through carburizing, induction hardening, or flame hardening steel.
Nitriding, which is a type of case hardening, can change the external structure of a metal component to increase surface hardness with little dimensional change. Carburizing is a similar process which also increases wear resistance on the surface of a metal part by introducing carbon into the metallurgy.
Cryogenic treatment of steel is a cold treatment that actually hardens the material through liquid nitrogen cooling at -185°C/-301°F.
Options for Plating in Precious Metals
Xometry's finishing network specializes in both general and niche precious metal plating.
Gold plating is a common precious metal finish that is great for copper 101 components. This finish produces an inert surface finish with high electrical conductivity by electrically depositing an extremely thin layer of gold.
Silver plating can also produce the same mechanical properties as gold plating.
Rhodium and palladium nickel: Available through Xometry's finishing network, these typically hard-to-procure metal plating options can help to finish other precious metals like gold, adding durability to the softer materials while taking advantage of their properties.
Serialize and Certify with Xometry Finishing Services
Silkscreen, laser marking, and engraving: Parts that need part marking and serialization can utilize silkscreen, laser marking, or engraving. Many parts that use these processes are available for standard 2-day turning and expedite.
The serialization and certification options available through Xometry's finishing network gives you the quality and auditable traceability you need. Our network contains ITAR-certified, ISO 9001, AS 9100, and other certifications for finishing. Need a CoC or other cert? Just ask!
Xometry's finishing services platform allows you to get affordable quotes within hours and communicate directly with your finishing supplier about the job's schedule, payment, and manufacturing specifications. To learn more about what Xometry Finishing Services offers, or to start a quote, visit our finishing network page. To learn more about finishes, download our CNC finishes ebook.

Greg Paulsen
They call me the Director of Application Engineering at Xometry. This means I not only get to produce great design-for-manufacturing content, but also consult on a variety of custom manufacturing projects using CNC machining, additive manufacturing, sheet metal, urethane casting, and injection molding. If you have a question, I'm your guy.