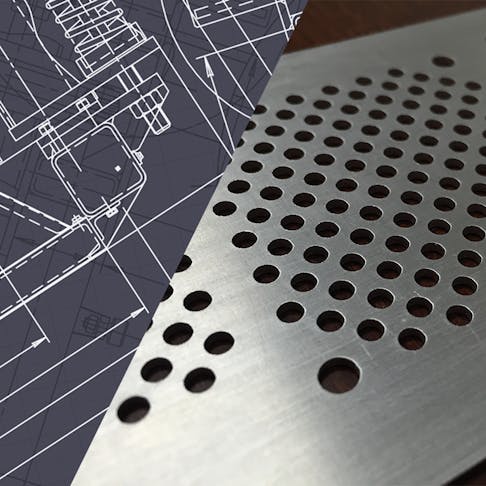 Product Update: Get Instant Quotes on Sheet Metal with DXF 2D Files
Xometry now offers instant quotes on DXF (Drawing Interchange Format, or Drawing Exchange Format) files to enable seamless sheet metal fabrication quotes.

By Serena Ngoh
October 9, 2020
 3 min read
This just in: DXF files can now be quoted auto-magically alongside nine other 3D file formats in the Xometry Instant Quoting Engine℠. Previously, Xometry users could attach DXF files to their sheet metal 3D file for reference but could only get instant quotes through a 3D CAD model. With the addition of our DXF instant quoting capability, Xometry is making getting instant quotes on sheet metal fabrication as easy as possible, no matter what file types or CAD software you use.
If you're wondering what this new feature is all about, here's the breakdown: A DXF file, also known as Drawing Interchange Format or Drawing Exchange Format, is a CAD data file format that enables data exchange between AutoCAD and other CAD software for 2D and 3D drawings. 2D DXF files have polygons only on the XY-plane and help both designers and machinists communicate the dimensions of flat sheet parts without bends. Flat sheet parts are typically laser cut, producing strong metal parts at low prices, especially in higher quantities. Thicker parts may be fabricated via waterjet cutting or plasma cutting. With Xometry's improved interface, users can upload DXF files as part files, get an instant price and lead time, and order strong, flat metal parts for every application and industry.
An example of a 2D DXF (.dxf) (.DXF) file
Great! How Do I Get Started with Quoting DXF Files?
Upload additional DXF files to quote or choose Next
From here, you can interact with your quote settings by toggling the options for material, finish, tolerances, inspection options, threads, tapped holes, inserts, and quantity. Each time you make a change to the manufacturing options, your quote will automatically update the price and lead time. Et Voila, as our Xometry global counterparts might say.
Since your DXF file is now securely saved in your Xometry account, you can always re-quote that same part by clicking Recent Uploads and adding it to a new quote. You can also revise your quote by visiting your quote history.
Tips for Seamlessly Quoting DXF Files
The best way to get an instant quote with a DXF is to upload a 2D flat cut file and not the full drawing.
If you receive an error message, there may be a few reasons for this.
Your DXF file contains data that our quoting engine cannot parse through, like a border and a title block. Remove these to get an instant quote.
Your file has more than one part. Simply remove the other parts and upload these as separate files.
Your file is not completely 2D. Remove any structures not on the XY-plane to continue with quoting a DXF file, or convert your file to an accepted 3D file.
Your file has unclosed polygons or the polygons have overlap. Trim or close up your shapes.
Note that if you upload a DXF file as an attached drawing as you may have done in the past, you will not receive an automatic quote on the attached file. For more tips on uploading DXF files, see our support page.
Ready to upload your DXF files and get an instant price and lead time? Visit the Xometry Instant Quoting Engine℠ now.

Serena Ngoh
I write about Xometry and all things manufacturing. You might also see me hosting webinars, designing infographics, producing videos, and working directly with customers to tell their manufacturing success stories.