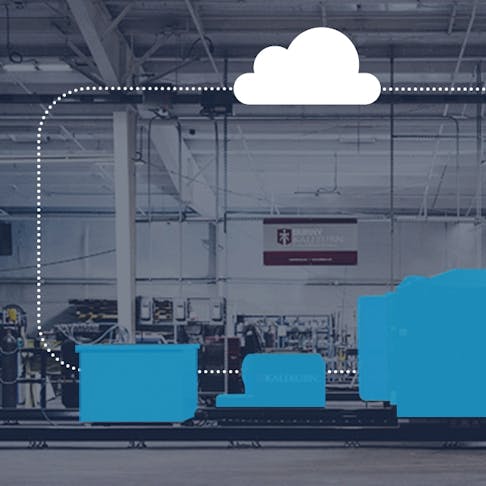 3 Ways the Industrial Internet of Things is About to Completely Transform Your Supply Chain
Far from an excuse to put one's head in the sand, the IIoT is an opportunity unlike any we've ever seen before. For manufacturers looking to win the future, the time to get ready is now.

By William Krueger
September 22, 2020
 9 min read
If by now you haven't heard of the Internet of Things, you're either a liar or a modern day Rip Van Winkle. Already, your new laptop syncs to your new printer right out of the box with nary a cable or an introduction. Your home's thermostat responds to your gentle nudgings via the internet while you're at work. You can hail an Uber with a few flicks of the thumb, look inside your refrigerator at 30,000 feet and trust your Roomba to find its way around your home with the help of Amazon Web Services.
The world has changed.
It's no longer just a place where people are digitally connected to one another via the wonders of the internet and a desktop computer. Thanks to the cloud and an explosion in sensor technology, the world is steadily filling up with devices that are connected to people, one another and the internet, too.
Some of them are in our pockets. Some of them are in our homes. Some of them are worn, and some of them are wielded. From our vehicles to our surgical tools, the cloud has made connectedness common. While, right now, the number of devices making up the IoT might seem insignificant, it soon won't be. The trickle is about to become a flood — especially in industry.
Six Degrees Of Preparation
That things are communicating with other things, and that it matters isn't really news. Smartphones have been around for almost 10 years now — an eon in the Digital Age — and more and more people hop on that bandwagon each day. An estimated 1 billion people are expected to be smartphones users by 2020, meaning the connectedness, speed, and interactions those devices provide are becoming assumed, second nature even.
In other words, our modernized, mechanized, cloud-connected lives have been getting prepped for the Internet of Things for a while. We've all already been living amazingly futuristic, internet-fueled lives; what's a little more of the same going to do?
If you step away from strict consumer applications and enter those of industry, the answer is a lot. Called the Industrial Internet of Things, manufacturers stand to win and win big with the connections about to be made across the factory floor, logistics providers and even the front office. Especially in terms of traditional supply chains and supply chain management, the Industrial IoT is poised to totally Star Trek the place.
From getting bigger data to an entirely new kind of outsourcing, here are three ways the IIoT is about to completely transform your supply chain.
More Data. More Problems. More Power.
Big data's buzz has been around so long most of us have acclimated to the sound of it being collected, scraped, sorted and analyzed. The merging of a particular company or organization's proprietary information with data from public sources to reveal patterns, trends, and insights, big data was supposed to grant nuanced and mind-blowing insight to its users. It was supposed to render decision making easier and more relevant for everyone from a Fortune 500 CEO to a congresswoman to a community organizer.
But big data hasn't given rise to as much insight as everyone hoped it would — not so far, anyway. While it's true that some organizations have gathered it, analyzed it and leveraged it wvell, many more have not. Now, thanks to the fast-approaching IIoT, the promise of big data — and all the problems associated with using it well — are about to get bigger.
Every CNC lathe, mill, plasma cutter and EDM, every 3D printer, robot and cobot, everything in use on the world's factory floors is either outfitted with sensors or about to be. Connected to the cloud and one another for the purposes of churning out unimaginable loads of actionable data, these tools, and their sensors have the potential to unleash productivity and efficiency the likes of which we've never before seen. The Industrial IoT really will make it possible to dive deeper than anyone has ever dived before into improving manufacturing processes. Still, the threat of not being able to surface again from that deep dive to make sense of it is a real one.
While creative, closed-loop applications of big data within IIoT will allow machines and tools to make their own decisions and take action themselves on the data they're generating, streamlining the processes of people at work on and around those machines will be a lot more complicated. Thankfully, the world of the Industrial IoT will likely solve that problem, too, as companies and technologies emerge to make sense of and apply all these connected things' data to the work of CNC machining, additive manufacturing, sourcing materials and tooling, supply chain management, and more.
It's here — in the brave, new work undertaken by other companies and organizations with whom you can partner — that the daily petabytes of generated data can transform your supply chain. Because of the groundwork already laid by protocols like MTConnect and OPC Unified Architecture, technologies, languages, and tools already exist that can gather the data. All you have to do is find a partner leveraging it in a way that can radically streamline outdated business operations.
Outsourcing Isn't Headed Offshore. It's Headed Online.
When U.S. manufacturing companies sought to increase their competitive advantage in the 20th century, many of them pulled up the deep stakes anchoring our country's domestic production and sought cheaper suppliers under foreign skies. While outsourcing in this way certainly cut costs and drove profits up, it also resulted in a breakdown of trust between manufacturers and the domestic suppliers with whom they once did business. It's a breach that still hasn't been repaired either, in large part because so many American companies continue the practice of sending work overseas.
As the IIoT looms, however, that far-off, cheaper supply chain stands to lose a bit of its sheen and cost competitiveness. Why? Because the Industrial Internet of Things is a cloud-based revolution, and it contains within it the expectations that accompany the use of the cloud.
Just as our personal forays into mobile tech and an always-on experience of the internet have transformed our expectations of Time as individuals and consumers, so too will the IIoT completely transform how we conceive of Time in manufacturing. A supply chain involving multiple countries, a couple of continents and scores of other moving parts is way too slow and cumbersome to justify the cost savings.
Once the IIoT's applied big data results in almost-certain productivity and efficiency gains among U.S. suppliers, offshoring CNC machining, 3D printing, and other supply chain needs may begin to look genuinely foolish even from a strict bottom line perspective. Already, the rise in wages in traditionally low-cost markets coupled with the costs and questionable reliability of shipping make offshoring a bad bet. When suppliers in your own backyard can make it right and make it fast, why go elsewhere?
Add to these realities, the fact that it's already possible and even easy for manufacturers to move all of their production and procurement needs for CNC machining, 3D printing, and injection molding services online, and you have to wonder: Why wait on and manage a supply chain overseas when you can have a domestic one powered by the Industrial Internet of Things that can be triggered and accessed online?
The IIoT will transform how companies think about and do outsourcing. No longer just a tactic to get physical parts and goods at a lower price point, outsourcing is about to include your business processes and operations themselves. When you put your supply chain in the cloud, you'll not only be able to move at a pace that's faster than your competition, you'll be able to move at a pace that's faster than your customers, too.
The Supply Chain Is Out. The Ecosystem Is In.
Finally, the Industrial IoT will transform the very notion of the supply chain itself. Already supply chain discussions seem like a hearkening back to a simpler time. From the rise of distributed manufacturing to business models that involve co-creation, more and more companies are moving away from a chain of supply to embrace a more nimble, complex and cooperative ecosystem.
The IIoT will make this move away from supply chain practices and ideologies even more pronounced as more and more companies and businesses band together to make sense of and leverage an increasingly complicated world. Especially because the Industrial Internet of Things is likely to speed up the development of disruptive technologies, the idea of going it alone will cease to make any kind of sense in business. Instead, the need to be part of an interdependent ecosystem will become clear, as companies form partnerships to adapt to marketplace, sourcing, and supply challenges in creative and coordinated ways.
Far from an excuse to put one's head in the sand, the IIoT is an opportunity unlike any we've ever seen before.
Business choices were never made in a vacuum; the people making business choices just acted like they were. That perception will quickly lead to loss of marketshare now. Our world's connectedness has connected us so that gains or slowdowns in one industry or company stand to affect us all. Companies all over the world are readying themselves to leverage the IIoT for gain, but only those companies that take an ecosystem approach and include the emerging tech that would disrupt them will be able to move forward. The rest will lose their footing.
As Ron Adner recently put it in Harvard Business Review, "If you are competing in an ecosystem world, you must pay as much attention to the progress of co-innovators as to your own innovation efforts. This means recognizing when their slow development will act as a bottleneck to your own growth and when their accelerating development can fuel the growth of substitutes."
The IIoT is almost here, and it's going to upend the tried and true methods that successful manufacturers have long relied on. Far from an excuse to put one's head in the sand, the IIoT is an opportunity unlike any we've ever seen before. For manufacturers looking to win the future, the time to get ready is now. Your supply chain as you know it is on its way out. Embrace what's on the horizon.
Learn more about how Xometry can help you transform your supply chain — from finding profitable jobs for your shop to sourcing materials and tooling — here.

William Krueger
As a digital marketing specialist, William works with all forms of media from photography and video to content writing and graphic design to tell the story of American manufacturing. He holds a B.A. in Communication from Wittenberg University.