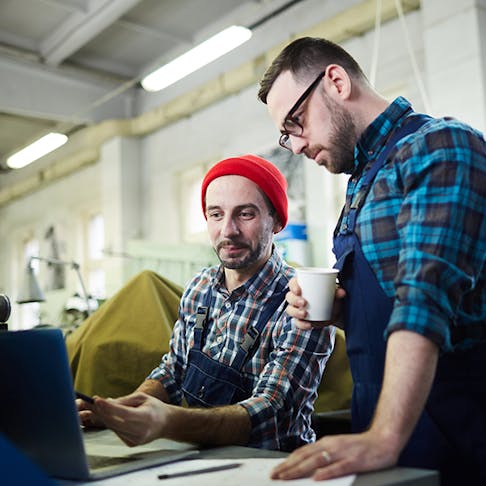 7 Tasks Every Shop Owner Should Complete Before the End of the Year
We pulled together this year-end business checklist so you can knock these activities out and start the new year on good footing.

By Team Xometry
December 14, 2020
 4 min read
With the end of the year just around the corner, there are a few critical tasks to complete before you sit by the fire and wait for the year to exit stage left.  We pulled together this year-end business checklist so you can knock these activities out and start out the new year on good footing.
Assess Your Pipeline
"We want to start fresh in January, but a cash shortfall can be a big setback to focusing your energy forward," notes business coach Jill James, CEO, and founder of Sif Industries. "I always keep customer relationships and sales at the top of my list. Having sales and loyal customers will solve a lot of other business problems." If you don't have enough projects on the books, hop on Xometry to fill your pipeline or seek out more referrals to your shop.
Test Close for Tax Planning
How do you prepare accounting for year-end? Meet with your CPA. They can help you identify crucial tasks to complete. One thing you should definitely do while there's still time to make decisions: a trial close of your books. Your CPA can analyze it to yield valuable insights about cash flow and tax liability. Manufacturers Capital, a Xometry Shop Advantage Program partner, has a fantastic guide to some of the items you may want to discuss with your tax advisor before the year ends. 
Make Informed Choices About End-of-year Outlays
While you've got your CPA's attention, get their advice on year-end spend. Some strategic purchases might lower your tax liability. Or look at rewarding the workforce, including yourself. "If you're organized as an S-corp, make sure you've run at least one W-2 payroll for yourself to avoid a tax penalty or worse, losing your S-corp status," James advises. You might also look at your ability to offer raises or bonuses to top performers. 
Review Your Business Insurance
"All areas of operations have a significant impact on whether the insurance policies are adequate or even appropriate for the business," cautions Toni Johnson, producer/owner of RMX Insurance Services. "In some instances, there may be underwriting clauses within your insurance policies that require providing advance carrier notification of major changes and failure to report could result in cancellation or reduction in available coverage. We believe that any company's advisory roundtable should include your insurance broker along with your attorney, accountant, and senior leadership. We encourage at a minimum quarterly checkups with your trusted advisors which includes your insurance broker.
Complete Legal Documentation and Other Requirements
There are certain items that a business entity -- a corporation or LLC -- is required to document each year, like minutes of an annual meeting. "Failure to follow these formalities can lead to piercing the veil of limited liability for owners, which is one of the main reasons to have a separate entity in the first place," notes Imants Holmquist, partner at Holmquist & Gardiner, PLLC. You also should discuss any material changes and make sure those changes are properly documented. "This may be changes in ownership of the entity, employment agreements, or material contracts with third parties," he adds. Finally, ask your lawyer to review commercial leases with renewal option notices coming due in 2021 or any agreements that need to be properly drafted and executed to ensure protection in the event enforcement is necessary in the future." 
Sign Forward Contracts
Speaking of contracts, many shop owners like to ink forward contracts before the year's out. If you're one of them, in addition to running the documents by your attorney, shoot them to your insurance professional, too. Why? "Allowing your insurance broker to evaluate the contract ensures your insurance does not stand in the way of operations and provides the opportunity to budget or negotiate passing off any increased pricing or additional coverage you may need to procure to comply with the contract requirements," Johnson notes. Bonus: Your broker may be able to assist in negotiating down contractual insurance and indemnification clauses. 
Send Invoices and Follow-up on Past Dues
One of the most important year-end tasks for small businesses is making sure you get your money. Make sure invoices for completed work get on the books before year-end so you don't experience a lag in the New Year. Reach out to accounts that are past due to find out when you can expect payment. If cash flow is a problem, chat with your banker to create a possible payment plan or discount for payment before December 31.

Team Xometry
This article was written by various Xometry contributors. Xometry is a leading resource on manufacturing with CNC machining, sheet metal fabrication, 3D printing, injection molding, urethane casting, and more.