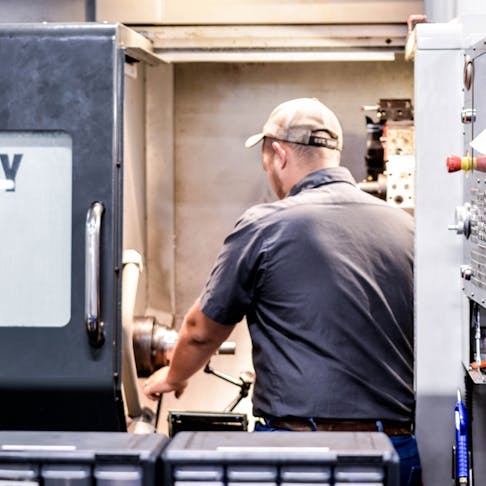 CNC Machining Across The Country: Dispelling Workplace Misconceptions
Opportunities and well-paying jobs abound in manufacturing — from precision machinist to 3D printing guru — it's just a matter of knowing where to look.

By William Krueger
September 22, 2020
 3 min read
Manufacturing is one of the most essential parts of the United States' economy, and CNC machinists across the United States are its backbone. Things are also looking bright for the industry with the National Association of Manufacturers' (NAM) most recent manufacturing outlook survey showing optimism among manufacturers as having reached over 90% in 2018, an all-time high.
However, that same NAM survey also shows that over 65% of manufacturers cite the inability to attract skilled workers as their top challenge going into 2019. What gives?
Manufacturing has something of a PR problem. The average American manufacturing and CNC machining job takes place in a high-tech shop and involves the kind of math and coding you'd find in an IT post, but many people still think the work is something only those poor souls unfit for other occupations do.
Worse, many people assume the work takes place in dirty, poorly lit factories amid dangerous conditions and that the pay amounts to peanuts. Parents shudder to think of their children as machinists, and teachers fail to guide students who might not want to spend their lives at a desk toward a more interesting career in manufacturing.  
It's a shame. CNC machining and other forms of manufacturing can be remarkably lucrative, challenging and rewarding work. The average annual salary across the board is over $77,000, and in Washington D.C., the average annual salary tops $130,000.  Poor souls unfit for other work? Hardly.
Manufacturing in America may still be trying to recover its footing, but for the individual working in it, it can make for a great career path. So why does the misconception remain? Or more importantly, how do we change the perception?
Machining Across the U.S.
While it's safe to say every state has machinists churning out parts and products every hour of every day, some states post more impressive numbers than others. You can see how states measure up on the map below.
Here at Xometry, we offer online, on-demand CNC machining services — along with 3D printing services, injection molding, and more — but we know we're only able to do that because of the excellent machinists and manufacturing partners at the helm of the nation's CNC and additive manufacturing machines.
There is a lot that stands in the way of progress in manufacturing, but bad PR engrained in our national psyche and a lack of skilled workers should not. Ensuring manufacturing's place in the future of the U.S. economy requires a well-trained, highly-skilled, and diverse workforce, capable of handling the complex and adaptive work that makes up modern-day manufacturing.
If you're a middle school or high school student, or interested in a career change and you'd like more information on how you could get free education and a great job in advanced manufacturing, check out AMT or your local community or technical college. Opportunities and well-paying jobs abound in manufacturing — from precision machinist to 3D printing guru — it's just a matter of knowing where to look.

William Krueger
As a digital marketing specialist, William works with all forms of media from photography and video to content writing and graphic design to tell the story of American manufacturing. He holds a B.A. in Communication from Wittenberg University.