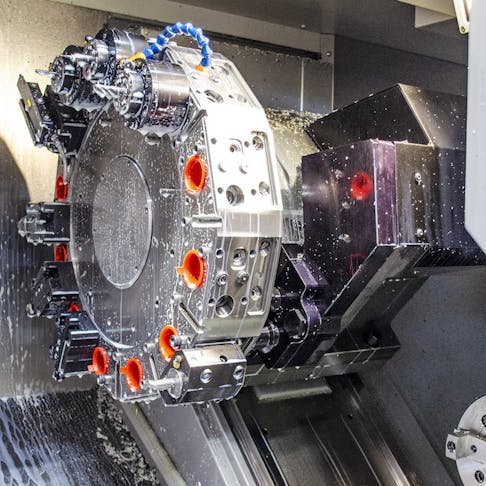 The Top 4 CNC Equipment Enhancements You Should Be Using in Your Shop
In spite of these manufacturing workforce challenges—or perhaps because of them—the market is growing and advanced manufacturing is on the cusp of a renaissance.

By Team Xometry
September 18, 2020
 3 min read
To satisfy the growing demand for turnkey CNC parts, complex multi-axis manufacturing, and competitive lead times, machinists are utilizing advancements in CNC equipment and software to increase throughput and efficiency, and minimize technical bottlenecks.
Here are the top 4 CNC machining enhancement trends that we think you should implement in your shop:
1: Try More Axes for Lower Machining Cost
The more axes your machine center possesses, the fewer setups, operations, and materials you'll require. A reduction in setup complexity will directly decrease the rate of labor per part and, indirectly, will reduce your overall machining cost. This also mitigates the human error that can occur with each setup step and the scrap that can potentially be produced from costly mistakes. Nowadays, multi-axis machines or multi-axis machining capabilities are easier to access with a more competitive priced marketplace and interchangeable rotary tables, or trunnions, which allow you to upgrade a 3-axis machine to 5-axis capabilities.
Reduction in market prices for smaller CNC platform machines also allows machinists to run short, individual operations. These are sometimes called 2nd-Op machines, or mini-mills, and can run parallel to larger machining platforms to allow more work to be completed daily.
2: Microservices Can Have a Macro Impact
Microservices like Provencut have helped to augment CAM software in the machining industry. The platform gives machinists access to tested and proven "recipes," or instructions that are custom created for various machine platforms with tool specifications and optimum pathing. These coded directions are combined with other code that create a machining operation with minimal risk, allowing machinists to produce more parts most efficiently and mitigate scrap.
Provencut has created a digital archive of CNC recipes that allows for drag-and-drop programming for part features.
3: Let The Machines Train Your Team
Many modern equipment manufacturers include 3D CAD viewers or CAD/CAM features inside machine platforms. The display on the machine controllers acts as a visual guide for ease of operation and setup. Some popular machining equipment manufacturers like Haas have controllers that contain instructional videos and step-by-step images. This is particularly helpful for novice users, as these features can train users, reduce non-machining time, and minimize errors.
Amada's press brake is a great example of equipment that can train your workforce. This machine has built-in tools and feedback to guide users to ensure accuracy and precision through a digital interface—even warning users if the wrong tool or dies are installed.
4: Use CAM When You Can
If you're not familiar with CAM software and all of its benefits, you should be. CAM (or computer-aided manufacturing) software, like MasterCam, programs the manufacturing of a part. A user must first insert a 3D computer-aided design (or CAD) model, add in their toolset, and then voila! Each machining operation is programmed and simulated virtually. CAM software that includes new tool pathing technology and advanced collision detection is extremely valuable in the CNC machining community. These enhancements reduce cutting times, mitigate wear on endmills, and significantly minimize the likelihood of collisions. Ultimately, CAM software bridges years of workforce training by building in would-be tribal knowledge into the software.
Small business manufacturers are continuing to adapt to a market that demands flexible production and increased complexity through enhanced technology. Even with localized labor shortages in many areas of the United States, manufacturing can thrive through better tools to enable establishments to do more with less. On-demand manufacturing platforms can help aggregate work and provide jobs through Xometry's Manufacturing Partner Network. Complementing services in the Manufacturing-as-a-Service (MaaS) ecosystem include tooling and material providers like Xometry Supplies and Xometry Finishing Services, which consolidate and simplify resource procurement on active jobs.

Team Xometry
This article was written by various Xometry contributors. Xometry is a leading resource on manufacturing with CNC machining, sheet metal fabrication, 3D printing, injection molding, urethane casting, and more.