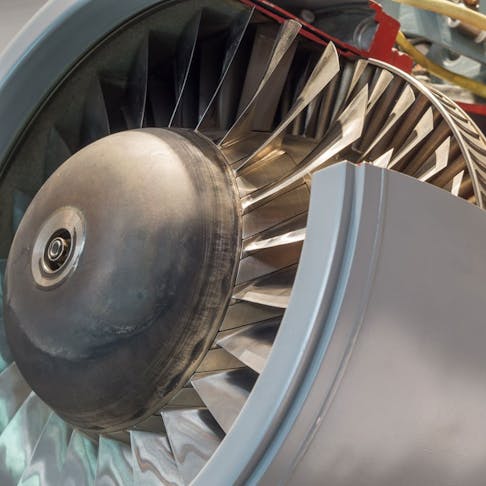 What is AS9100?
AS9100 sets the standards for businesses in the aviation, space, and defense industries and supply chains. This article will discuss AS9100's history, its requirements, and how obtaining an AS9100 certification can go a long way towards expanding your company's manufacturing operations.

By Team Xometry
July 27, 2021
 5 min read
Internationally, AS9100 is recognized as the Quality Management System (QMS) standard for the aerospace industry. Implemented by the International Aerospace Quality Group, AS9100 sets the standards for businesses in the aviation, space, and defense industries and supply chains. The guidelines build upon requirements set forth in the ISO 9001 QMS standard. This article will discuss AS9100's history, its standards and requirements, how it's enforced, its benefits, and its importance to the industry at large.
The Origin of the AS9100 Standard
Based on the older ISO 9001 standard, the AS9100 standard was released in 1999 and has since undergone four revisions; AS9100 Rev D has been in place since 2016. The International Aerospace Quality Group (IAQG), consisting of representatives from aerospace companies around the world, developed AS9100 to standardize regulatory requirements specifically geared towards aerospace companies globally. While the core of AS9100 is technically a word-for-word copy of the ISO 9001 standard, aerospace-specific requirements are added in bold and italics throughout the document.
How Does AS9100 Differ From ISO 9001?
The additional information added to the ISO 9001 standard to form the AS-9100 is primarily located in the "Measurement, Analysis, and Improvement" and "Product Realization" sections. There, sections related to project management, configuration management, risk management, and control of work transfers which pertain specifically to the aerospace industry were added. Additionally, information emphasizing product safety, counterfeit part management, and ethical behavior are discussed.
AS9100 Certification Requirements
Before a company can apply for an AS-9100 certification, certain requirements must first be met. This includes adopting the QMS, conducting internal audits and management reviews, and the implementation of corrective actions whenever a problem is found in the system. After that, the certification process is conducted in two stages: (1) Documentation Audit and (2) Certification Audit. These encompass four key requirements that the company must pass to become AS-9100 certified:
1. Planning for Product Realization
This requirement places emphasis on risk management and assessment. Generally, this section of the standard focuses on a company's manufacturing and production control processes. It aims to verify whether or not those processes meet the standard by investigating said processes and their associated documentation.
2. Purchasing and Purchased Product 
This requirement deals with the standardization of the supply chain by placing requirements on how to control purchased products and their own associated documentation. This can help address quality claims and aid in root-cause analyses.
3. Design and Development
The design and development section of AS9100 focuses on the verification and validation of manufactured parts and prototypes and the documentation associated with them. Through design verification, parts are analyzed to see which metrics, specifications, and requirements meet - or fail to meet - the AS9100 standard.
4. Product Monitoring and Measurements
These regulations relate to product quality and establish standards for determining when to reject parts and how to address non-conforming processes. Here, emphasis is placed on product safety and the risks associated with the products' use. It is also an examination of how an individual's actions impact part and service quality. Additionally, information pertaining to ethical behavior is discussed in this section.
How to Get an AS9100 Certification?
A documentation audit is conducted by the certifying body before the actual certification audit. During the documentation audit, the company's QMS is reviewed and its documents are investigated for adherence to the AS9100 requirements. Once the certification audit begins, auditors will conduct employee interviews and examine the paper trail. The point is to show that the processes have been implemented as they are documented and that any corrective actions required by the documentation audit findings are implemented and are effective.
At the end of the certification audit, the certifying auditors will summarize any nonconformities (NC) they found. These NCs get categorized as major, minor, or observation, and the company is given a certain period to formulate and implement corrective actions. Once these NCs are corrected and paper evidence is collected, the certifying body can then issue the AS9100 certification.
The Benefits of Being AS9100 Certified
Though not legally required to manufacture aerospace parts, an AS9100 certification can go a long way towards attracting new business and expanding operations. Realistically, though, the certification is critical for any business looking to engage effectively in the aerospace industry. Not only does certification allow a company access to large OEMs, but it also recognizes that the company is a reputable supplier no matter where in the world they're found. Once certified, a business is added to the Online Aerospace Supplier Information System (OASIS), which is maintained by the IAQG. Aerospace companies and customers use this database to find new suppliers. In essence, the OASIS database alone acts as a marketing tool.
Additionally, an AS9100 certification shows customers that the manufacturer meets the standard's requirements and suggests they are a reliable partner. Many times, a business's success relies on its reputation within the industry just as much as its quality and employees. An AS9100 certification improves the perception of a company, not just among customers and suppliers, but also for staff and employees within its own ranks.
The Importance of AS9100 to the Industry
The aerospace industry creates magnificent modes of transportation that require exceptional precision. AS9100, in the end, is an extra tool they can use to standardize processes and improve their products. But AS9100 is perhaps more important for the customer than it is for the manufacturer. Customers purchasing from certified manufacturers can rest easy knowing that the parts and processes used to make their product are up to spec. Many of the giants within the aerospace industry, as well as the US Department of Defense and NASA, require their suppliers to be AS9100 certified. This is to ensure that emphasis is always placed on quality and continuous improvement and that everything is traceable via a standardized system.
The AS9100 specification is used to standardize an aerospace manufacturer's quality management system. Obtaining AS9100 certification can go a long way towards expanding your company's manufacturing operations and market share through standardized, well-managed processes plus the increased notoriety that accompanies the certification.

Team Xometry
This article was written by various Xometry contributors. Xometry is a leading resource on manufacturing with CNC machining, sheet metal fabrication, 3D printing, injection molding, urethane casting, and more.