Stocking Up For 2021 with Xometry Supplies
Stocking Up For 2021 with Xometry Supplies
Save 10% on all Tooling and MRO products until 12/31!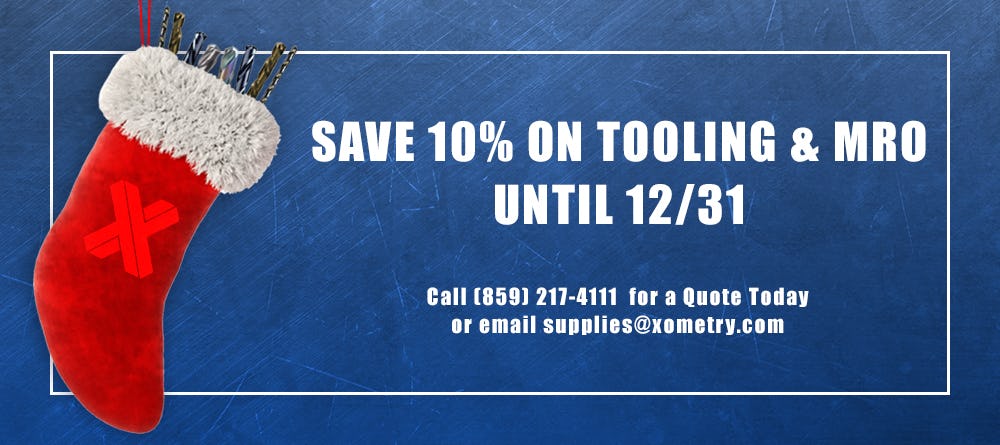 Save 10% on all Tooling and MRO products until 12/31!*
Save 10% on your favorite products until 12/31 from MTS, a Xometry Supplies Company. Deals on all in-stock & special order tools, fasteners, safety equipment, PPE & more!

Mention HOLIDAY10 when you call or email for a quote to get 10% off!

Contact your sales representative, call 859-217-4111, or email us at [email protected] for a quote today!
*Exclusions Apply, eCommerce sales do not qualify.
Save on Shop Supplies, Tooling, and MRO products!
Stock up for 2021 and save on everything from abrasives and cutting tools to storage equipment, find top brands including favorites like Kyocera, Mitsubishi, and Sandvik Coromant, until 12/31/20! And if you're looking for something specific, let us help! Call us at 859-217-4111 or email at [email protected] us for a quote today!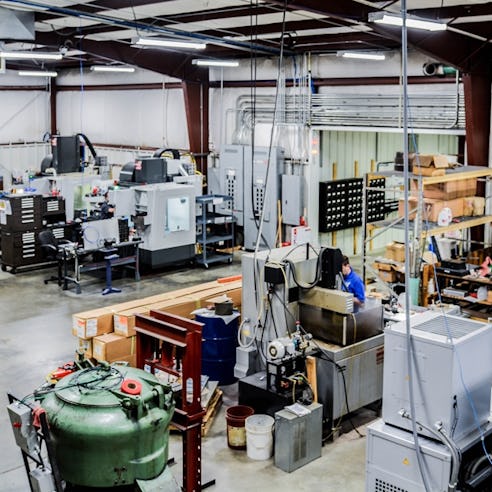 Coated & Bonded Abrasives
Carborundum Abrasives
Standard Abrasives
Rhodius USA
Radiac
Garryson, Inc.
Camel Grinding Wheels
Superior Abrasives
Sticks & Stones
SIA Abrasives
Rex Cut Products
Citco
Buffalo Abrasives
Boride Engineering
Arc Abrasives
K-Tool, Inc.
Allied Machine
Arntz, Inc.
Brubaker Tool
DoAll
Dorian Tool
Hougen Manufacturing
HTC Cutting Tools
Keo Cutters
Korloy USA
Kyocera Industrial
Micro 100
Mitsubishi Carbide
NTK Cutting Tools
OSG Tap & Die
Quinco Tool Products-HTC
Republic Drill Corporation
Sandvik Coromant
Shape-Master Tool Co.
Viking Drill
Widia
YG1 Tool
Seco Tools
American Carbide
Balax, Inc.
Best Carbide
Circle Machine-Widia
Criterion Machine Works-Allied
Damen Carbide Tool
Danam Saw & Tool
Dremel
Drill Masters
Dumont Corporation
Fullerton Tool
Goliath Threading Tools
Hanita-Widia
Hassey Savage
IMCO Carbide
Kyocera OTM
Lexington Cutter
M.A. Ford
Manchester Tool-Widia
Mil-Tec USA
New England Tap
North American Tool
Ohio Drill & Tool
Henry L Hanson
Quality Chaser
Regal Beloit Corporations
Reiff & Nestor
Relton Corporation
Severance Tool
Spec Tool
Tool-Flo
Widell
Brighton Best
Cardinal Fasteners
Century Spring
Cold Headers
Heli-Coil
Holokrome
ITW Fluid
Koolmist
Monroe Fluid
Relton
Aervoe Industries (Crown)
Adaseal
Hangsterfer
Zep Manufacturing
Parlec, Inc.
C.J. Winter
Global Tooling
Procunier Safety Chuck
Royal Products
Somma Tool
Sowa Tool
AGI/VR Wesson
Aloris
All American Drill Bushings
ATS Collet Closers
Carmex
Centaur Precision
Cleveland Punch & Die
Craftsman Industries
Durant Tool
Forward Industries
Genessee Mfg. Co.
H&R MFG Chuck Jaws
Hardinge
Harig
Heimann
Heinrich
James Morton Clamps
Jergens, Inc.
Kanetec Magnets
O.S. Walker
Palmgren Steel Products
Pratt Burned Chucks
RMC Tooling
Riten Live Centers
RSVP Tooling
Tapmatic Corporation
Te-Co Tooling
Toolmex Corporation
Yuasa International
Yost Vises
Abell-Howe
AMW, Inc.
Baldor Grinders
Blackalloy Company
BVA Hydraulics
Burr King MFG
Continental Machines
Clausing
Cress Manufacturing
Cyclone Manufacturing
Dake Corporation
Delta Jobox
DI-ACRO, Inc.
DoAll
Dumore
Everett Industries
Graymills Corporation
Hilti, Inc.
Johnson Gas Appliance
JPW Industries-Jet, Wilton
Kalamazoo Industries
McNichols Company
National Sheet Metal
Republic Lagun
Roll-In Saw
Roper Whitney
Schotchman Industries
Servo Products
Trico MFG
Trinity Tool Sand Blast
Wellsaw
W.F. Wells
YCI Supermax
A & W Precision
Ajax Tool Works
Ames True Temper
Anglo-American-NES Kripex
Apex Hand Tools-Gearwrench
Atago
ATP OZAT Impact Sockets
Bondhus Corporation
C.S. Osborne
C.H. Hanson
Gearench
Grey Impact Sockets
Hyde Tools
Jacobs
Lowell Corporation
R. L. Spellman
Vise Grip
Urrea
Walton Company
Young Brothers
Dewalt
Eagle
Florida Pneumatic
Foredom Electric
Kett Tool
Makita USA
Metabo Corporation
Milwaukee Electric
Nitto Khoki
Trumpf, Inc.
Aleco
Boss Mfg.
Liftex
Rees
Singer Safety
Steiner Industries
Stonehouse Signs
Wirecraft, Inc.
Alemite
Airmaster Fan
Aitken Products
American Vacuum
Arromark
Berkley Tool
C.S. Osborne
Cedarburg Industries
Coilhose Pneumatics
Coxreels
Crown Matting
Desmond
Divine Brothers
Exair Corporation
Gleason Reel Co.
Guardair Corporation
ITW Dykem
KEI Shields
Beechem Layout Fluid
Lisle Corporation
Markal
Master Lock
Maxxeon Lights
M.K. Morse
Nite-Ize
Osborn Brush
Perfect Couplings
Precision Brand
Reelcraft Industries
Schaefer Ventilation Equipment
Scheu Products
Servo Power Feeds
Shop Vac Corporation
TPI Fans/Heaters
Zebra Skimmers
Akro-Mils
Buckhorn
Durham Manufacturing
Huot
IFH Group
Kennedy
Lyon Products
Qualtech
Quantum Storage Systems
Rose Plastic USA
Rosseau Metal
Safe-T-Grate, Inc.
Sandusky Cabinets
Spaceguard Products
Stackbin Corporation
Waterloo Industries
Americover, Inc.
Barrell Accessories
Duracell
Fire Blanket
Fostoria Industries-TPI
Hexcraft
Little Giant Pump
Strahman Valves
Tarps
Machine Tool & Supply is now part of the Xometry family!
Founded by James C. "Pete" Wilson in 1967, Machine Tool & Supply (MT&S) started as a small warehouse storefront on O'Connor Street in Jackson, TN. Mark & Ramona Yates, have grown the business over the past 40 years to become one of the South's premier tool and industrial supply companies through an absolute focus on the customer.
You can still order supplies the same way at MT&S by calling 731-424-3400 or emailing [email protected] From abrasives and cutting tools to storage equipment, find top brands including favorites like Kyocera, Mitsubishi, and Sandvik Coromant. And if you're looking for something specific, let us help! We are always adding new sources and product lines.
Additionally, you can now buy materials online through Xometry Supplies. Look for email updates announcing the online availability of your favorite tooling brands in the near future.