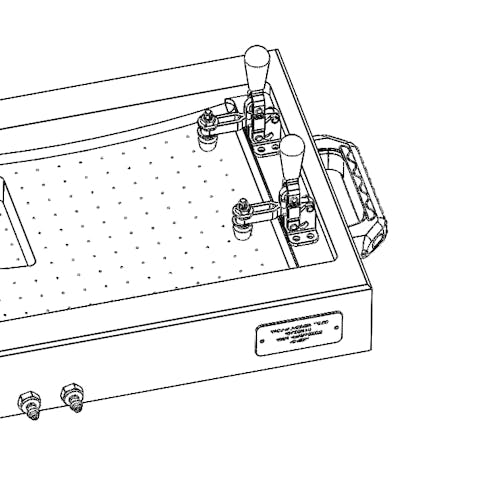 5 Applications of CNC Machining and Sheet Metal for Aerospace
Learn about 5 ways you can apply specific manufacturing methods for aerospace applications, including user interface panels, assembly tooling and fixturing, vibration test fixtures, aerostructures, and sensor enclosures.

By Team Xometry
October 9, 2020
 3 min read
Design Tip: Sheet metal can be a low-cost option to fabricate custom interface panels to integrate into off-the-shelf components. Sheet metal specific fasteners like PEM stand-offs and inserts are an effective way to add threaded holes and bosses on thin sheet metal parts (as seen on the image above).
Limitations: Keep in mind that some common metal alloys are susceptible to cracking when formed. The Xometry Instant Quoting Engine℠ helps limit your sheet metal material selection to metals that are easily formable, but be sure to keep in mind K-factors when designing your sheet metal components.
Design Tip: Materials like Aluminum 6061-T6 and Delrin are frequently used in assembly tooling due to their relatively low cost and ease of machinability. Delrin is also a great option for preventing damage to interfacing components or when low friction is required. 
Pro tip: In addition to manufacturing parts, Xometry can also complete simple mechanical assemblies, such as the one pictured above. If you need a few off-the-shelf components assembled into a tool, just reach out to your Account Executive or send us an email at [email protected] with the details.
Design Tip: Since flying is a non-static environment, electromechanical assemblies and payloads are often subjected to high-frequency vibration. The effects of this vibration are difficult to simulate, so physical accelerated life-cycle testing on a vibe plate is often a critical step.
Pro tip: Xometry often manufactures fixtures that allow subassemblies to be mounted onto vibe tables. High-stiffness/low-density materials like 7050/7075 Aluminum alloys or Magnesium are common choices for these fixtures. When designing a fixture, bear in mind that shaker tables often have strict weight limits for safe operating parameters. The less mass the fixture takes up, the larger the tested assembly can be.
To see a shaker test in action, check out this tweet from RAUGSpace:
Shaker test! Last week the OPS-SAT nanosatellite, designed and built by @tugraz was tested on a shaker at our site in Vienna, Austria. As a flying laboratory, ESA's OPS-SAT will test and validate new techniques in mission control and on-board systems pic.twitter.com/UmFMCSJv8R

— RUAGSpace (@RuagSpace) March 18, 2019
Design Tip: Isogrid structures can be an effective way to decrease overall weight while retaining stiffness and ensuring uniform planar material properties—in fact, the term, "isogrid" comes from a portmanteau of "isotropic" and "grid."
Limitations: Keep in mind that this strategy can dramatically increase machine time and as a result, cost. Only use isogrid structures when decreasing weight is critical, and implement additional strategies to facilitate ease of manufacturing, such as using the largest corner radii possible. The NASA Isogrid Design Handbook is a classic reference tool for designing isogrid structures.
Design Tip: Machined housings are a great way to protect fragile sensors, like commercially-available cameras, from harsh environments. To keep weight down, aluminum alloys are a frequent choice of material. Anodize coatings are an effective way to protect the machined components from corrosion while also providing a harder, wear-resistant external surface.
Limitations: Depending on the exact requirements, either MIL-A-8625, Type 2, or Type 3 Hardcoat Anodize may provide the most durable finish. However, anodizing can decrease the fatigue strength of aluminum alloys, so be sure to carefully analyze components subjected to cyclical loading.

Team Xometry
This article was written by various Xometry contributors. Xometry is a leading resource on manufacturing with CNC machining, sheet metal fabrication, 3D printing, injection molding, urethane casting, and more.