Direct Metal Laser Sintering (DMLS) 3D Printing Service
Upload your CAD files to get an instant quote on metal prototypes and production parts. Free shipping on all US orders.
DMLS Produces High-Quality Metal Parts Without Tooling
Direct metal laser sintering (DMLS) is a metal 3D printing technology used to build metal parts with exceptional mechanical properties and precision. Our Manufacturing Supplier Network gives you massive on-demand production capacity with a wide range of DMLS machines and high-performance materials.
Designers often chose DMLS for its ability to produce all-in-one metal assemblies and highly precise metal parts with complex features like internal supports and lattices. DMLS does not have upfront setup or tooling costs, making it an affordable option for fully dense metal parts. With DMLS's affordability, speed, and superior design freedoms, companies and creators can build metal designs they never thought possible.
Xometry DMLS Capabilities
Feature
Description

Feature

Description

10" x 10" x 10" (250 x 250 x 250 mm)

Feature

Description

+/- 0.005" for the first inch is typical, plus +/- 0.002" for every inch thereafter

Feature

Description

.0012" - .0016" depending on material

Feature

Description

150-400 µin Ra, depending on build orientation and material used for the build

Feature

Description
This table depicts the general tolerances for Direct Metal Laser Sintering (DMLS). Stresses during the build and other geometry considerations may cause deviation in tolerances and flatness. Part designs with thicker geometries, flat or broad parts, and parts with uneven wall thicknesses may be prone to significant deviations or warp. Improved tolerances may be possible with a manual quote review, after successful completion of a prototype build, and must be approved on a case-by-case basis. General tolerances apply before secondary finishing or post-processing unless otherwise specified. Please check out Xometry's Manufacturing Standards for more information on tolerances per process.
How Direct Metal Laser Sintering Works
Direct metal laser sintering (DMLS) is an additive metal printing technology that builds metal parts from a CAD file by selectively fusing stainless steel or aluminum powder into thin layers. 
Direct metal laser sintering's layer-by-layer printing allows multiple parts to be combined during the printing process. With traditional manufacturing processes, metal parts are machined or metal casted into several parts and assembled. Printing an all-in-one assembly strengthens the finished part while reducing the weight and cost of production significantly. DMLS techniques can also create parts at a high density. This is ideal for parts under high pressure such as in oil and gas industries.
Direct Metal 3D Printing Materials
DMLS Materials Available at Xometry:
Material Name
Description
Data Sheets

Material Name

3D Printed Aluminum AlSi10Mg

Description

Lightweight aluminum alloy. A great alternative to machining complex geometries.

Data Sheets

Material Name

3D Printed Stainless Steel 17-4

Description

Fully-Dense 17-4 PH stainless steel metal, hardness 40 HRC, heat treatable.

Data Sheets

Material Name

3D Printed Stainless Steel 316/L

Description

Fully-dense 316L stainless steel metal, superb corrosion resistance, meets requirements of ASTM F138.

Data Sheets

Material Name

3D Printed Maraging Steel MS1

Description

A heat-treatable tool steel that can be post-hardened to more than 50 HRC to achieve excellent hardness and strength.

Data Sheets

Material Name

Description

A heat and corrosion-resistant nickel alloy offering high oxidation resistance.

Data Sheets

Material Name

Description

A heat and corrosion-resistant nickel alloy ideal for high-temperature applications. It offers good tensile, fatigue, creep, and rupture strength at temperatures up to 700 °C (1290 °F).

Data Sheets

Material Name

Description

A lightweight alloy with excellent mechanical properties and corrosion resistance used in high performing engineering applications as well as biomedical devices.

Data Sheets
Additional materials are available upon request! Review more information about our materials here.
Available Finishes
Standard: In addition to the removal of support structures, the part surface is media blasted to provide a uniform finish.

Custom: Additional DMLS post-processing, such as CNC Machining of features and polishing, are evaluated on a case-by-case basis and can be requested in the quoting tool.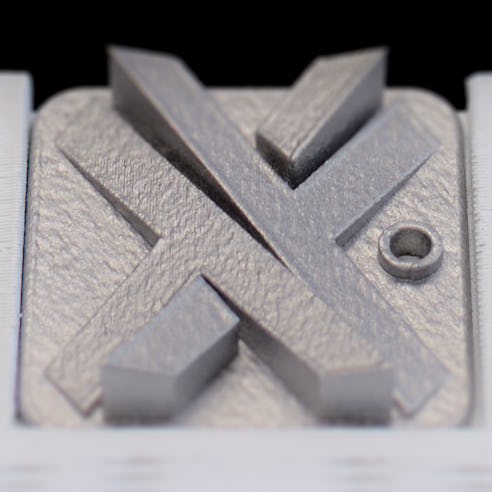 Best Applications for DMLS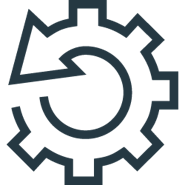 Rapid Tooling
Because DMLS metal parts are strong yet lightweight, they are widely used for rapid tooling, fixtures, and jigs.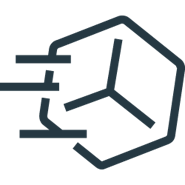 Rapid Prototyping
DMLS metal 3D printing is typically affordable and fast, and therefore is often used to make proof-of-concept models and fully functional late-stage prototypes.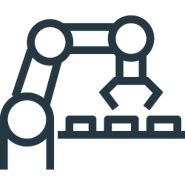 Production
Cast-quality finish (fully dense) and durable materials make DMLS printing a favorite technology for end-use products.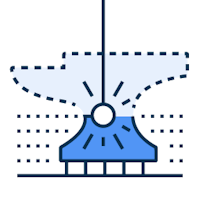 Ready to get started on your 3D printing quote?
Free shipping on all 3D printing
Why Choose Xometry for DMLS 3D Printing?
Endless Options
Choose from thousands of possible combinations of materials, finishes, tolerances, markings, and certifications for your order.
Easy to Use
Get your parts delivered right to your door without the hassle of sourcing, project management, logistics, or shipping.
Vetted Network
We are ISO 9001:2015, ISO 13485, and AS9100D certified. Only the top shops that apply to become Suppliers make it through our qualification process.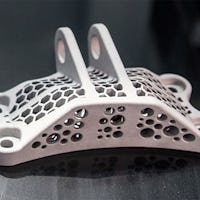 Download the DMLS Design Guide