Custom Metal 3D Printing Service
High-quality Industrial Metal 3D Printing: DMLS and Binder Jetting Service |
Free Shipping on All US Orders - No Minimums
What is Metal 3D Printing?
Metal 3D printing, an additive manufacturing process, produces parts by fusing together metal particles layer by layer to form a metal part. It is often chosen as an alternative to CNC machining or metal casting because it can produce parts with the strength and durability of metal while also taking advantage of the design freedoms afforded by 3D printing. It can produce complex designs including lattices and topology-generated structures, both which are impossible to manufacture via traditional CNC machining. 
Use the 3D viewer above to preview Xometry's part rendering features.
Advantages of Metal 3D Printing
Metal 3D printing is advantageous because it can produce high-performance, complex metal parts that are suited for a range of end environments. Metal 3D printed parts are isotropic, meaning they have even, multi-directional strength, and have the superior mechanical properties of metals like aluminum, stainless steel, titanium, Inconel, tool steel, and stainless steel-bronze composites. 
3D metal printing can also be used to combine multiple assembly components into one part. This typically results in a stronger structure by reducing the points of failure introduced by threads and inserts.
With metal 3D printing, CAD file information is sent directly to a printer meaning parts are typically cheaper and faster than producing machined metal parts. Machined metal parts have overhead costs like tooling set-up and longer machining time. Most 3D print metal parts can be turned around in less than a week.
Metal 3D Printing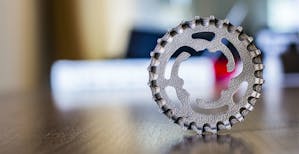 Direct Metal Laser Sintering (DMLS) 3D Printing Service
Upload your CAD files to get an instant quote on metal prototypes and production parts. Free shipping on all US orders.
Direct Metal Laser Sintering (DMLS) 3D Printing Service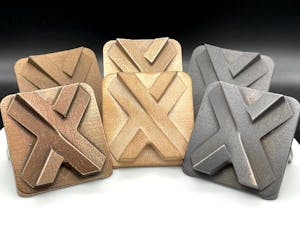 Metal Binder Jetting 3D Printing Service
Upload your CAD files to get an instant quote on parts. Free shipping on all US orders.
Metal Binder Jetting 3D Printing Service
Choosing Between DMLS or Binder Jet Metal
Xometry's 3D metal printing services include direct metal laser sintering (DMLS) and metal binder jetting as options. These processes are suitable for creating metal prototypes, tooling, and production parts on demand. However, each metal 3D printing process uses different metals and fusing methods, resulting in parts with different mechanical properties, prices, and lead times.
Overview of Direct Metal Laser Sintering
DMLS, also known as selective laser melting (SLM), uses a laser to selectively fuse sections of fine metallic powder from the ground up. DMLS is advantageous because it can produce fully dense parts for fluid transfer applications. DMLS can use aluminum AlSi10Mg, stainless steel, maraging steel, tool steel, cobalt chrome, and Inconel. It is more expensive than binder jetting but has superior mechanical properties for high-precision applications. Learn more about DMLS materials, post-processing, tolerances, and applications →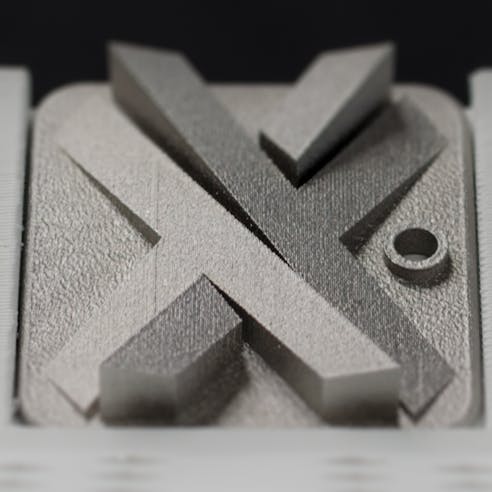 Overview of Binder Jet 3D Printing
Metal binder jet is a multi-step process that first selectively deposits a binding agent onto a metal powder bed, layer by layer, to hold the metal powder in a 3-dimensional shape. This resulting shape is left to cure, then put into a furnace to sinter or be infiltrated with bronze. Binder jet parts with overhanging features are supported by loose powder on all sides of the part, which usually eliminates the need for post-processing. 
Binder jetting is a popular metal 3D printing choice because parts are cheap and fast, which allows for higher volume, cost-effective production. Binder jetting metal parts are excellent for functional prototypes or end-use parts with a density of ~95% or greater. Metal binder jetting is also frequently used by artists and hobbyists because of its ability to create complex features at a fraction of the cost of DMLS or machining. Unlike DMLS, binder jet parts are prone to shrinkage so engineers should design parts with design-for-manufacturing principles in mind. This could include scaling their CAD model size by 1-2% and enlarging holes. Learn more about binder jetting materials, post-processing, tolerances, and applications →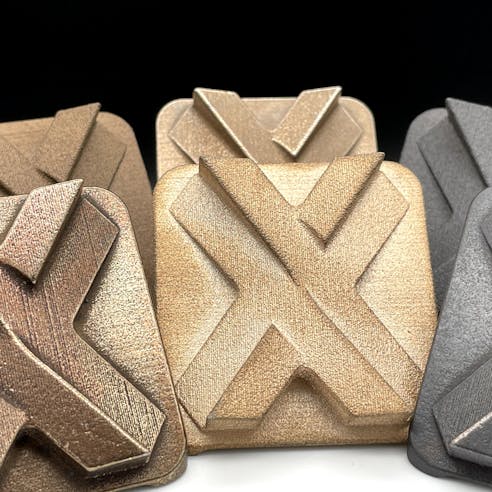 Direct Metal Laser Sintering Material Properties
Aluminum AlSi10Mg
Stainless Steel 17-4
Stainless Steel 316/L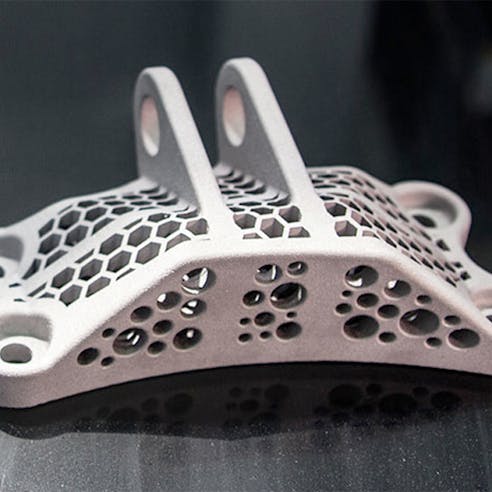 New!
Metal Binder Jetting Material Properties
X1 Metal 420i (420 stainless infiltrated with bronze)
Six finishes available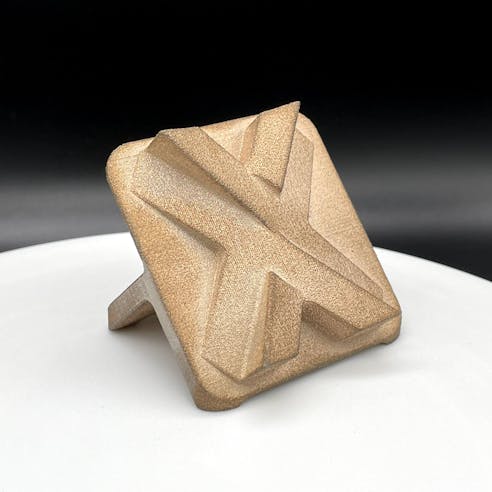 Applications of Metal 3D Printing in Various Industries
Metal 3D printing can be used for rapid industrial tooling, where the metal 3D print can be used for parts with complex curvatures and small, thin-walled parts like conformal jigs and fixtures, stamps, dies, and cutting inserts. 
For other industries like consumer products, robotics, aerospace, and defense, metal 3D printing can be used for integrated fastening features, end-effectors, and metal lattice structures. Since metal 3D printed parts have excellent durability and strength, they can be used in fully functional late-stage prototypes or end-use parts for any of the above applications.
Read about how this global distributor uses DMLS for custom shading systems, including high-strength coupling brackets and zipper assemblies.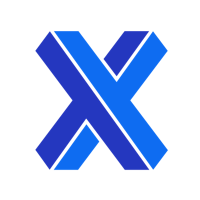 Ready to get started on your custom metal 3D printing quote?
Free shipping available for domestic 3D printing orders ; learn more!
Why Choose Xometry for 3D Metal Printing Service?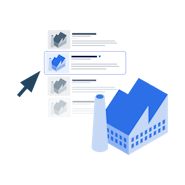 Endless Options
Choose from millions of possible combinations of materials, finishes, tolerances, markings, and certifications for your order.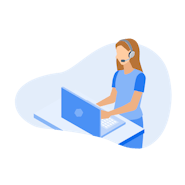 Easy to Use
Get your parts delivered right to your door without the hassle of sourcing, project management, logistics, or shipping.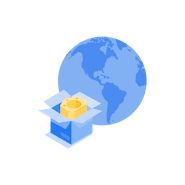 Vetted Network
We are ISO 9001:2015, ISO 13485, and AS9100D certified. Only the top shops that apply to become Suppliers make it through our qualification process.
Get the Binder Jetting Design Guide
Get the DMLS Design Guide