Impacting the Globe One Part at a Time
Impacting the Globe One Part at a Time
At Xometry, we're proud of our mission to re-energize manufacturing by making it easy for businesses to access manufacturing on demand while also reducing our carbon footprint.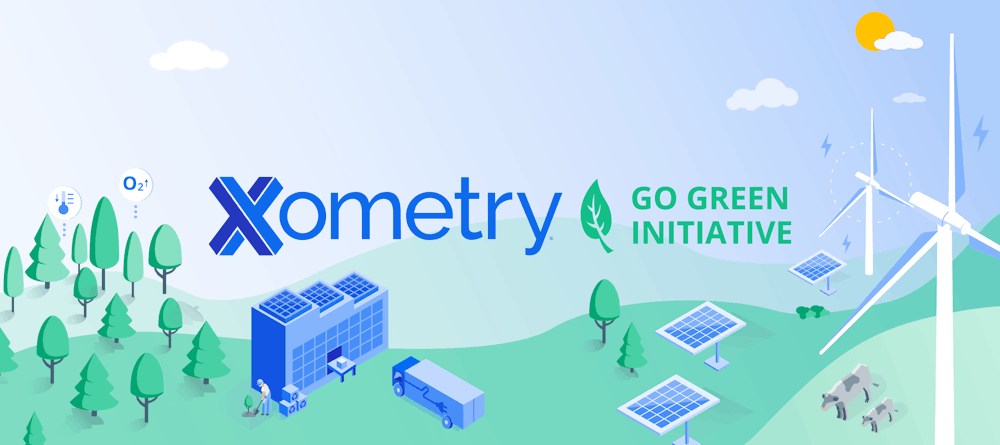 Carbon Offset For Custom Manufacturing
Corporate social responsibility is a key component of Xometry's culture and social mission. Implementing a carbon offset program allows Xometry to expand our reach beyond state lines to make a global impact. Xometry has offset the carbon footprint of shipping parts to our customers since early 2020. In December 2020, Xometry began offering customers a turnkey option to offset up to 100% of the carbon footprint of the entire custom manufacturing process for their orders. This includes the carbon emissions in raw material extraction and processing, the transportation of materials and goods along the supply chain, the energy consumed in fabrication, and the manufacturer's operations.
What Is Carbon Offsetting?
Carbon offsetting is when a company invests in a project that reduces or negates the amount of CO2 released into the environment from its business activities.
How Does Xometry's Go Green Initiative Work?
The Xometry Instant Quoting Engine® calculates each order's estimated carbon footprint and the cost to offset the emissions. Customers can offset 0%, 50%, or 100% of the emissions produced by manufacturing the parts by buying carbon offset credits that we then pass to trusted environmental impact organizations. These include The National Forest Foundation, which helps plant trees, and Dot Neutral, an organization that matches businesses with carbon emission offset initiatives, including creating renewable solar and wind energy.
Xometry takes on 100% of the cost of offsetting the carbon footprint of delivering parts and products to our customers. Through our partnership with Dot Neutral, each time a package is shipped from Xometry divisions, Dot Neutral charges Xometry a fee. That money is invested in an initiative to reduce or offset carbon emissions by up to 100%.
Our Impact
The carbon offset program is a small initiative making a big global impact. This chart shows how much carbon has been off-set to-date, and an example of what that impact could look like.
Which Program Is Xometry Currently Sponsoring?
Xometry is currently sponsoring a wind farm in Texas, with 100% of carbon offsetting dollars going to this initiative.
Will This Cost Me Anything?
There is no charge to our Manufacturing Suppliers or customers for the carbon offset of shipping the parts to customers. Customers can choose to offset the carbon footprint of their custom part creation directly in the Xometry Instant Quoting Engine®.
The calculations above are determined using the EPA's greenhouse gas calculator
Building Greener Value Chains With Gravity Climate
We are excited to unveil a tool that will help reduce the carbon footprint of supply chains around the world and to inform companies about the environmental impact of their business decisions. Xometry has enlisted help from Gravity Climate to provide product-level embodied carbon calculations directly in our digital marketplace. This new initiative gives Xometry users unprecedented visibility into carbon emissions produced until their point of sale. These embodied carbon calculations are provided in real-time via the Gravity API, backed by the latest climate science and reliable data. Today, most orders placed within the Xometry Instant Quoting Engine® are covered and will be a valuable tool for procurement and sustainability teams looking to build greener value chains.Xometry and Gravity Climate plan to expand this coverage in the coming months as more data becomes available.

You can learn more about this tool on the Xometry Blog.