Custom Online Weldment Services by Xometry
High quality custom weldment services available with a variety of materials, manufacturing processes, finishes, and more. Subject to availability. Xometry doesn't guarantee that we can provide this service at any given time.
Xometry provides weldment services for your welding project. Our manufacturing partners can fabricate and weld your designs in a single service, including parts made with different manufacturing processes, materials, finishes, and other considerations. Customers upload their CAD files or request an RFQ through Xometry's Quoting Engine to receive their weldment assembly quote. Our welding capabilities include all types of production welding methods, including TIG, MIG, FCAW, stick, and other welding services, along with various inspection and value-added services.. Xometry's Weldment services let you define the application, and we will take care of the how-to. 
Here Is The Best Way To Request Weldment Services Using Xometry
Please follow these steps to the best of your ability to make assembling your project as fast and accurate as possible. A representative will reach out to ensure we have all the details and requirements for making your project successful.
Need help? Contact us at support@xometry.com.
Upload your 3D CAD file(s) to our Xometry Quoting Engine as you would normally do for a quote. Please include all parts files, the final assembly file, and any technical documentation necessary.
Specify as much as you can by clicking "Modify Part" on the part line item. Include notes about weld locations, welding types, and application-specific requirements. Also include specifics about wall thicknesses, materials, tolerances, and finishes for each part, if applicable.
Ensure both a final assembly file and necessary technical drawings are attached, as well as any inspection templates (if applicable). In the notes field of your assembly file, please put "Assembly," and in parts files please label "Welding" on the parts to be joined.
In the upper left-hand corner of the quote summary, click "Add Certifications" and check any appropriate requirements for ITAR/EAR, ISO or other certifications, and traceability.
If the quote has moved to "Manual Quote Required," please submit the manual quote.
If the quote is still in an auto-quoted state, please contact your Xometry account representative or support@xometry.com with a message for us to finalize the quote for the final assembly.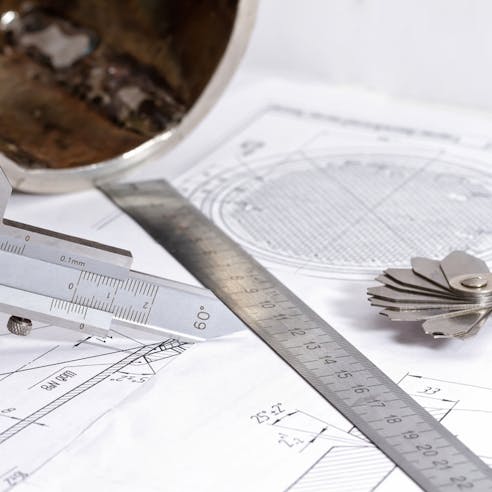 Types of Weldment Services
For any metal fabrication process done with Xometry, we provide additional weldment services to assemble your project using our extensive network of professionals. We do all types of welding–we will leverage our network of over 10,000 manufacturing partners to source the exact welding type needed for your project, complete with needed expertise, QA, and inspection services. Below is a general list of our main welding types, but note that each type of welding has sub-varieties that are not represented on this list. If you do not see the type of welding needed for your project below, reach out to us, and we will find the exact type needed for your project. 
Xometry's welding services provide a vertical turnkey solution. Xometry will build the components and provide any necessary post-processing according to your technical needs.
Tungsten Inert Gas Welding
Gas Metal Arc Welding
Flux Cored Arc Welding
Shielding Metal Arc Welding (SMAW, MMAW, or Stick)
Submerged-Arc Welding
Spot Welding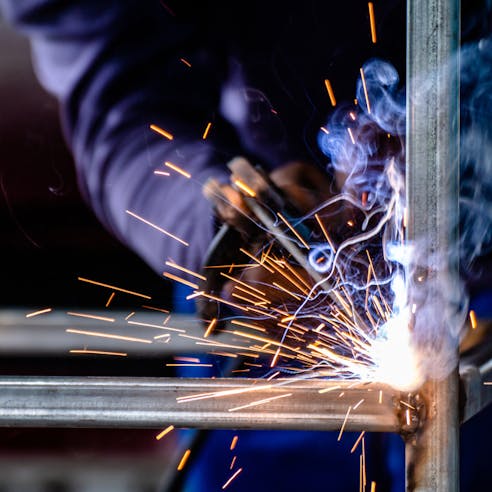 Tungsten Inert Gas Welding
TIG welding is typically used for all-around projects or projects that require aesthetic welds, such as bike frames and vehicle manufacturing. TIG (short for Tungsten Inert Gas) welding is a process where a welding wire is held by the operator, and a torch supplies the arc needed for metal fusion. The wire feed is placed in the arc and melts into the joint, while an inert gas shields the weld from oxidation. 
Gas Metal Arc Welding
Gas metal arc welding (also known as GMAW, metal inert gas or metal active gas welding, or MIG & MAG for short) welding is a process where welding wire is fed via a nozzle to the joint, where an arc melts the wire and some of the base part's surface. Either an inert (MIG) or an active (MAG) gas is supplied to shield the weld from oxidation and other defects. MIG welding is one of the most common welding types, and is commonly used throughout automotive production lines for its speed and ease of use.
Flux Cored Arc Welding
FCAW (short for flux core arc welding) is a welding process where a continuous wire-fed electrode and a constant-voltage welding power supply create an electric arc that fuses the base metal together. Flux-cored arc welding occurs with or without shielding gas and typically uses the same equipment used in MAG welding. The major difference is the use of a hollow or tubular electrode filled with a flux-cored wire, where once melted it forms the necessary shielding gas for the operation. Applications of FCAW welding applies to ferrous metals only, and is typically used to create heavy equipment and other uses where high deposition rates and weld penetration are required. 
Shielding Metal Arc Welding (SMAW, MMAW, or Stick)
Shielding metal arc welding (also known as SMAW; manual metal arc welding, or MMAW; or more simply arc or stick welding) is a process where the operator connects a welding rod to an electrode, and when the rod makes contact with the weld area an arc forms and melts the rod at point of contact. A flux surrounds the welding rod and covers the weld to prevent oxidation, which is removed post-weld. SMAW welding is the most common arc welding types available and is used for pressure vessels, tanks, exterior pipe welds, and a variety of other structural applications. 
Submerged-Arc Welding
SAW (short for submerged-arc welding) is an automatic welding process used to create long continuous welds. A powder flux is applied above the arc to both shield the weld and introduce various alloying elements into the weld pool. Typical applications of SAW welding include structural ferrous and non-ferrous projects, thick-walled designs, and high-strength joining operations. 
Spot Welding
Also known as resistance spot welding, or RSW for short, spot welding joins two pieces of metal together in a small point or "spot". Two electrodes clamp down between the metals and an electrical current moves between them, causing the resistive metals to fuse. Spot welding is highly popular for its speed and its minimal heat-affected zones, being utilized by automotive manufacturers, fastener manufacturing, medical devices, and a vareity of consumer goods.
Require Weldment Services?
Weldment Design Tips
There are some general design tips when creating a weldment with Xometry, such as the below:
For more information on designing sheet metal assemblies, download our ultimate guide for sheet metal design. 
Ensure your design does not specify welding two dissimilar metals together (e.g., do not specify a weld between aluminum and steel).
Include details about which welds will be external and internal and if coloration/aesthetics are an important factor in the joint.
Welds may result in rounded areas that can interfere with fits or tight-tolerance connections; account for this by checking the location of your welds, especially within assembly files.
Clearly define detail geometry and joint configuration with standard symbols and codes, especially in load-bearing projects where fatigue strength is of concern.
Consult with welding experts, as they can point you to specific welders or processes that can simplify your designs and lower your costs.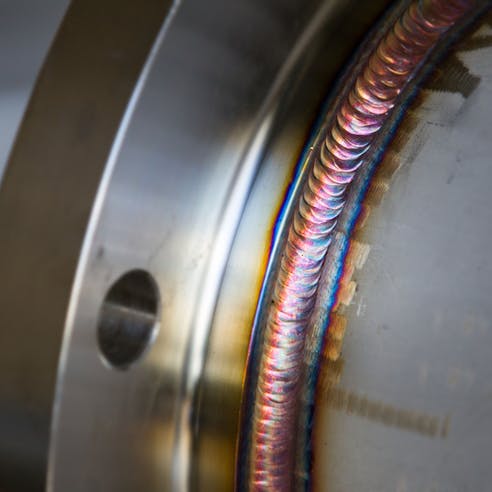 Advantages and Benefits of Xometry's Weldment Service
Xometry can produce all sub-components and weld a turnkey assembly.
Based on your program scope, including technology, volume, and packaging requirements, we will precision match capacity and technology requirements within our network of certified assembly partners.
Leverage our in-house ISO 9001 manufacturing center and our partner network for nearly unlimited capacity.
Our skilled engineering team will help you with every step of the process.
Xometry offers industry-leading services such as CNC machining, sheet metal fabrication, 3D printing, and injection molding services, along with necessary quality assurance and inspection services and more to be a comprehensive supplier, manufacturer, assembler, and inspector of your project.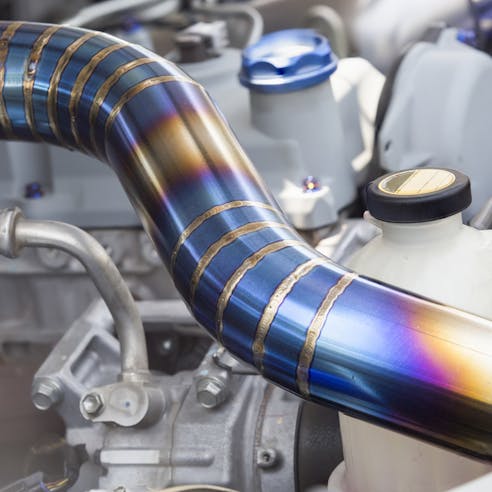 Weldment Inspection and QA
Xometry offers industry-standard inspection options through our Quoting Engine. Xometry's inspection services include: 
Standard Inspection
Formal Inspection with Dimensional Report
CMM Inspection with Dimensional Report
First Article Inspection Report (FAIR AS9102)
Source Inspection
Custom Inspection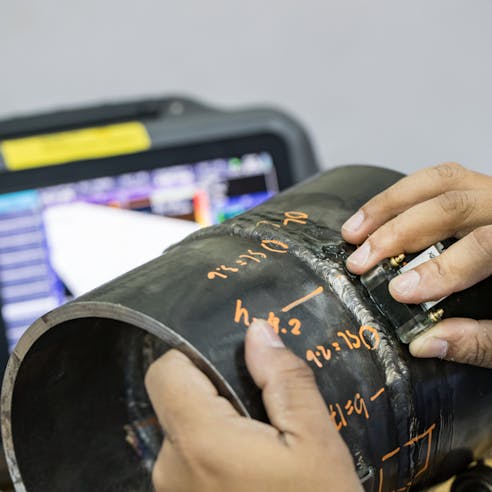 To learn more about each inspection type, see our Inspection Options page.
Xometry's Quality Assurance Lab will visually assess, document, and certify each part of your welded assembly to promise 100% quality and functionality. Below is a list of our certifications and registrations:
ITAR Registered
ISO 9001:2015
ISO 13485:2016
AS9100D
ISO 2768 compliant
UL
ISO 7 and 8 Medical Clean Room
NADCAP
To learn more about our Quality Assurance, see Xometry's Quality Assurance page.
Weldment Applications
Below are some examples of weldment applications across industries:
Automotive and aerospace frame assemblies
Energy/power infrastructure and equipment
Utilities equipment and systems, including railroads, water treatment plants, gas and oil distribution, plumbing piping, and more
Shipbuilding
Structural steel and other construction assemblies
Custom sheet metal assemblies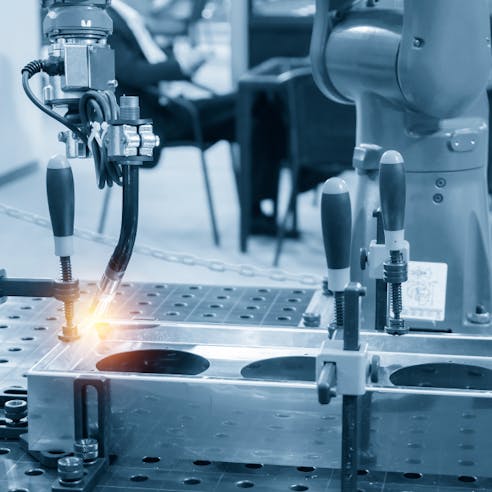 Xometry also has case studies showing the effectiveness of our welding capabilities in real-world applications. 
Asylon's Autonomous DroneCore
Asylon, a drone infrastructure company, reached out to Xometry to get help manufacturing their DroneCore autonomous drone and base-station combination. Asylon drones autonomously fly from one base station, known as DroneHomes, to the next, recharging and dispensing the valuable data they picked up on their travels. Asylon needed Xometry's help building the DroneHome station, specifically the weather-proof, stable sheet metal shell that houses the robotic arm and other necessary components needed for charging and data transfer. Xometry manufactured approximately 72" wide, 72" long, and 36" tall sheet metal assembly for the base station, implementing welding and joining operations to ensure the housing can resist precipitation and the harsh environment of the outdoors. To learn more about this case study, visit our in depth discussion about Asylon's DroneCore surveillance system. 
Why Choose Xometry for Weldment Services?
Endless Options
Choose from millions of possible combinations of materials, finishes, tolerances, markings, and certifications for your order.
Easy to Use
Get started with our easy-to-use platform and let our experts take care of managing the project from locating the right manufacturing partner to delivery logistics.
Vetted Network
We are ISO 9001:2015, ISO 13485, and AS9100D certified. Only the top shops that apply to become suppliers make it through our qualification process.
In Need of Weldment Services?