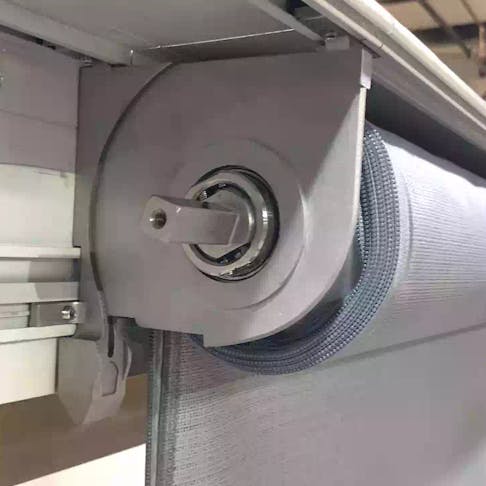 Case Study: Global Distributor Uses Xometry DMLS to Deliver Custom Shading Systems
This Baltimore-based, family-owned company turned to Xometry metal and plastic 3D printing to accelerate its custom shade division.

By Serena Ngoh
October 9, 2020
 4 min read
Crown Shade Company is a Baltimore-based fabricator and distributor of custom shading solutions for residential and commercial applications. Established in 1969, the family-owned company fabricates and distributes its highly vetted shading solutions, which range from basic manually operated interior shades to fully automated outdoor motorized systems, across America and the globe.
In the early 2000s, the company struggled as big-box stores like Lowes, Home Depot, and Walmart forced Crown Shade's customers—many of which were regional and local blind and shade stores—out of business. To regain its market share, the company soon found its business niche: one-of-a-kind window treatment solutions. In 2005, Jared Grodnitzky, grandson of Crown Shade's founder, entered the business with a degree in Industrial Design and began harnessing 3D printing to design shade components that never before existed anywhere in the world.
Xometry Metal 3D Printing: Putting the Custom in Customer
Grodnitzky began quoting custom parts for Crown Shade's quickly evolving line of tension skylight shading systems through the Xometry Instant Quoting Engine℠, where getting an instant quote "brought his designs to life in seconds." Grodnitzky turned to Xometry for its industrial printing capability for end-use metal components that he could use out in the field.
For one major client, Grodnitzky brought designs for 6 parts to Xometry. These stainless steel printed parts assemble into the PanoView shade, a motorized shade measuring 42 feet wide by 12 feet tall. The shade is split into two sections that zip up and down—a much better solution than a single continuous shade that involves risky shipping and installation procedures. Three of the Xometry-made parts make a zipper fastening assembly. This assembly traps the zipper as it zips and unzips the shades when they extend from their in-ceiling storage.
These parts sit nearly invisible under the shade and bracket cover, or valance, and work to provide a seamless transition as the shade rolls up and down.
The fourth component Xometry printed in stainless steel was the PanoView shading system is the coupling bracket. The bracketing system does the heavy lifting by joining two roller shades together and is designed to fit the custom-sized shade and its electric motor parts.
The custom parts that Xometry metal 3D printed for Crown Shade's unique zipper fastening assembly
"Xometry has all the ingredients of a high-quality supplier, which means there's no reason to use any other supplier."
Jared Grodnitzky,
Vice President of Crown Shade Company
The final two components Grodnitzky designed and manufactured with Xometry were a motorhead connector printed with selective laser sintering (SLS)and a motor cap printed using HP Multi Jet Fusion. These parts interface well with the final shading system, allowing it to retain a low-volume motor sound and superior mechanical function without sacrificing aesthetic appeal. With Xometry, Crown Shade Company can combine the world's best shading solutions with custom manufactured parts to produce a superior product.
For this project, Grodnitzky found Xometry's online portal very easily navigable and staff helpful. "The communication was very well done. Xometry has all the ingredients of a high-quality supplier, which means there's no reason to use any other supplier," says Grodnitzky.
CAD model of SLS printed part that interfaces with a metal bracket. On right: CAD model of an HP Multi Jet Fusion printed part that secures a tension wire on a pulley.
"Xometry helps Crown Shade Company stand strong against changing economies and times."
Jared Grodnitzky,
Vice President of Crown Shade Company
Xometry: A Solution that Stands the Test of Time
Grodnitzky uses Xometry's industrial 3D printing service to "get things done right the first time," citing Xometry's high quality and fast lead times as reasons why he returns to Xometry for each project. Grodnitzky knows that whatever he can design, Xometry can make. With its huge selection of 3D printing capabilities and end-product materials like stainless steel, aluminum, and Nylon 12, Crown Shade Company has unleashed limitless possibilities. Now, Grodnitzky can continue to create shading solutions that do not yet exist.
Crown Shade Company's customers now have the satisfaction of knowing their shading system is completely custom to their building. And with its successful custom shading business arm—to support its main off-the-shelf distribution arm—Crown Shade Company can compete with the big-box retailers that once put its business at risk. As Grodnitzky puts it, "Xometry helps Crown stand strong against changing economies and times."

Xometry empowers Crown Shade Company with access to industrial 3D printing services without a complex, global supply chain and the "deep pockets" often required of megacorporations with this infrastructure. "Xometry opens the door for all industries and brings manufacturing to the people", Grodnitzky asserts. As Crown Shade Company continues to work with Xometry and its reputation for custom shading solutions grows, the company will bring mass customization to buildings around the world.
Learn more about Crown Shade Company and their custom shading solutions here.
The final Crown Shade Panoview shade system installed in its end environment

Serena Ngoh
I write about Xometry and all things manufacturing. You might also see me hosting webinars, designing infographics, producing videos, and working directly with customers to tell their manufacturing success stories.