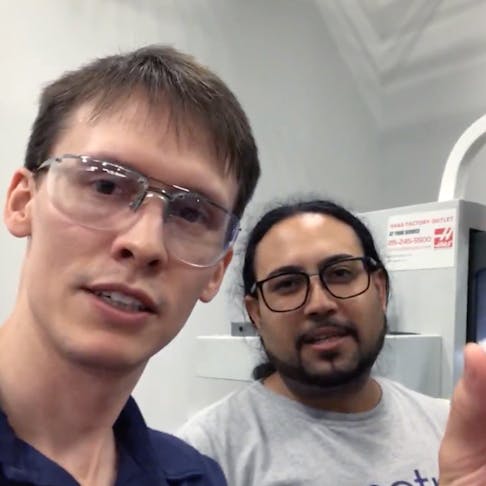 Video: Super-cooling Plastics for Better Precision Machining
Xometry Director of Application Engineering Greg Paulsen recently spent a day at Xometry's Quality Assurance Lab to check out the different inspection equipment. What he saw was a fascinating solution to the perils of machining plastics.

By Greg Paulsen
October 9, 2020
It may sound counterintuitive, but machining plastics to specifications is often more challenging than machining metal parts. This is because plastics tend to deform, vibrate, and even pop out of their vise or workholding if not fixtured properly. Metal parts can be held in place by being tightened and secured with minimal risk to the part. With a tight hold, machining tolerances for metals are generally +/- 0.005". Because plastic is much more flexible, the machinist must take precautions and use tricks-of-the-trade to mitigate scrap and make great pieces. Even with these precautions, the standard tolerances for CNC machined plastic parts are +/- 0.010".
I recently spent a day at Xometry's quality assurance lab to check out our different inspection equipment. While checking out our CMMs and awesome new comparators, I noticed our machinist holding some translucent rod stock about the size of a piece of chalk. I reviewed the drawing and saw the final part was milled on the outside and required a formed thread on the inner portion. This would result in thin walls. Fixturing alone is tricky and not a strong solution for this, but then I looked in the machine and saw something pretty clever.
In the video above, a part is being machined from a rod stock of PFA (perfluoroalkoxy). PFA plastic acts similar to PTFE (Teflon), where it is very slippery and can compress. With this particular geometry, the plastic part needs to hold tight tolerances while also being milled with a threaded core, leaving a thin wall all around. Just like a straw, the hollow part can easily compress and throw all other tolerances out of spec.
One method to combat this situation is to bring the part to near-freezing temperatures with compressed air. This reduces deformation during cutting and hits critical features while maintaining tight tolerances.
Beyond using techniques for machining like the cold air gun, a machinist must use sharp tooling like high-speed steel (HSS) endmills. Each plastic material has its own cutter recommendations as well as coolant requirements (which may be to not use coolant at all).
Machining Custom Plastic Parts with Online Manufacturers
Xometry offers a variety of plastic materials for its CNC machining services. This includes standard thermoplastics like machined ABS, acrylic, acetal (Delrin), nylon 66, polycarbonate, and UHMW PE (polyethylene). Xometry also machines high-performance polymers like PEEK (polyetheretherketone), PTFE (polytetrafluoroethylene, Teflon), Garolite G-10 composite, and custom requests. Once you upload a 3D CAD model to the Xometry Instant Quoting EngineSM, the price and lead time for your plastic CNC machined parted will be displayed instantly.

Greg Paulsen
They call me the Director of Application Engineering at Xometry. This means I not only get to produce great design-for-manufacturing content, but also consult on a variety of custom manufacturing projects using CNC machining, additive manufacturing, sheet metal, urethane casting, and injection molding. If you have a question, I'm your guy.