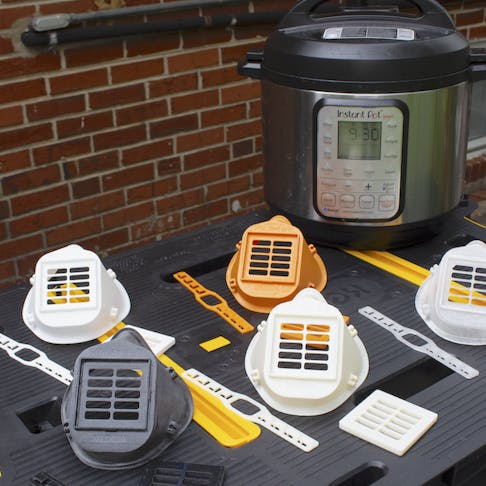 Video: Will It Beat the Heat?
Can 3D printed parts withstand the extremely high heat and pressure of an autoclave? Xometry Greg tests this theory with a Instant Pot simulation.

By Serena Ngoh
October 9, 2020
In our latest engineering challenge video, Xometry's Director of Application Engineering, Greg Paulsen, tests whether 3D printed parts can withstand the extremely high heat and pressure of an autoclave, as simulated by an Instant Pot. Watch now to see which 3D printed materials will beat the heat.
Here's what else you need to know about the test:
The test was inspired by the journal article, "Assessment and verification of commercially available pressure cookers for laboratory sterilization."
The types of 3D printed components are a mask, a mask cover, and an ear saver, which are based on designs from the National Institutes of Health (NIH).
The parts were printed in fused deposition modeling (FDM), Polyjet 3D, and selective laser sintering (SLS). Only SLS Nylon 12 is rated to withstand autoclave sterilization.
Parts were "cooked" for 15 minutes at high pressure with 0.5 L water, then removed from the heat via steam quick release for inspection.
Don't forget to check out our other top 3D printing resources:
Want your idea to be turned into our next engineering challenge? Submit your idea now!
For more content on custom manufacturing from Xometry, check out our recent blog posts.

Serena Ngoh
I write about Xometry and all things manufacturing. You might also see me hosting webinars, designing infographics, producing videos, and working directly with customers to tell their manufacturing success stories.