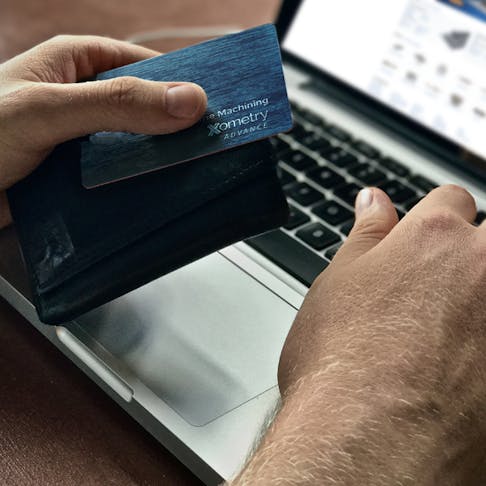 Harnessing the Power of Zero-Fee Advances
Wondering how your small shop can capitalize on the benefits of zero-fee advances? Without hefty fees, zero-fee business cash advance credit cards are a useful financial management tool.

By Team Xometry
December 17, 2020
 3 min read
Business cash advances are a terrific way to get quick access to funds. Unfortunately, many of them carry huge fees that may negate the value of taking the cash in the first place. 
But a zero-fee advance? That's another story entirely.
Wondering how your small shop can capitalize on the benefits of zero-fee advances? Without hefty fees, zero-fee business cash advance credit cards are a useful financial management tool.  Let's take a look:
Avoid Cash Flow Shortfalls
Nobody likes a cash crunch, but it's especially difficult for new companies. "Cash flow is everything to a new company," says Brian Wadey, founder of Prototype Design Labs in Bonney Lake, WA. If your shop needs materials or tools to accept or complete a job, knowing that you don't have any bottlenecks in your cash flow to be able to make those essential business purchases can make a huge difference. Brian uses Xometry's Advance Card, which advances 50% of the amount of each job he accepts from Xometry. "That's incredibly valuable for a small shop during times of financial uncertainty."
Pay Bills Early
Chances are some of your vendors and suppliers offer discounts as incentives for early payment. Another option: pay down interest-bearing equipment or automotive loans. Zero-fee advances empower you to pay fast and pay less. It's like getting money back on your advance! 
Boost Your Tech
Keeping up with evolving technologies and business requirements takes cash. Upgrade your back-office systems, replace a piece of equipment or invest in new innovation. 
Stock up for Upcoming Jobs
"Sometimes I can't accept jobs that are perfect for my shop because the upfront cost for materials is just too high," laments Ryan Warner. "With the Xometry Advance Card, that's no longer an issue." You can also use an advance to replenish raw materials or specialty components on your schedule, avoiding a cash or time crunch down the line. 
Spend on Sales and Marketing
A lot of machine shops and manufacturers experience some seasonality in their business. Whether it's a holiday crunch or a mid-summer lull, there are times when you can't catch a break or you're counting the days before your next order. That's why it makes sense to invest in sales and marketing initiatives like an ad campaign, social media presence, referral program, or website upgrade before things slow down. Whether you hire a consultant or agency or devote internal resources from your team, you can create a plan to tackle cyclicality before sales slow.
Do Something Nice for Your Team
Everybody's been working hard to keep things going during the pandemic. Show your appreciation and support another local business by giving gift cards from a local eatery or hosting a meal for each shift from a local caterer. 
Invest in Training
A lot of benefits accrue from a well-trained workforce. With extra cash on hand, you could fund educational opportunities for one or more staffers, such as technical skills, certifications, or business training. That's what Naseem Khan does at Prestige Screen Printing, Inc., in Derwood, MD. "We had staff who were eager to learn and expand on their skill sets," he says, "[and] we paid for them to go."
These are a few of the ways you can harness the power of no-fee cash advances. Talk with your CFO and CPA to discover more ideas for taking advantage of this financial tool.

Team Xometry
This article was written by various Xometry contributors. Xometry is a leading resource on manufacturing with CNC machining, sheet metal fabrication, 3D printing, injection molding, urethane casting, and more.