3D Printing Services for San Diego, California
High Quality San Diego, California 3D Printing | 60+ Materials Available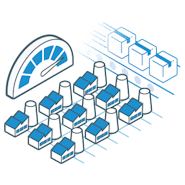 Endless Options
Choose from millions of possible combinations of materials, finishes, tolerances, markings, and certifications for your order.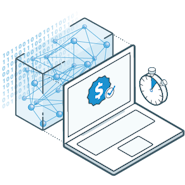 Easy to Use
Get your parts delivered right to your door without the hassle of sourcing, project management, logistics, or shipping.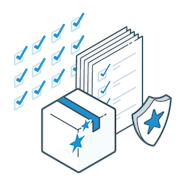 Guaranteed Quality
We back every part we ship with the Xometry Quality Guarantee. Our number one job at Xometry is making your custom parts to your specifications.
Your San Diego, California 3D Printing Service: 3D Prototypes and Production Parts
A Global Leader in Industrial-Grade 3D Printing
Xometry is an industry-leading 3D printing service. Whether you need prototypes or production parts, we can make them for you in as fast as a day. We are your one-stop-shop for accurate, precise custom 3D printed parts at a low cost. Upload your 3D CAD file to get a quote and lead time within seconds. We use the latest additive manufacturing processes to build affordable functional prototypes & end-use parts in over 60 metals and plastics.
We offer eight high-quality 3D printing processes including selective laser sintering, fused deposition modeling, stereolithography, direct metal laser sintering, polyjet, Carbon DLS, binder jet metal, and HP Multi Jet Fusion. We use commercial and industrial-grade printers such as Stratasys Fortus 900mc and Fortus 450 FDM, EOS Polymer Laser Sintering (SLS) and DMLS, Concept Laser, SLM Solutions, 3D Systems, ExOne, and more.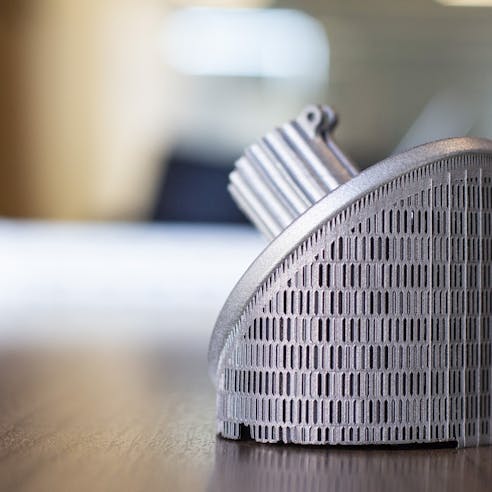 San Diego 3D Printing - Industries and Applications
3D printing, a form of additive manufacturing, is a tremendous manufacturing asset to businesses and organizations in San Diego, California. If you're looking to better understand how 3D printing could add value to your project or industry, Xometry can assist you with your goals. 
According to Thomasnet.com®'s 2022 sourcing data, the top six most popular manufacturing industries in San Diego are General Manufacturing, Energy & Utilities, Medical & Healthcare, Aerospace & Defense, Pharmaceuticals, and Food & Beverage. Here's how 3D printing can support local manufacturing in San Diego in some of these popular sectors: 
General manufacturing: Considered a necessary utility tool that the majority of manufacturing companies are employing, 3D printing is a low-cost and invaluable manufacturing solution used in many avenues, from parts of the production line and making jigs and fixtures to creating custom tooling for laser marking. It also allows for rapid prototyping to test design concepts ahead of production runs, thus reducing risk and eliminating costly design flaws. Top automotive companies are eager to leverage this technology, i.e., BMW, which uses Xometry for custom assembly of purpose-designed soft-touch handheld jigs. One case study showed that these improved-quality, lighter-weight, 3D printed products not only reduce fatigue but they also reduce scrap rate, too. Additive manufacturing is also starting to become a substitute process for injection molding, particularly for low-volume projects that require complex tooling from plastic or metal. As 3D printing creates parts directly from the CAD model one layer at a time, it offers cost advantages by eliminating the upfront expenses of creating tooling or molds, such as with die casting, injection molding, or CNC machining.
Energy and utilities: Thanks to its quick turnaround time compared to traditional tooling, 3D printing is also being explored for energy and utilities. Parts which are typically cast can be directly printed out of metal or a high-performance polymer substitute quickly and in fewer numbers. There are also many opportunities for large-format industrial printing in the fields of renewable energy and oil & gas. Bespoke, hard-to-transport parts such as metal tubular designs for drilling with internal features to cater to camera monitoring, circuit boards, and sensors can be 3D printed. In these industries, additive manufacturing is more than just engineering a machine component; with the ability to create state-of-the-art groundbreaking mechanisms with endless capabilities, 3D printing can significantly transform and modernize these sectors.
Medical and healthcare: Ground-breaking advancements in point of care services thanks to additive manufacturing are revolutionizing the medical and healthcare industry. From creating medical models of designs for tricky surgeries such as 3D models taken from scans that can help surgeons work on their strategies, or custom 3D fixtures or surgical alignment tools that can remove entry angle dilemmas, to building medical electronics, tooling, enclosures, and prototypes, 3D printing is changing the medical world. This is not to mention additive manufacturing's rapidly developing role in other medical sectors such as biotechnology, prosthesis, and the development of devices for accessibility.
Aerospace and defense: 3D printing is already being utilized in aerospace and, though not yet heavily adopted in defense, has the potential to provide enormous value in the sector. 3D printing applications in aerospace mainly revolve around reducing foreign object debris (FOD) by consolidating part count, while also reducing the weight of components thereby significantly reducing costs. Freeform aerospace designs via additive can also benefit through topology optimization, a method utilizing mathematical tools to augment the distribution of the designs' material. For defense, 3D printing can simplify the life cycle support of any product, specifically for low-volume repairs or replacements of highly custom legacy products that are no longer manufactured. In addition to using this technology for the creation of advanced weapon systems like drones and weaponry, additive manufacturing can reduce the downtime from repairs through rapid response, with the potential for real-time 3D printing base replacement units for the military. Though there is still a lot of discovery yet to take place in relation to legacy parts, it is an interesting avenue with a lot of potential for the defense sector.
Food and beverage: On the manufacturing side of food and beverage, 3D printing is gaining traction as a valuable utility, with the potential to become so much more. Though general mass-market kitchenware isn't 3D printed, the prototypes for these products very likely are, as well as other essential items in the sector such as food packaging, utensils, or spare parts for food production lines. 3D printed foods have long been the topic of fervent interest, with advancements such as the first commercial 3D chocolate printer that is set to change the game for bakeries and chocolatiers everywhere. But there are a few limitations, the main one being cleanability as a 3D printed surface with micropores is not smooth enough to be considered food-grade. The addition of chemical vapor smoothing for the post-processing of 3D printed products has, however,  made it possible to get closer to food processing with 3D printing than ever before.
Pharmaceuticals: Additive manufacturing is inching closer to becoming a mainstream manufacturing technology, and one of the industries that many are avidly watching in relation to how it will incorporate 3D printing is pharmaceuticals. As with the food and beverage sector, 3D printing's greatest challenge in pharmaceuticals is cleanability due to the limitations in surface finish and sterilization, but with the rapid advancements in research and technology, we can expect to soon see tremendous innovations such as custom medicine personalized to an individual's own biology and daily needs, a.k.a. pills on demand. In the meantime, 3D printing is being adopted on the factory floor in different ways, such as for creating sampling arrays, and many specific and complex custom designs for companies.
The additive manufacturing and material market is rampantly growing and is estimated to reach US$61.1 Billion by the year 2027. With the technology being so prolific, providing endless options, and the opportunity to greatly add to and advance your business, let Xometry cater to all your industrial-grade 3D printing needs.
Xometry's High Quality 3D Printing Services
Selective Laser Sintering (SLS)
Selective Laser Sintering (SLS) is a powerful 3D printing technology that produces highly accurate and durable parts that are capable of being used directly in end-use, low-volume production, or for rapid prototyping.
An additive manufacturing layer technology, SLS involves the use of a high power laser (for example, a carbon dioxide laser) to fuse small particles of plastic powders into a mass that has a desired three-dimensional shape. The laser selectively fuses powdered material by scanning cross-sections generated from a 3-D digital description of the part (for example from a CAD file or scan data) on the surface of a powder bed. After each cross-section is scanned, the powder bed is lowered by one layer thickness, a new layer of material is applied on top, and the process is repeated until the part is completed.
Download the SLS Design Guide.
Stereolithography (SLA) is a robust 3D printing technology that produces extremely accurate and high-resolution parts that are capable of being used directly in end-use, low-volume production, or for rapid prototyping.
SLA is an additive manufacturing process that focuses an ultraviolet (UV) light on a vat of photopolymer resin. It offers higher resolution printing than many other 3D printing technologies, allowing customers to print parts with fine details and surface finishes. SLA 3D printing is a highly-versatile platform for making custom parts in prototype and production settings; often acting as a stand-in for injection-molded plastic parts.
Xometry offers both standard and high-resolution options for fine detail parts, and can also print larger sized parts and products, with some materials offering up to a 58" inch build area. In addition, Xometry's manufacturing partner network allows us to offer a larger variety of materials than other 3D printing companies - we offer a wide range of both Accura and Somos brand materials.
Download the SLA Design Guide.
Fused Deposition Modeling (FDM)
Fused Deposition Modeling (FDM) is a 3D printing technology widely known for its speed, accuracy, and competitive cost. A machine precisely extrudes melted plastic filament to create a part. Parts are very rigid, especially compared to Selective Laser Sintering (SLS), which makes them a great fit for projects with a rigidity requirement. Xometry's FDM solution offers large build volumes up to 24″ x 36″ x 36″, a variety of colors, and a diverse selection of production-grade thermoplastics — from ABS to Polycarbonate to Ultem.
Download the FDM Design Guide.
HP Multi Jet Fusion (HP MJF)
HP Multi Jet Fusion is a new 3D printing technology that produces highly accurate and durable parts that are capable of being used directly in end-use, low-volume production, or for rapid prototyping. Since the process uses well-established 2D printing ink-jetting, it has remarkably fast layer times compared to other powder bed fusion technologies.
Download the HP Multi Jet Fusion Design Guide.
PolyJet 3D is a 3D printing technology known for its customizable material properties and excellent surface finish. It works by jetting UV curable resin onto a build tray in a process that is somewhat similar to inkjet printing. PolyJet 3D printing offers one of the most advanced industrial 3D printing solutions available, producing parts with incredible precision and speed. It also supports a wide variety of build materials including rigid and rubber-like plastics. Xometry's PolyJet solution has a maximum build envelope of 19.3 × 15.4 × 7.9 in. (490 × 390 × 200 mm) in a variety of colors and materials.
Download the PolyJet 3D Design Guide.
Direct Metal Laser Sintering (DMLS)
Direct Metal Laser Sintering (DMLS) is an 3D metal printing technology that builds prototype and production metal parts from a CAD file using a laser to selectively fuse a fine metal powder in either stainless steel or aluminum materials. A DMLS machine is capable of producing highly complex features and all-in-one assemblies using metal materials that would be difficult to achieve with subtractive manufacturing techniques.
Our DMLS metal 3D printing service typically offers build volumes up to 250 x 250 x 325 mm, but we may be able to accommodate larger part volumes upon request in the quote. (See our Manufacturing Standards for more details) A good first step is to find out the cost of the parts you need using DMLS and compare them to other 3D printing processes and CNC machining.
Download the DMLS Design Guide.
Carbon DLS™ uses digital light projection, oxygen-permeable optics, and programmable liquid resins to produce products with end-use durability, resolution and surface finish. This 3D printing technology is called Digital Light Synthesis™, or DLS for short. Another legacy term for the process is Continuous Liquid Interface Production (CLIP). Along with Carbon's custom liquid resins, DLS unlocks new business opportunities and product designs previously impossible, including mass customization and on-demand inventory of end-use products.

Carbon bridges, and sometimes substitutes, for processes like Urethane Casting and Injection Molding service production, because the materials are urethane-based or epoxy-based, giving excellent mechanical properties. There are even elastomer and silicone resins that outperform most additive manufactured rubber-like materials.
The typical build area is 7.4" x 4.6" x 12.8". Parts with dimensions exceeding 4" x 4" x 6" will require manual review.

Download the Carbon DLS Design Guide.
With binder jetting, an inkjet print head quickly deposits a bonding agent onto a thin layer of powdered particles -- either metal, sand, ceramics or composites. This process is repeated, layer-by-layer, using a map from a digital design file, until the object is complete. Binder jetting is offered through our Digital RFQ Marketplace through Xometry's partnership with ExOne.
Download the Binder Jetting Design Guide.
Ready to start making custom 3D printed parts?