Acetal (Delrin) CNC Machining
Acetal is a high-strength thermoplastic also known by its brand names, Delrin®, Tecaform® and Sustarin®. It has exceptional mechanical properties and temperature resistance when compared to other, more common plastics. It is easy to machine and has excellent dimensional stability. This combination of properties makes CNC machining in Delrin perfect for high-precision mechanical components such as gears and bearings. Delrin parts can be found in consumer electronics such as printers and televisions.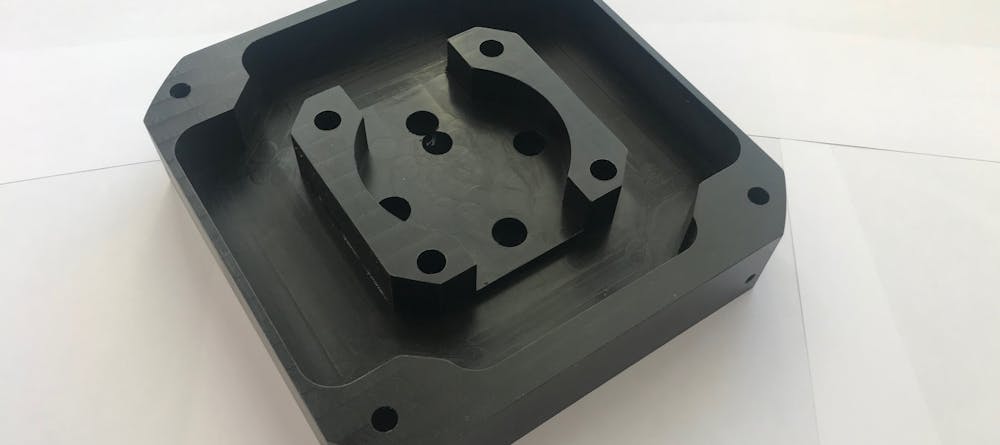 Acetal CNC Machining
Delrin is the DuPont trade name for homopolymer acetal. It has better mechanical properties than acetal copolymer with a notable improvement in impact resistance. In addition to its exceptional mechanical properties, CNC machined acetal offers superior dimensional stability that makes it ideal for high-precision parts.
Acetal At a Glance
| | |
| --- | --- |
| | Acetal is ideal for high-precision mechanical parts such as bearings, bushings, gears, and valve components |
| | Good fatigue resistance, low friction, good overall toughness, moisture resistant |
| | |
| | Lead time is generally a minimum of 3 days. However, this can increase depending on availability or if the parts are to be internationally manufactured. |
| | |
| | Machining tolerances of 0.010" (0.25 mm) are achievable. |
| | A minimum wall thickness of 0.03" (0.8 mm) is achievable. This can vary depending on the ratio of wall thickness to planar dimension. |
Delrin 100
Due to its high impact resistance and low friction characteristics, CNC machined Delrin is ideal for gears, door system components, and bushings. It is a lightweight and cheap alternative to metal parts and in many ways bridges the gap between plastics and metals. Delrin can also maintain its properties across a temperature range of -40oC to 120oC, which is a much bigger range than most other plastics can tolerate.
General Delrin Properties
| Tensile Strength, Yield (MPa) | Elongation at Break (%) | Hardness (Shore D) | Heat Deflection Temperature (°C) | Melting Point (°C) |
| --- | --- | --- | --- | --- |
| Tensile Strength, Yield (MPa) | Elongation at Break (%) | Hardness (Shore D) | Heat Deflection Temperature (°C) | Melting Point (°C) |
Finishes
As is the case with most plastics for machining, acetal parts can only accept a few types of surface finishes. Below are some options for improving the surface finish of CNC machined Delrin components.
As Machined: It is possible to create an excellent surface finish fresh from the CNC machine. Xometry manufacturers achieve this using sharp HSS (high-speed steel) cutting tools with appropriate high rake and relief angles.
Bead Blast: Tool marks are generally obvious on CNC machined Delrin parts. Bead blasting can be performed to mitigate tool marks on an acetal part. It is important to note that surface color will lighten with bead blast, so black materials may look dark grey after bead blasting.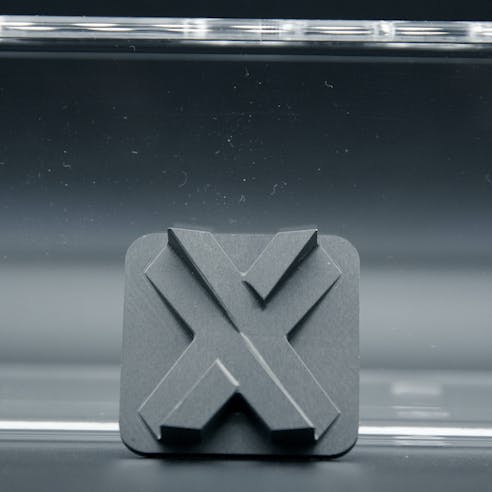 Cost-saving Design Tips
Acetal (Delrin) is one of the more expensive plastics on the market so it is important to follow the cost-saving principles below.
Design to standard sizes: Acetal is typically supplied in sheets of standard thicknesses or in extruded forms such as solid bars.
Do not aim for minimum wall thickness: Although achievable, minimum wall thicknesses may be difficult to fixture and reproduce without flex, warp, or chatter, and can drive pricing up. Use machining design best practices whenever possible.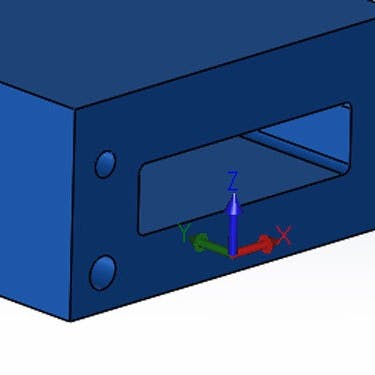 Need CNC Machined Parts in Delrin?