Custom Aluminum Extrusions Service
High Quality, Low Cost Aluminum Extrusions With Xometry. Subject to availability. Xometry doesn't guarantee that we can provide this service at any given time.
Xometry offers the highest quality Custom Aluminum Extrusion services to meet your specific application. Xometry can assist with the design and manufacturing of custom aluminum extrusion profiles to meet your requirements. The profiles are procured by first designing a custom die with the required cross-section. Next, an aluminum billet is forced through the die using either direct or indirect extrusion techniques. Once complete, the extrusion is quenched, straightened, and any post-processing, like hole drilling or machining, is performed. 
Various finishing options like anodizing, painting, or powder coating are also available to improve the appearance or the corrosion and abrasion resistance of the extrusion. High-quality aluminum extrusions are lightweight, corrosion-resistant, as well as thermally and electrically conductive. Typical materials used for custom aluminum extrusions include:
Alloy 1100
Alloy 2024
Alloy 6061
Alloy 6063
Alloy 7075
What Are Custom Aluminum Extrusions?
Custom aluminum extrusions refer to the process of manufacturing an aluminum profile with a constant cross-section in various lengths. These cross-sections can be optimized for a specific niche application when standard extrusions are unsuitable. 
The Aluminum Extrusion Process
In general, there are two types of extrusion processes that can be used to produce custom aluminum extrusions, namely direct or indirect extrusion. However, both techniques work by forcing (at very high pressure) an aluminum billet through a die that has the required cross-section to meet your specific needs. The extrusion is often heat-treated and straightened after extrusion. Machined features or holes can be added, and additional finishing options are also available to improve aesthetics as well as corrosion and abrasion resistance.
Custom Aluminum Extrusions Finishing Options
Listed below are the various finishing options available for aluminum extrusions:
Basic Mechanical Finishing
Anodization
Painting
Powder Coating
Silk-Screen Printing
Laser Engraving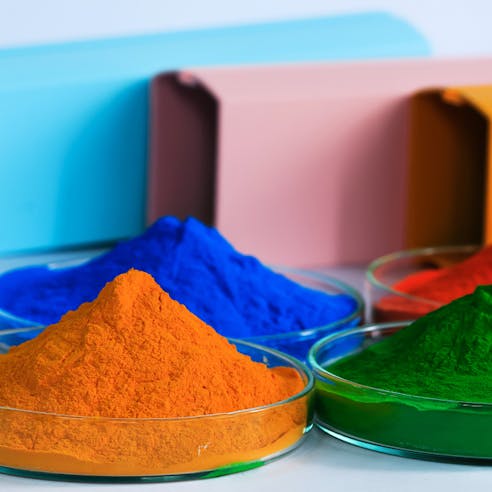 Basic Mechanical Finishing
Xometry offers basic mechanical finishing that can include standard part cleaning and deburring. The part is cleaned to remove any oil or grease introduced during manufacturing and any burrs are removed. Extruded profiles will have a surface roughness between 64 µin and 125 µin Ra.
Anodization
One of the primary methods of increasing the wear and corrosion resistance of aluminum is through anodizing. The anodizing process converts the surface of the aluminum into a scratch- and chemical-resistant coating of aluminum oxide. Xometry offers Type II and Type III anodizing which conforms to MIL-A-8625. Type II anodizing produces a coating with a thickness of between 0.0002" and 0.0012" that can also be dyed in various colors. Type III anodizing, also called hard coat anodizing, is better suited to applications that require increased wear resistance. Type III coatings typically have a thickness of 0.002". Type III coatings are not commonly dyed and have a dark appearance but can be painted. It must be noted that anodized dye colors cannot be matched to specific Pantone or RAL color codes. 
Painting
Aluminum extrusions can be painted using either spray coatings or manually applied water- or solvent-based paints. Paint colors can be matched to specific Pantone or RAL color codes. The paint provides a continuous and protective finish. 
Powder Coating
Aluminum extrusions can be powder-coated to provide a tough, corrosion-resistant coating that holds its color well when exposed to harsh outdoor environments. Powder coating is essentially a thermoplastic or thermoset powder that is applied using an electrostatic effect. The coating is baked or cured onto the extrusion surface creating a continuous durable coating with a thickness of between 0.006" and 0.012". Various colors are available. Coatings can be applied in accordance with ASTM D7803 as well as applicable MIL and FDE specifications. 
Silk-Screen Printing
Silk-screen printing is mainly used to apply markings or images onto the surface of the aluminum extrusion. This process works by using a mesh, typically nylon or polyester, to transfer ink onto a stencil. This ensures that only the desired image or text is transferred to the extrusion; thereafter, it is cured using a UV light. These markings can be used for company branding, or for production traceability purposes. The coating is highly durable and does not peel off.  
Laser Engraving
Laser engraving provides a more permanent method of marking an aluminum extrusion. It works by tracing a laser beam in the desired shape and melting the surface of the aluminum. This melting creates a contrast between the standard surface finish of the extrusion and allows for permanent traceability for quality purposes or company branding.
Advantages of Custom Aluminum Extrusions
Listed below are some examples of the advantages of making use of custom aluminum extrusions:
Consistency
Fast Manufacturing
Reduced Material Waste
Lightweight
Cost Effective
Heat Conductive
Corrosion-Resistant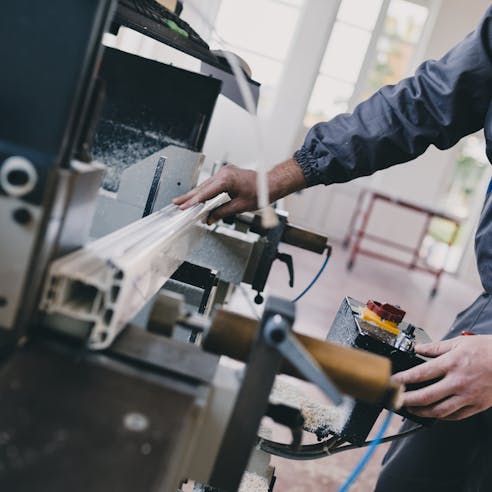 Consistency
Aluminum extrusions have a consistent cross-section as the part will pass through the same die during production. After extrusion, the part is also straightened to ensure it is consistent along its entire length and meets dimensional requirements. 
Fast Manufacturing
Once the die is manufactured, the actual extrusion process is extremely quick. Some aluminum parts are suitable for feed rates from 2 to 20 ft/min. Fast manufacturing means reduced lead times and lower cost per meter of extruded aluminum. It must however be noted that the extrusion die can take several weeks to design and manufacture.
Reduced Material Waste
Only the required material is used in the extrusion and there is minimal wastage. For example, if the part were to be manufactured using CNC machining, there would be a lot of waste as the cross section would need to be produced by removing material. 
Lightweight
Extrusion designs can be optimized for low weight while still maintaining the required stiffness. Complex cross sections can be designed such that the specified load cases are optimized. Lightweight designs mean reduced raw material costs.
Cost Effective
The cost-effectiveness of aluminum extrusions is due to a number of factors. The speed with which aluminum extrusions are manufactured means a lower cost per part. In addition, there is very little raw material wastage and extrusions can be designed to be extremely lightweight without sacrificing their performance. 
Heat Conductive
Aluminum is heat conductive. This can be very useful for heat exchangers or heat sinks. Custom heat sink profiles can be produced to optimize heat transfer without having to resort to complex manufacturing processes like CNC machining. 
Corrosion-Resistant
Uncoated aluminum can be highly corrosion-resistant due to the natural oxide that forms on the surface over time. This oxide can be artificially reproduced using anodizing to create highly corrosion-resistant surfaces. Aluminum extrusions can also be coated using a variety of techniques like powder coating or painting to further improve their corrosion resistance.
Need custom aluminum extruded parts?
Disadvantages of Custom Aluminum Extrusions
Despite the many advantages of custom aluminum extrusions, there are still some potential disadvantages as described below:
Prone To Wear
Low Production Efficiency
High Upfront Cost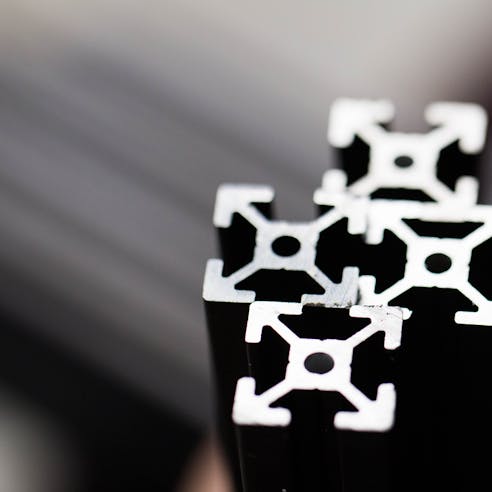 Prone To Wear
The die used to create the cross-section of the extrusion is exposed to a constant flow of aluminum at high pressure. This can cause wear on the die that may require periodic replacements during high-volume manufacture. In addition, untreated aluminum extrusions will have less wear resistance than steel (a harder material). This can however be improved with hard coat anodizing. 
Low Production Efficiency
It is not possible to have continuous production as a new billet needs to be added regularly due to the nature of the extrusion process, i.e, the need to force a limited-size aluminum billet through a die. As such, the overall production efficiency of aluminum can be low if smaller volumes are produced. 
High Upfront Cost
Choosing custom aluminum extrusions can be more costly than using a standard off-the-shelf extrusion. This is because it can be expensive to design and manufacture a custom die. In addition, a large initial order quantity may need to be manufactured to justify the initial setup cost. Despite this, custom aluminum extrusion is an excellent option if a specific profile is required that cannot be purchased off the shelf.
Applications of Custom Aluminum Extrusions
Custom aluminum extrusions are used in a wide variety of industries. Some typical applications are listed below:
Aerospace
Automotive
Trains
Ships
Construction Industry
And More!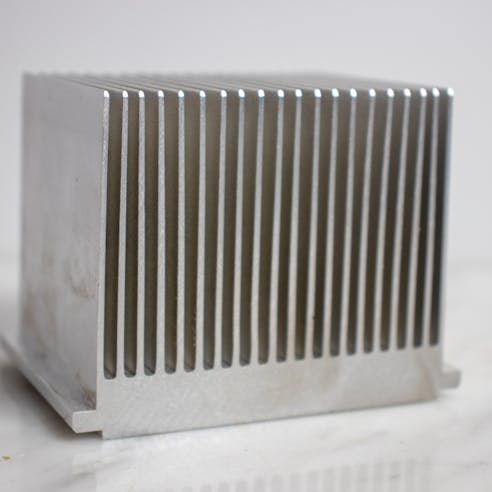 Aerospace: Custom aluminum extrusions are often used for fuselage components and interior cabin components like seat racks. 
Automotive: Typical applications include structural components like subframes and body components. 
Trains: Passenger train interior cabin components like carpet trims, luggage racks, and seat racks are some applications for custom extrusions in the rail industry.
Ships: Aluminum extrusions can be used for lightweight paneling, trimming, decking, and bulkheads.
Construction Industry: Lightweight aluminum scaffolding is commonly used in the construction industry as they are easy to move and assemble. Window and door frames are also made from custom aluminum extrusions. 
Medical Devices: Aluminum extrusions are used in the medical industry due to their low weight and corrosion resistance. Typical applications can include walkers, machine frames, and equipment mounts.
Display Industry: A typical application can include marketing display frames at trade shows or exhibitions. 
Heat sinks: Aluminum heat sinks are low-cost and effective at transferring heat in various applications. Custom extrusions can be a low-cost method of producing advanced geometries for heat exchangers. 
Electronics: Typical applications for aluminum extrusions are custom heat sinks, enclosure frames, and electrical bus bars. 
Automation: Aluminum extrusions are often used to build enclosures or supporting structures for automated robotics systems. These extrusions allow for quick assembly and are lightweight. 
Alternatives to Custom Aluminum Extrusions
Custom aluminum extrusions may not always be the best option for your application. Listed below are two potential alternatives:
CNC Machining
Laser Cutting & Sheet Metal Bending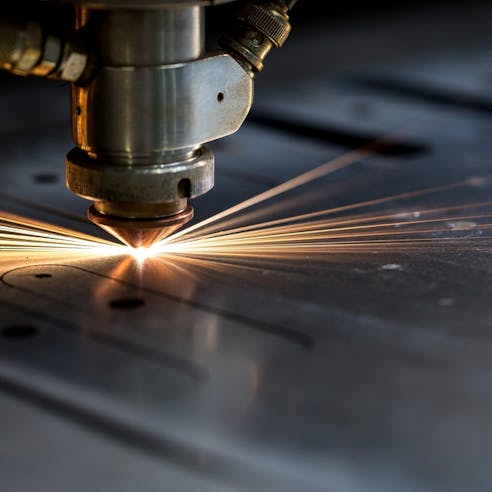 CNC Machining: CNC machining is ideal for low-volume highly custom profiles when producing a custom aluminum extrusion is too costly and time-consuming. 
Laser Cutting & Sheet Metal Bending: Sheet metal bending can be used to produce simple profiles that can have various features laser cut prior to bending.
Why Choose Xometry for Custom Aluminum Extrusions?
Endless Options
Choose from millions of possible combinations of materials, finishes, tolerances, markings, and certifications for your order.
Easy to Use
Get your parts delivered right to your door without the hassle of sourcing, project management, logistics, or shipping.
Quality Assurance
We are ISO 9001:2015, ISO 13485 and AS9100D certified.
Ready to order custom aluminum extruded parts?