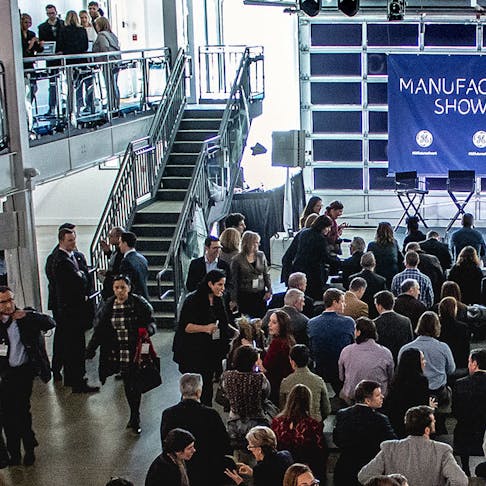 Xometry makes a splash at the GE Manufacturing Showcase
Chatting supply and demand with Massachusetts Governor Charlie Baker!

By Team Xometry
October 8, 2020
 2 min read
Governor Charlie Baker of Massachusetts was one of the many guests at the March 30th General Electric Manufacturing Showcase in Boston, an event featuring companies accelerating innovation and disruption in the manufacturing industry. Xometry was showcased as one of the key innovators - bringing technology into the industry and improving the future of work.
We had the pleasure of speaking with Governor Charlie Baker as he stopped by our booth. We enjoyed discussing the importance of connecting supply and demand through technology and how we bring jobs to our manufacturing Partner Network all across the US. The highlight was when Baker exclaimed, "I love this business!"
Baker also opened up the event, expressing his excitement surrounding GE's big move to Boston, creating jobs, improving health and equipping residents with new skills for the future. Baker then described to the room full of over a hundred reporters, industry influencers and local officials how Xometry is connecting supply and demand in manufacturing nationwide with our platform and dynamic Partner Network. We were honored to get a shout out from the Massachusetts Governor from the main stage of the event!
Governor Charlie Baker loved learning about our how our Partner Network is bringing jobs to machine shops in Massachusetts
We were in great company at the event with several other GE Ventures-funded startups including Tamr, Upskill, Ascendify, Optomec and Rethink Robotics. The showcase took place at the Artists for Humanity building in the Seaport district and the industrial space was fittingly packed with buzz about new bold ideas and technology.
Sue Siegel, CEO of GE Ventures, led a panel about the future of work with distinguished panelists Joi Ito of MIT Media Lab, Travis McCready of Mass Life Sciences, and John Barros, the Chief of Economic Development for the City of Boston. Siegel discussed GE's commitment to the manufacturing ecosystem saying "A productive country needs manufacturing." John Barros described the future of manufacturing in one word: "integration" and we couldn't agree more. Fostering connection between engineers, product designers and a nationwide network of manufacturing facilities is the ultimate manufacturing integration, all available instantly on our Xometry platform.

Team Xometry
This article was written by various Xometry contributors. Xometry is a leading resource on manufacturing with CNC machining, sheet metal fabrication, 3D printing, injection molding, urethane casting, and more.