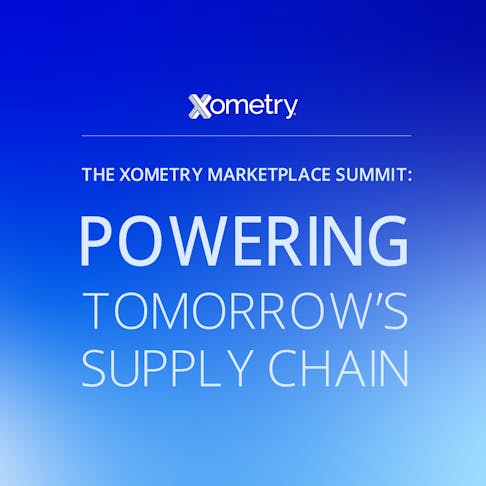 Xometry Unveils Big Digital Solutions to Bolster Supply Chains
Learn how Xometry is powering tomorrow's supply chain with powerhouse digital solutions that will help organizations create locally sourced supply chains.

By Nathaniel Miller
July 6, 2022
 2 min read
As the world faces unprecedented events, our industry – manufacturing – is playing a pivotal role in helping overcome obstacles and fix what's broken. At the same time, manufacturing itself is striving to become more nimble and efficient.
Xometry's CEO Randy Altschuler unveiled new technologies redefining how buyers and suppliers come together to produce the goods that fuel the global economy. 
Two powerhouse digital solutions that will change the way you do business include
The Industrial Buying Engine on Thomasnet.com® - A new digital sourcing tool for enterprise buyers that will help customers source and purchase from more than 500,000 top suppliers – all within the Thomasnet.com ecosystem. The Industrial Buying Engine also incorporates Xometry's Instant Quoting Engine, giving buyers even more flexibility.
The Xometry Workcenter - A new cloud-based operating system that empowers small- and mid-sized manufacturers to view all their Xometry and non-Xometry jobs, optimize efficiency, expedite payment, and get goods to market faster.
Additionally, Xometry will open up the API-enabled Workcenter to third-party developers, establishing Workcenter as an emerging platform for innovators to deliver interconnected solutions for suppliers.
We would love it if you can join us as we accelerate innovation and manufacturing growth. Here's how you can participate:
Suppliers: Sign up to our new cloud-based and free Manufacturing Execution System in your Thomas Account today: Get Started
Industry buyers: Register on Thomasnet.com for free to access the Industrial Buying Engine to connect with, evaluate, and buy from thousands of top US and Canadian manufacturing suppliers.

Nathaniel Miller
Hi, I'm Nathan, and I'm the Marketing Content Writer for Xometry. I write and edit a lot of the content produced by Xometry. I'm also the lucky guy who gets to share the accomplishments of engineers working to change their industries and our lives.