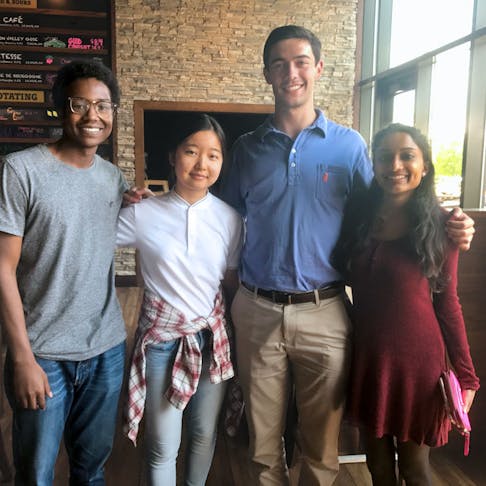 Meet Our 2017 Summer Interns
They've been doing a fantastic job this summer and we'd like to take a moment to highlight them and the great work they've done!

By Team Xometry
October 8, 2020
 3 min read
It's been a fantastic summer for our 2017 interns, filled with learning, contributions, and laughter. But as our time with our interns comes to an end, we wanted to reflect on all they've accomplished here.
Once you get to know these students, you'll get a sense of their eagerness to transform manufacturing. If you are interested in being one of our next amazing interns, we are always looking! Contact [email protected] to apply.
Our interns have each been great assets to Xometry, and a wonderful example of the many intern groups to come. We are committed to having a continuous and robust internship program and could not be more proud of these students. We wish them the best in all their future endeavors!
Shanthi studies mechanical engineering and applied mechanics as a junior at the University of Pennsylvania. This summer she's working with our Customer & Partner Success teams to ensure our clients' needs are met and partner network strengthens, and she has learned a lot about design. Her favorite things about her internship were bonding with the Xometry teams as well as working on a "3D Xometry logo that glows whenever an order is placed". Fun fact: she discovered Xometry by googling "coolest startups in Maryland"!
Christian studies economics and is on the rowing team as a senior at Dartmouth College, and this summer he is working with our marketing team on customer acquisition and engagement. He conducted research on Fortune 500 companies we work with, which provided our team with lots of insight. He's enjoyed learning about how technology is keeping American manufacturing competitive, and said sitting right across from our CEO felt like "being in the nucleus of the company"!
Candia studies Computer Engineering as a sophomore at Carnegie Mellon University, and this summer she is working closely with our Web Development team, Data Science teams, and CTO to boost our security. She is excited about applying her fast learned programming towards future class projects, including her new deep learning skills! She has also been a dedicated pacifist by not owning a Nerf gun, which makes it hard to protect herself from office Nerf battles.
Tony is studying to pursue engineering as a sophomore at Towson University and has been working with our additive manufacturing team this summer, learning the ins-and-outs of 3D printing. Tony revealed that his biggest lesson this summer has been "how not to break parts." His favorite project involved designing quadcopter frames through SLS processing for his drones! He'll take his hands-on experience of "making custom parts for engineers all over the world" to his future experiences.

Team Xometry
This article was written by various Xometry contributors. Xometry is a leading resource on manufacturing with CNC machining, sheet metal fabrication, 3D printing, injection molding, urethane casting, and more.