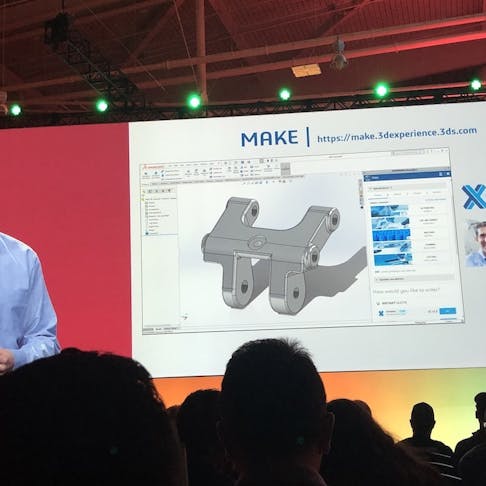 Recap: Xometry at 3DExperience World 2020
On February 9-12, Xometry attended 3DExperience World 2020 (formerly Solidworks World). 3DExperience announced a partnership with Xometry alongside new product updates.

By Team Xometry
October 9, 2020
 3 min read
On February 9-12, Xometry attended 3DExperience World 2020 (formerly Solidworks World). The four-day conference brings together designers, engineers, and entrepreneurs to collaborate, innovate, and inspire the future of CAD technology.
Xometry has attended this event for years because it fosters creativity and inspires ideation for projects big and small. At this year's 3DExperience world, Xometry spoke about the process of bringing ideas to life through its various manufacturing services and technologies.
A Magical Manufacturing Challenge
The event began Sunday, February 9, with a welcome reception. During the event, Magic Wheelchair, a non-profit organization dedicated to transforming children's wheelchairs into "epic costume" accessories, presented two children with all new magic wheelchairs. The children who received the wheelchairs were ecstatic, with joy on their faces when the wheelchairs were presented.
This announcement was even more special to Xometry since we contributed 3D printed parts for the R3-JSWOOP wheelchair costume. On Saturday, February 8, Xometry received a frantic request from SOLIDWORKS to manufacture several missing key components for a Magic Wheelchair, with an extremely tight turnaround of 24 hours. This goal was to manufacture these parts by the start of the 3DExperience World opening reception on Sunday, February 9.
The Xometry team accepted the challenge and was able to manufacture the parts using fused deposition modeling (FDM) in less than a day, then obtain weekend shipping. The job was successfully completed and delivered within 24 hours. The parts fit like a glove, and the announcement went smoothly as planned.
Xometry helped SOLIDWORKS with a last-minute request to 3D print various components for an R3-JSWOOP Magic Wheelchair
Monday, February 10th, was the first full day of the conference, and there was a flurry of individuals who stopped by booth #313 to learn more about Xometry and our manufacturing services. Not only did we get the chance to meet new companies, but it was great to hear positive testimonials about our customers' past manufacturing projects with Xometry. Throughout the day, we gave away our popular CADBEAST t-shirts.
Xometry gave away free swag at 3DExperience World 2020
On Tuesday, February 11, Dassault Systèmes announced news about the future of SOLIDWORKS, which included new, immersive design experiences. During the General Assembly, Randy Altschuler, Xometry's co-founder and CEO, was brought on stage to announce Dassault Systèmes and Xometry partnership which will offer engineers and designers access to Xometry's instant pricing and lead times on custom parts directly in the Make Marketplace, without the need to leave SOLIDWORKS or CATIA.
SOLIDWORKS's new and improved design interface
The conference concluded on Wednesday, February 12, with conversations about the Make Marketplace. There was enthusiasm from designers and engineers, but SOLIDWORKS and CATIA resellers expressed how this new feature will positively impact their customers in their search for manufacturers, driving greater efficiencies from design to order.

Team Xometry
This article was written by various Xometry contributors. Xometry is a leading resource on manufacturing with CNC machining, sheet metal fabrication, 3D printing, injection molding, urethane casting, and more.