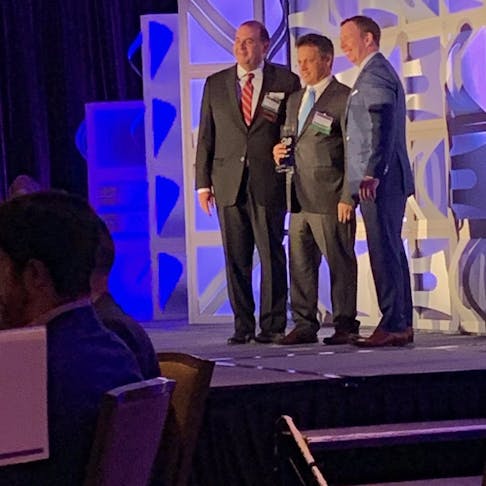 Xometry's CFO Named Emerging Growth CFO of the Year
Xometry Chief Financial Officer, Laurence Zuriff, wins the coveted award from the Northern Virginia Technology Council.

By Team Xometry
October 9, 2020
 2 min read
GAITHERSBURG, Md. and LEXINGTON, Ky. (June 13, 2019) -  Laurence Zuriff, Xometry's CFO and co-founder, was awarded Emerging Growth CFO of the year by the Northern Virginia Technology Council (NVTC). This award recognizes CFOs of businesses in the northern Virginia area who are impacting the local emerging technology community.
"It is an honor to be recognized for this award," said Zuriff. "I love what I do and the Xometry team is full of dedicated employees who not only push the company to new heights but also give back to the local community. I am looking forward to continuing to help Xometry have a positive impact on the Northern Virginia, DC, and Maryland technology ecosystem."
Pictured in middle: Laurence Zuriff, Emerging Growth CFO of the Year
This year marked the 23rd year NVTC recognized high-impact CFOs. The categories for the awards included private companies, public companies, emerging growth, and transformational. To honor all the category finalists, an awards reception was held on June 3rd at the Ritz-Carlton. Xometry was founded in 2014 by Zuriff and Randy Altschuler, the company's CEO. Zuriff and Altschuler sought to revolutionize the manufacturing industry by reimagining custom part manufacturing.
Since its inception, the company has raised $113 million in venture capital funding from Greenspring Associates, Dell Technologies, BMW, and GE Ventures among others. Xometry has grown into the nation's largest custom part marketplace, offering 3D printing services, sheet metal fabrication, CNC machining, and injection molding services. In January, Xometry launched its eCommerce service—Xometry Supplies— to provide materials and tooling to manufacturers nationwide.

Team Xometry
This article was written by various Xometry contributors. Xometry is a leading resource on manufacturing with CNC machining, sheet metal fabrication, 3D printing, injection molding, urethane casting, and more.