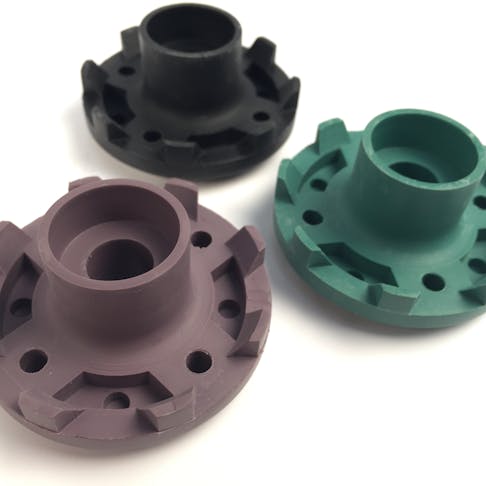 5 Reasons to Choose Urethane Casting
You can find more than 5 in our new design guide, which will allow you to dive into urethane casting.

By Team Xometry
October 8, 2020
 2 min read
If you've never heard of urethane casting, you're not alone. But this manufacturing method that creates high-quality rigid, flexible, or rubber-like parts is rising in popularity and may become your next top manufacturing choice.
Why?
1. Cosmetic finish.
If your parts are consumer-facing - or you just want a high-quality cosmetic finish - urethane casting delivers the best appearance, quality, and surface finish of many other processes.
2. Colored or clear.
Urethane excels at coloring consistently and can match more specific color options than other processes. Parts can be also be made clear, which is very hard to hit via machining or 3D printing.
3. Large size variation.
Urethane parts can be scaled for a multitude of sizes without compromising any details or customization. They can also be scaled in volume production, for when you want one part or a hundred.
4. Flexible material.
Urethane casting allows for much more flexibility than other processes, such as Polyjet 3D, before tearing. Urethane rubbers are extremely durable, and can tuned to your specific durometer.
5. Endless capabilities.
You can customize urethane parts with inserts, over-molds, and other hardware. When you need a small batch of production-quality parts with tough requirements, urethane will almost always be your best bet.
Our general rule of thumb? If it can be CNC machined, it can be urethane casted.
All in all, urethane casting gives you very high-value parts for when you need a mid-to-low production volume.
We've created a free downloadable design guide to share details about this manufacturing process that you've been missing out on. To see exactly how urethane can benefit your manufacturing starting now, check out our design guide here.

Team Xometry
This article was written by various Xometry contributors. Xometry is a leading resource on manufacturing with CNC machining, sheet metal fabrication, 3D printing, injection molding, urethane casting, and more.