Cybersecurity Best Practices for Manufacturing
Help protect your business from cyberattacks by following the guidelines outlined in this eBook.
Download the eBook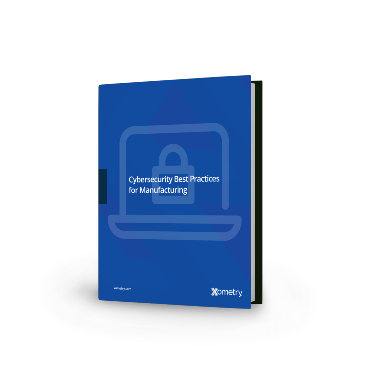 Cybersecurity Best Practices for Manufacturing
Cyberattacks cost much more than just a ransom payment. They interrupt daily business operations and can damage a company's reputation. Yet only 22% of manufacturing companies are significantly confident about their company's cybersecurity.
Cybersecurity Best Practices for Manufacturing is the resource you need to help safeguard your company against cyber threats. In easy-to-understand language, it explains how multi-factor authentication and a virtual private network can provide security on desktops, tablets, and cell phones; the cybersecurity pillars required for such embedded devices as factory robots; and how cyber insurance can help SMBs to Fortune 100 companies. You'll also get a handy checklist to help you avoid some of the most common cybersecurity mistakes.
Table of Contents
Introduction
Poll: How Confident Do You Feel About Your Company's Cybersecurity?
Chapter 1: The Real Threat of Cyberattacks
The Cost of Cyberattacks
Real-world Cyberattack Claims
Chapter 2: Cybersecurity Overview
What Is Cybersecurity?
Platform Resiliency
Creating a Robustly Secure System in Four Parts
Cybersecurity Regulations & Standards
Common Regulations & Standards
Security Levels
Poll: Do You Have a Dedicated Person or Team Responsible for Cybersecurity for Your Organization?
Chapter 3: Cybersecurity Best Practices for Manufacturing
Make Cybersecurity Top of Mind
Fund Cybersecurity Efforts
Educate Your Employees
Implement Simple Cyberattack Deterrents
Use Multi-factor Authentication
Use a Virtual Private Network (VPN)
Ensure a Secure Remote Working Environment
Implement Cybersecurity Practices Strategically
Chapter 4: Cybersecurity for Embedded Devices and Systems
Cybersecurity Pillars Required for Embedded Devices
What Is an Embedded Device? 
Cybersecurity Pillars
Cybersecurity Principles for an Embedded System
Protective Steps
Machine to Machine or Cloud Protection
Threat Modeling
Chapter 5: Cyber Insurance
Chapter 6: Common Cybersecurity Mistakes & the Ultimate Checklist to Avoid Them
Conclusion
Contributing Experts
Dan Ujvari
David Anderson
Michael O'Boyle
Hans Wald
Cathy Ma
Mariah Hauck

Team Xometry
This article was written by various Xometry contributors. Xometry is a leading resource on manufacturing with CNC machining, sheet metal fabrication, 3D printing, injection molding, urethane casting, and more.