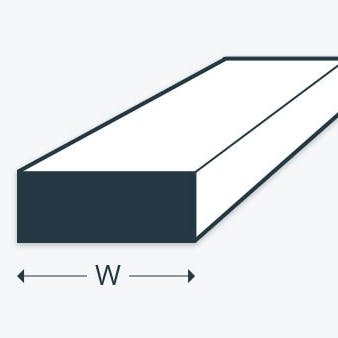 Bar or Plate Stock? How to Choose the Right Aluminum Piece for Your Custom Project
Learn how the size, shape, and grade of bar and plate stock impacts the final result of your custom parts.

By Greg Paulsen
 5 min read
There are countless options when selecting metal stock for professional-grade CNC machining work, but the size, shape, and grade of that stock will impact the final result. Professionals and hobbyists must understand these details to select the right materials for their custom parts.
Let's assume you are procuring raw material to manufacture a custom part. You're interested in Aluminum 6061 for the job. Aluminum 6061-T6 is one of the most common materials used in low-volume manufacturing. It's appropriate for use in many industries—aerospace, construction, and more.
At Xometry Supplies, you have nearly a dozen options in shapes, sizes, and cuts of this material. Bar and plate stock are among the most common choices, and learning their differences is a good place to start for your next project. The experts at Xometry Supplies have identified some important considerations to help you decide.
3 Considerations When Choosing Between Bar and Plate Aluminum Stock
What should you consider before you buy your material? Both bar and plate stock are highly machinable. They have similar strength-to-weight ratios as well. But there are three areas where they differ that may impact the success of your project.
Size Ranges
Material size affects the size of your custom part as well as the usability of the material. Certain sizes will function better under specific conditions and you must determine which size range is right for your part based on its end environment.
Bar stock often has a narrower aspect ratio, for example, where its width and thickness are closer in size. This is because bar stock is formed via an extrusion process, creating a rod of material. Aluminum 6061-T6 square is among the most widely used aluminum alloys today. It's versatile and regularly used in aircraft components, truck frames, and a wide range of structural components where its high initial tensile strength is an advantage. The square bar can typically be sourced up to 6" wide in regular stocked intervals, and the length can be more custom as it is usually cut to order from larger stock. Bar stock can also come in cylindrical rod which is ideal for lathe turning operations.
Plate stock typically has a flatter, rectangular shape in its native form. Unlike bar stock, plate stock has a broader aspect ratio with varying width, depth, and height. Plate material is formed using casting or continuous casting processes, making large blanks, called billet, at various thicknesses. Plate stock is ideal for larger workpieces or situations where pre-cut, custom-sized stock gives an advantage to machining setup and milling times. Plate material is also related to sheet metal stock. This gives it a different set of use cases. Plate stock holds its flatness more readily over large bar parts as well.
Edge Condition
Bar stock is only cut on the ends, usually with a band saw. The natural corners of square bar stock will have small radii from the extrusion process, as well as a linear grain on the part sides perpendicular to the cut edges.
Plate stock can be cut to shape using a waterjet or band-saw cuts on all vertical edges. In plate stock, at least two parallel faces will be untouched. These are typically the top and bottom faces of the blank. When ordering material, it is important to consider stock tolerances of natural and cut edges an add enough material to machine the finished part appropriately.
Price
The price will vary based on weight for both bar and plate. Generally, the more material you order in sum, the greater the price will be. But the way the stock is handled has an impact on price as well. Plate material always costs more per pound than bar stock because it requires more overhead when handling and cutting. For projects with relatively even dimensions under 6", bar stock may be a more economical option—even if the same geometry can be cut from plate.
Custom-cut plate material, including rectangles, rings, and flange shapes, can save significant machine time compared to milling all features from a billet. A plate option is also often necessary when a standard extruded bar or rod is not available for the part's size.
Xometry Supplies has a range of competitively priced bar and plate options. You can review xometry.com/supplies to see how pricing overlaps between pieces. We also provide cutting tools and shop supplies for busy manufacturers. Learn more about getting the supplies you need, when you need them, with specialized services today.
Efficient Sourcing with Xometry Supplies
Launched in early 2019, Xometry Supplies is a trusted partner in manufacturing. Our procurement experts process Aluminum 6061-T6 and other materials to your standards. This includes simple shapes and custom cuts—whatever your project needs.
When you work with us, you spend less time researching and sourcing materials. We provide instant pricing and shipping information on all available materials and tooling. Most orders qualify for same-day shipping, which means you have more time to focus on what you do best, from designing to manufacturing custom parts.
Visit our materials shop to view our inventory of over 118,000 SKUs. We always process materials to your specifications at no additional cost.

Greg Paulsen
They call me the Director of Application Engineering at Xometry. This means I not only get to produce great design-for-manufacturing content, but also consult on a variety of custom manufacturing projects using CNC machining, additive manufacturing, sheet metal, urethane casting, and injection molding. If you have a question, I'm your guy.