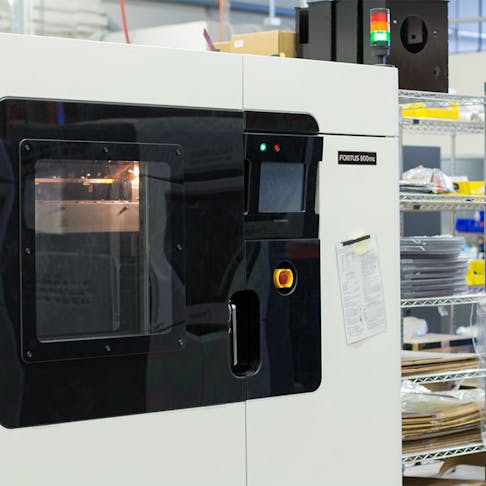 Best Practices for a High-Output 3D Printing Business
What makes a better 3D printing bureau? We asked Xometry Additive Engineers about their experience on running an additive manufacturing production plant and found five major best practices.

By Greg Paulsen
July 27, 2021
 8 min read
Industrial additive manufacturing platforms have the ability to produce custom one-off prints and production pieces with very few differences in setups. Additive manufacturing, also known as 3D printing, typically has much higher volumes of mixed parts, with less revenue per job compared to CNC machining, sheet metal fabrication, or injection molding. 
An advantage that 3D printing has over these other processes is that setups are digital, often automated, and the platform can effortlessly move from one build to the next. For an operator, this means that multiple parts from multiple jobs can be planned on the same platform to run at once. This often decreases labor but increases build time, which invites questions for service bureaus owners: Is that always what you should do as a business? And what makes a better 3D printing bureau? I asked Xometry Additive Engineers about their experience on running an additive manufacturing production plant and found five major best practices.
3D Printing Best Practice 1: Split Your Batches
Let's talk about the elephant in the room: cash flow. For any business, maintaining cash flow is critical for operation. This is money to pay employees, purchase materials, run maintenance, and upgrade equipment. Cash flow is directly tied to deliverables, and that means shipments of manufactured products on-time and to-spec. Maximizing the number of invoices per day is a terrific metric to set goals against. One of the best ways to achieve this is by strategically splitting batches and staggering shifts. 
When it comes to deciding how to split batch across your additive equipment, this means bigger is not always better. For example, Xometry runs Stratasys Fortus equipment for its FDM production, one of seven 3D printing processes available for an online instant quote. Xometry runs both the smaller Fortus 450, with a 14" x 16" x 16" build area, and the larger Fortus 900, with a 24" x 36" x 36" build space. The smaller platforms can run multiple jobs per day while the larger platforms focus on the parts that cannot fit on the Fortus 450 and handle longer lead time jobs.
If this is the case, why not just run everything on one big platform? Let's say there is an order of 4 identical parts in FDM. If one part takes 8 hours to build, then adding another only has limited time savings because of a steady material deposition speed. It may sound logical to bunch these parts together in one larger build, but that would mean the machine would be occupied for around 32 hours to run those four parts. 
How can we bring this down to shipping the next day or the same day? The answer may lie in simultaneous runs in multiple machines. Running each part independently in parallel brings the total build time to 8 hours over four machines, or you can run two machines at 16 hours each. Either way, you have breached the threshold of ~24 hours turnaround through batch splitting.
Hours it Takes to Make 4 Identical Prints
| Consecutively on 1 Machine | Through 2 Batches on 2 Machines | Through 1 Batch on 4 Machines |
| --- | --- | --- |
| Consecutively on 1 Machine | Through 2 Batches on 2 Machines | Through 1 Batch on 4 Machines |
This means it's best practice for a high-output additive manufacturing to have a mix of smaller printing platforms in high quantities, complemented with larger platforms to add project variety. 
However, if a factory's machines are limited, this 24-hour benchmark is may still be the best production benchmark. In this case, try setting up builds so that they can start in the evening, and finish up in time for post-processing the next day. This is effective not just for FDM, but for other batch processes like metal 3D printing (DMLS), stereolithography (SLA), and batched-based processes like selective laser sintering (SLS) and HP multi jet fusion (MJF). A common routine with SLS and MJF is to have 3 exchangeable frames per machine: one in the machine that's manufacturing parts, one just completed and cooling down, and one in the break-out area where parts are being removed and processed.
Another effective practice in 3D printing batch builds is to align workers' shifts so that they can be productive right away. For example, a shorter early shift can add tremendous value by removing completed builds and resetting the 3D printers for their next batch. This means that the next shift of 3D production planners and other technician team members can jump right into post-processing, cleaning, and sorting. 
It is helpful if builds for the day are planned the day before, leaving the planners to set up for the next day. Staggering shifts effectively allows parts to be finished and packed throughout the day, eliminating end-of-day rushes for shipping pick up deadlines.
3D Printing Best Practice 2: Mitigate Surprise Downtime
Running a high-output additive manufacturing factory means you must be prepared for unexpected downtime. This may be caused by weather-related events, power outages, machine failures, etc. Although shop workers should expect the unexpected to happen from time to time, much of this can be mitigated through forecast planning and maintenance schedules.
For a reliable 3D printing service, you should ensure that you have a safety stock of materials on hand to cover for shipping delays, material shortages, and quick turn jobs. This should include raw materials like resin, filament, or powders, as well as consumables like build trays, post-processing material, etc. Be mindful of lead times for critical stock items—while a screw or tool may be a drive to the hardware store, raw materials are often shipped in bulk and can take several days for transit.
Be obsessive about maintenance; a clean machine is a happy machine and you should have a daily, weekly, and monthly maintenance checklist. Any time your machines are down is a strike to your bottom-line. That said, many commercial platforms have annual heavy maintenance requiring downtime; this should be planned and mitigated well in advance if built into your regular schedule. Rerouting jobs through Xometry's online 3D printing service may be a useful tool for 3D service bureaus to mitigate a loss of capacity while machines are down, allowing you to keep pace with your customer demand even with limited capacity.
3D Printing Best Practice 3: Ship it Right
3D printed parts, especially photopolymers and those with highly detailed features, can be fragile. If a part looks like it needs special packaging, order the necessary packaging materials and package it accordingly. A best practice is to have two inches of padding between a part and its packaging. Using a mixture of partitions, bags, and filling material can keep a part stable throughout transit while mitigating risks of deformation by pressure. Xometry recommends next- or second-day shipping for any SLA or PolyJet parts during warm months (May to September) to minimize heat exposure during travel, preventing unintended warping or damage.
And a cardinal rule for all additive factories is that if a part looks bad to you, do not ship it. Contact your customer and plan to rework or remake the part. Maintaining a standard of quality for all parts, even low-cost 3D prints, will help retain your customer base. If you are practicing scheduling builds for a less than 24-hours turnaround (see Best Practice #1 above), you should be able to turn a remake around the next day or sooner, as your machine(s) will have new availability daily. NCMR (Nonconforming Material Reports) and RMA (Return Merchandise Authorization) returns can be prevented through sound judgment and quality assurance, saving time and headaches for everyone.
Best Practice 4: Build Your Additive Workers
Additive manufacturing is unique in that it has both the physical machine setup, material changes, and post-processing, as well as a digital program for build planning. Although these platforms are not all identical, many of these steps are easily transferred from one additive process to another. Making sure your team is cross-trained on multiple platforms builds can close gaps in unexpected situations. 
Whether it is PTO or unplanned absence, cross-training workers allows shops to have someone on hand to perform daily duties. More so than most types of factories, additive requires an adaptable employee base with strong team leads due to the custom nature of the processes combined with the high volume of parts processed each day.
Beyond the technical aspects of machine operation, most employees should have basic knowledge of design-for-additive manufacturing (DFAM). This holds true especially for build planners because they will see every part manufactured in the additive shop. If there is a part with features that may cause an issue, they can quickly alert leadership to contact the customer or change manufacturing approaches.
At the end of the day, running a 3D printing business is not all work; it builds a lot of camaraderie and it's important to be in it together. Common activities like team lunches are great ways to build your team while also creating scheduled "downtime" during the day.
Best Practice 5: Let Metrics Tell Your Factory's Story
Make it a regular practice to review month-to-date and previous-day key performance indicators (KPIs) with your team. Core key metrics can include the following: 
On-time shipping
Scrap percentage per process
Any active RMAs
Shipped revenue
Forecasted revenue
Machine utilization
Margin
That day's expected shipping goals
When beginning to record metrics, it's best to view the data with the open mind. Once this practice is a standard, patterns in the data will emerge and allow you to make better management decisions. Xometry's team practices the "5 Whys" technique when approaching problems showing on core metrics, often reading past the immediate problem and uncovering deeper root causes for troubleshooting.
Special thanks to Xometry engineers Brent Prevratil, Tommy Lynch, Jordan Greco, and our amazing additive team for contributions to this article!

Greg Paulsen
They call me the Director of Application Engineering at Xometry. This means I not only get to produce great design-for-manufacturing content, but also consult on a variety of custom manufacturing projects using CNC machining, additive manufacturing, sheet metal, urethane casting, and injection molding. If you have a question, I'm your guy.