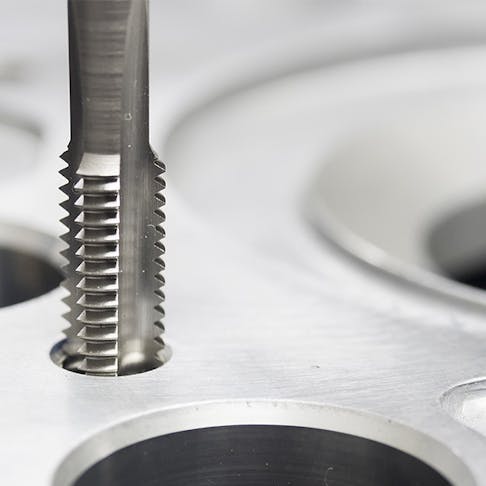 Tapping Away Part 02: Common Problems, Causes, and Corrections for Taps and Tap Sets
We're continuing the conversation about what might be causing some of those sticky, chipped, stripped, and poorly finished tapping experiences we all run into from time to time.

By William Krueger
September 18, 2020
 4 min read
Tapping can be a real drag, but this week we've got your back! We're continuing the conversation about what might be causing some of those sticky, chipped, stripped, and poorly finished tapping experiences we all run into from time to time.
First Issue: Tap Sticking or Binding
If your tap is sticking or binding in the hole, the solution is similar to when your tap is tearing threads. First, check that you're using a good amount of lubricant and that it's the right kind — no skimping! Also, be sure that your tap drill is the right size. Too small, and you're putting unnecessary pressure on your tap and workpiece. Another culprit, as per usual, could be crappy chip behavior. Adjusting your cutting face angle (something else we talked about in last week's post), or possibly decreasing the tap land width might solve that.
Second Issue: Excessive Tap Wear
If your tap is wearing down too fast, it may be because you've got a particularly abrasive material or it has inclusions. It might be time to reassess the surface treatment you're using on your tap.
You may also be experiencing another symptom of misalignment. Be doubly and triply sure that your hole/tap axes are in good agreement. Again, misalignment is one of the most common culprits when tapping goes pear-shaped.
Fourth Issue: Overheating Tap
As with most things relating to taps, your first order of business is checking that you're applying enough lubrication. This reduces friction and pressure as well as freeing up chips, which are all reasons why your tap might be overheating during use. As always, double-check that your tap is nice and sharp and that you aren't trying to push your speed too much. Tapping is not one speed fits all, so keep in mind that you may have to tinker with it a little based on your tool and workpiece.
Your tool geometry may also be at fault for an overheating tap. Your land width might need to be reduced in order to clear chips better. The pitch diameter on your tap may need fussing with so that there's not as much flank contact with your workpiece. The more prolonged contact there is, the more excess heat is generated.
Fifth Issue: Poor Finish on Thread in Tapped Part
If you're getting a C-minus on those finishing marks, you gotta shape up! Like everything else, check lubrication levels, lubrication type, and tool sharpness first. Tool geometry is a big one here — your pitch diameter, cutting face angle, or number of chamfered threads could all be screwing (heh) you over. Too much flank contact could be creating excessive heat and friction, causing all sorts of nasty shenanigans with your metal. Reduce your pitch diameter to alleviate this problem. In some cases, the wrong cutting face angle (usually too small) could be your pain point. Poor chip formation and evacuation can roughen your finish, an operation controlled mainly by the cutting face angle. Along the same lines, you might need more chamfered threads, which are responsible for distributing torque and reducing pressure — both things that help improve your finish.
Sixth Issue: Excessive Frictional Drag & Power Requirement
There's honestly a whole toolbox of variables that could be causing extra friction or making you push your power during the tapping. Regardless, the extra power is more than certainly a waste of resources and machine life. As with all tapping problems, first check that your lubricant is the right kind and amount, your tap is sharp (or new), and your alignment is on point — I'm a broken record, here. Your tool geometry is a major player in reducing and managing friction as well. Your pitch diameter controls a lot of the friction naturally created during the tapping process, as well as the cutting face angle and point size. A too fast or slow tapping speed could be causing machine strain and extra friction. Then again, if your issue is power output, then your problems might lie more with machinery than process. If you have a machine that can barely match the power output a job needs, the result is a higher energy requirement or extra friction during machining. We're all for MacGyvering solutions, but make sure you're not asking too much of your equipment, and that you're using it the way it was intended.

William Krueger
As a digital marketing specialist, William works with all forms of media from photography and video to content writing and graphic design to tell the story of American manufacturing. He holds a B.A. in Communication from Wittenberg University.