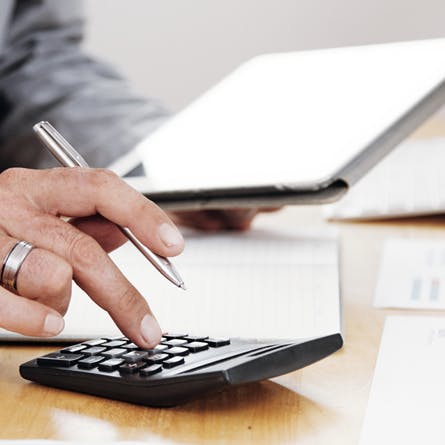 How Manufacturers Can Streamline the Accounts Receivable Process
The process you use to get money is maybe costing money. Let's take a look at how digitization, automation and other innovations can streamline the entire accounts receivables process to make getting paid fast and easy.

By Team Xometry
February 18, 2021
 6 min read
The process you use to get money is maybe costing money. The way your shop handles accounts receivable has bottom line impacts beyond income. An inefficient process wastes time, diverts talent from crucial tasks, hurts customer experience, and can even result in the loss of business. 
These challenges drive many small manufacturers and machine shop owners to upgrade accounts receivable with technology. 
Let's take a look at how digitization, automation, and other innovations streamline the entire accounts receivables process.
5 Steps to Managing Accounts Receivable More Effectively
Here are five common A/R headaches and how a streamlined process can ease the pain:
Headache #1: Slow or No Payments
What shop owner isn't wondering how to improve accounts receivable turnover? According to a survey of B2B professionals by MSTS, one-third of respondents admitted their days sales outstanding (DSO) was 45 to 60 days; only a scant 12% of respondents had a DSO at or below 30 days. Every day an invoice is past due is a day you're not getting paid, and there are other impacts. As if that's not bad enough, a high DSO number raises a red flag to lenders, which might impact your ability to get credit or other financing. 
You can keep DSO low with updated accounts receivable technology. Solutions help reduce the risk of nonpayment by speeding up credit assessment and underwriting so you can know which clients are credit-worthy without taking days of staff time on due diligence. (see Headache #2.) Accounts receivable software also accelerates invoicing and payment processing with pre-formatted digital documents, batch orders, automated recurring invoices and automatic billing and reminders. 
Headache #2: Cumbersome Credit Application Processing 
This may not seem like a big deal on the surface, but a poor credit screening and approval procedure is a serious, if sneaky, problem. If you handle this process internally, you may be unnecessarily limiting payment options for worthy accounts. Plus, unless you have an official credit department (and most small shops don't) the process takes a lot of staff time. The MSTS survey found that 56% of respondents said their in-house credit and underwriting efforts require four or more days to onboard a new customer. The longer it takes to qualify customers, the slower the path to purchase.
A comprehensive accounts receivable solution effectively outsources this function to the experts. Automating credit decisions in this way delivers smarter approvals, expedites processing and gives customers the payment flexibility they need. (see Headache #3.) It also lets your team get back to the business they're best at. (see Headache #4.)
Headache #3: Frustrated Customers
Don't think that just because your customers are business people they don't expect a smooth digital experience. The Amazonification of B2C purchasing influences even B2B buyers. More than half (57%) of buyers have not completed a purchase for their company because the checkout or buying process took too long, according to MSTS. Lack of information on their order is also a pain point for customers, who want to know order and payment status without having to call your shop and sit on hold while you manually sort through papers on your desk or documents on your computer.
When you deploy a streamlined accounts receivable system, it's easier to meet customer's expectations. Online purchasing options reduce friction for them and you -- and allow either party to quickly and easily access data like order history, shipping status and billing/payment information. When customers are happier, they're more likely to keep doing business with you and to increase the amount they spend. On top of that, they encourage others to buy from you -- becoming a highly credible and trustworthy extension of your sales team.
Headache #4: Increased Operational Burden
Manual systems take your team's focus away from higher-value strategic activities. Correcting errors, responding to disgruntled or confused customers and chasing down past-dues can be so burdensome, your sales team even has to get involved. That means they're not selling. The MSTS survey found that 75% of full-time accounts receivable staff spend almost half of their week (18 hours) on collections alone and 63% of sales reps' time is devoted to accounts receivable-related tasks. 
A better accounts receivable process improves collections without increasing headcount. Automating processes related to onboarding, credit approval, and chasing late payments gives valuable time back to your sales team to gin up new business. And streamlining accounts receivables from start to finish, including collections, empowers your accounting and finance staff to focus on issues that require human intervention, like taking care of your best customers. 
Headache #5: Missed Opportunities
Every shop owner wants to reduce financial risk and uncertainty, but it's hard to do with disconnected manual systems and paper-based records. With so many other items on your to-do list, it's easy to push data-gathering and analysis to the bottom. 
On top of all the other benefits a modernized accounts receivable system offers, you get instant access to important information that sheds light on past trends, future forecasts and performance improvements. These data points empower you to plan more accurately for purchases, capital expenditures, headcount and more.
Optimizing your shop's accounts receivable process is a powerful lever to boost overall productivity and profitability. The sooner you upgrade the receivables process, the sooner you ease those headaches.
1 Easy Way to Manage Your Accounts Receivable
Xometry Pay, a new automated receivables solution, is tailored to the unique needs of manufacturing and machine shops. It's got all the tools you need to ease your accounts receivable pain points to get paid fast without having to spend so many human resources on collections.  
Expanded payment options allow you to offer net-30 payment terms to your customers and accept credit cards for your work with no hassle or risk.
Get paid faster with 50% of your payout on day 1 through the Xometry Advance Card and accelerated payment options available after completing the work to net you the remaining 50% within 3 business days.
No more late payments as Xometry guarantees every purchase order, so you can rest easy knowing that you'll never have to chase a late payment again.
Start issuing purchase orders on your terms and streamline your accounts receivables process with Xometry Pay!

Team Xometry
This article was written by various Xometry contributors. Xometry is a leading resource on manufacturing with CNC machining, sheet metal fabrication, 3D printing, injection molding, urethane casting, and more.