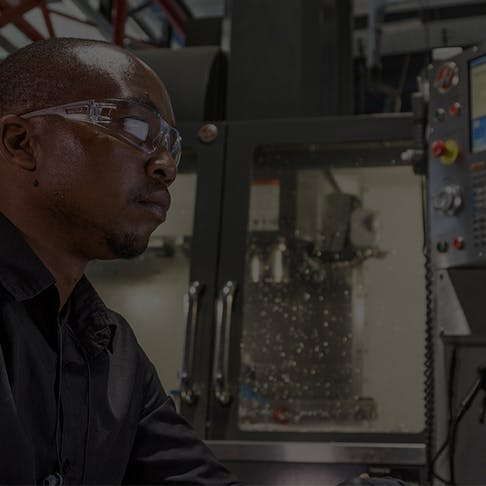 On-Demand Webinar: Fusion 360 + Xometry: Win More Jobs From Your Customer
In this on-demand webinar, you'll learn how Fusion 360 software can quickly analyze parts for manufacturability to get you machining faster, and how working with Xometry can help you get paid faster and improve your cash flow.

By William Krueger
January 15, 2021
 2 min read
Successful machine shops and manufacturing departments understand the importance of hitting project deadlines and meeting customer expectations. Making the best use of your hardware, your people, and other resources is central to your business being able to deliver quality parts, on time, every time. But what happens when your business experiences growth and your resources are already maxed out? What happens if you secure a multi-part customer order but don't have the in-house capabilities to produce every component? Thankfully, Autodesk and Xometry have a solution, helping you to instantly extend and expand your capabilities – allowing you to focus on what you do best – keeping your customers happy.
Watch this on-demand webinar to learn how manufacturers, like you, are using Autodesk and Xometry to supplement their capacity, and hit those deadlines. In this webinar you will learn:
How Fusion 360 software can quickly analyze parts to check for manufacturability
Using Fusion 360 to simplify manufacture
Using Xometry to supplement your in-house manufacturing
Xometry production planning with cost-insights
How Autodesk/Xometry can help shorten project delivery times and reduce costs
How Xometry can help you get paid faster and improve your cash flow
Speaker Biographies
Wayne Griffenberg, Technical Specialist Autodesk Fusion 360
Wayne is an experienced engineer and machinist, with over 20+ years of CAD & CAM experience. His extensive background includes design, development and manufacturing of products ranging from infant incubators to total knee & hip implant prosthesis. Wayne has a MET degree from Penn State University and has worked at Autodesk for the last 4 years, helping customers realize their full potential.
Greg Paulsen, Applications Engineering at Xometry
Greg Paulsen leads the Applications Engineering team at Xometry, working directly with customers on special case projects. He's an expert in all things manufacturing, from 3D printing to CNC machining, to injection molding and beyond. He spends a lot of time helping Xometry customers design for manufacturing and get the most out of their projects.

William Krueger
As a digital marketing specialist, William works with all forms of media from photography and video to content writing and graphic design to tell the story of American manufacturing. He holds a B.A. in Communication from Wittenberg University.