Rubber 3D Printing Service on Xometry
Get instant online quotes on parts in over 70 metal and plastic materials. Free shipping on all US orders. ISO 9001:2015, ISO 13485 and AS9100D certified. Subject to availability. Xometry doesn't guarantee that we can provide this service at any given time.
Xometry offers the highest quality rubber 3D printing service for both prototyping and end-use applications. Rubber 3D printing can be achieved with flexible filaments, UV-curable flexible resins, and through unique 3D printing techniques and materials. 3D printing with thermoplastic elastomer materials allows designers to create 3D prints in just a few days that simulate rubber without the need for subtractive manufacturing or post-processing steps. Applications for rubber 3D prints include rubber prototypes, gaskets and fasteners, medical devices, general elastic components, and much more.
Rubber 3D Printing Materials
Rubber 3D printing with Xometry allows for a variety of rubber-like material options, including thermoplastic polyurethane (TPU), thermoplastic elastomers (TPE), thermoplastic copolyesters (TPC), and also materials for specific 3D printing processes such as:
TPU 88A (for MJF)
TPU Custom Blend (for SLS)
EPU 40 (for Carbon® DLS)
SIL 30 (for Carbon® DLS)
Rubber-like Shore A 27, 40, 50, 60, 70, 85, and 95 (for PolyJet Fusion)
Fortus TPU 92A (for FDM)
Agilus30 photopolymer (for PolyJet)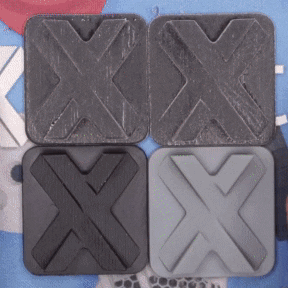 Rubber 3D Printing Processes
Rubber 3D printing can be achieved through several different technologies. To learn more about Xometry's rubber 3D printing options, see our community page on manufacturing rubber-like materials. Note that these technologies do not print natural rubber, but rubber-like materials that retain many of the same material properties as natural rubber but do not require mixing, heat, and other post-processing steps.
Fused Deposition Modeling (FDM)
Digital Light Synthesis (DLS)
HP Multi Jet Fusion (MJF)
PolyJet 3D
Selective Laser Sintering (SLS)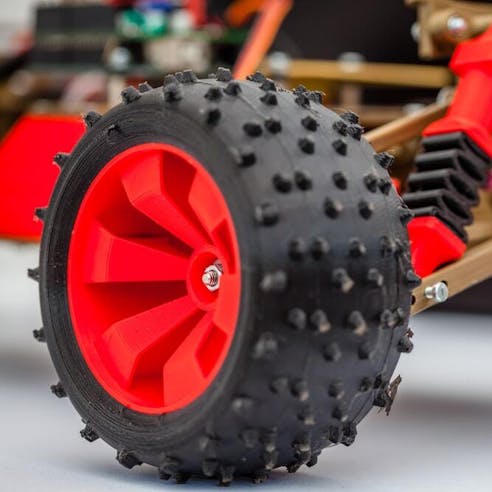 Fused Deposition Modeling (FDM) 
In FDM 3D printing, a heated extruder nozzle is fed flexible filament made of thermoplastic elastomer and guided by the printer's XYZ gantry to melt and deposit material onto the build platform in the layer's shape as defined by the CAD model machine code. When the layer shape is complete, the build platform descends to accommodate the next layer, and the printer repeats the process until the full part is achieved. Flexible filaments typically also benefit from cooling directed at the output of the extruder nozzle to prevent the filament from melting away from its intended shape. View our page on All About Flex 3D Printing Filament to see the varieties of materials and properties achieved with this technique. 
Digital Light Synthesis (DLS)
The 3D printing company Carbon® uses digital light projection, oxygen-permeable optics, and programmable liquid resins to produce durable and highly detailed flexible resin parts. Known as Digital Light Synthesis™, or DLS for short, this process is unique to Stereolithography (SLA) or PolyJet 3D prints in that DLS resin has a secondary thermal step which activates dormant epoxies or urethanes, making parts much stronger than UV-curing alone. Additionally, digital light synthesis is a continuous process, producing parts without stopping layer-by-layer as with most additive manufacturing. This gives the flexible resin parts isotropic properties, meaning that strength is even regardless of orientation.
HP Multi Jet Fusion (MJF)
HP's proprietary Multi Jet Fusion (MJF) technology builds parts from a powder bed by selectively applying fusing agents and heating to create specific melts in the shape of a part layer. This is repeated layer-by-layer, building a 3D-printed part without the need for support structures. It functions like a traditional ink-jet printer with a printhead that deposits the material and then a fusing agent across the entire build plate in one pass, allowing for the printing of multiple parts simultaneously. Though most often used to create hard thermoplastic parts, MJF accepts rubber-like TPU (thermoplastic urethane). MJF TPU parts can be vapor smoothed for a smooth surface finish and enhanced properties. Learn more information with our guide on Multi Jet Fusion 3D Printing.
PolyJet 3D 
PolyJet 3D is a 3D printing technology that works by jetting UV curable resin onto a build tray in a process somewhat similar to inkjet printing. The printer places layers of photocurable resins in extremely fine layers, where they are simultaneously cured via an ultraviolet (UV) light, solidifying them into solid material matching the CAD file shape. This process repeats itself in a layer-by-layer process until the entire part is printed. If necessary, support structures are added to the part to ensure a successful build which are manually removed in post-processing steps. Learn more information with our guide on PolyJet 3D Printing.
Selective Laser Sintering (SLS)
Selective laser sintering (SLS) is a powder bed 3D printing technology that is often thought of as a cousin to direct metal laser sintering (DMLS). Both processes work by utilizing a laser to precisely fuse a bed of powder to construct a part from a 3D CAD file. It can be used to make parts using a variety of SLS materials, including plastic, metal, ceramic, or rubber-like plastic powder. Though typically used for hard plastic and metal 3D printing, Xometry can source TPU Custom blends of thermoplastic elastomer for SLS to produce rubber-like components. Learn more on our guide for Selective Laser Sintering (SLS).
Need Rubber 3D Printed Parts?
Rubber 3D Printing Applications
Rubber 3D printing is applicable to a wide range of industries as a versatile and cost-effective option for users to make parts out of flexible materials.
Prototypes
Gaskets
Medical Device Components
General Elastic Components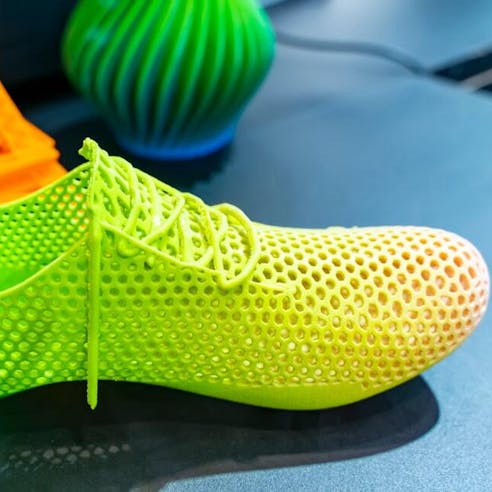 Prototypes
3D printing has always been a fast and effective prototyping tool – the ability to include flexible materials into prototyping further the capabilities of product designers and presenters to show how assemblies and parts work. 
Gaskets
Prior to additive manufacturing, gaskets, o-rings, and other sealing components had to be cut from larger sheets using either a stamp, cutting tools, or other subtractive methods. Now, users can simply upload a CAD file into a 3D printer and print out as many gaskets as needed with a smaller profile system. Several different gaskets can be made with the same print, and designers can perform fast iterations on designs to make better performing gaskets.
Medical Device Components
Custom rubber 3D printed parts are ideal for personalized, one-off products like implants, prosthetics, and other medical devices. The ability to efficiently build parts that exactly fit a patient's anatomy is vital to saving costs for both medical practitioners and patients while also improving medical device quality.
General Elastic Components
Engineering elastomers like TPU, EPU, and proprietary blends can replace traditional materials like metals and common plastics in general components to increase performance, decrease weight, and retain (or improve) working characteristics. Rubber 3D printing provides a versatile addition to materials selection in additive manufacturing, 
Alternatives to Rubber 3D Printing
If rubber 3D printing does not fit your intended needs, Xometry has a wide range of alternate processes that can produce flexible, elastic parts.
Urethane Casting
Liquid Silicone Rubber (LSR) Injection Molding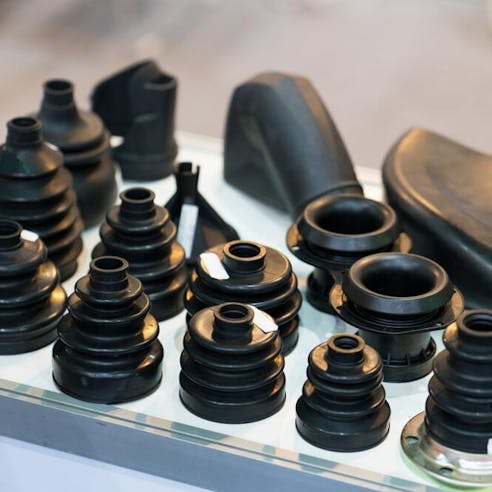 Urethane Casting
Urethane casting provides end-use, rigid, flexible, and rubber parts with production-level quality for low-volume production. Learn more by viewing Xometry's Urethane Casting Service page.
Liquid Silicone Rubber (LSR) Injection Molding
If part quantity is of primary concern, liquid silicone rubber (LSR) injection molding can produce hundreds of rubber parts in a workday with little hassle. With Xometry's injection molding services, you own both the tooling and the parts made using our machines so that you have full control over the manufacturing process. Learn more by viewing Xometry's Liquid Silicone Rubber (LSR) Injection Molding Service page.
Why Choose Xometry for Rubber 3D Printing?
Endless Options
Choose from millions of possible combinations of materials, finishes, tolerances, markings, and certifications for your order.
Easy to Use
Get your parts delivered right to your door without the hassle of sourcing, project management, logistics, or shipping.
Quality Assurance
We are ISO 9001:2015, ISO 13485 and AS9100D certified.
Need Parts 3D Printed with Rubber?