Aerospace CNC Machining Service on Xometry
Get instant quotes on custom metal and plastic machined parts with our Online Aerospace CNC Machining Service. Make quick turn prototypes and production parts in days with free standard shipping on all US orders. ISO 9001:2015, ISO 13485 and AS9100D certified. ITAR registered. Subject to availability. Xometry doesn't guarantee that we can provide this service at any given time.
Aerospace CNC machining is a subtractive manufacturing process for products and precision machined components used in the aerospace industry. Aerospace CNC machining requires tight tolerances for complex geometries, along with rigorous quality checks to meet the needs of demanding regulators and high-altitude environments. Xometry has both the personnel and equipment to exceed these requirements and offer fast, high precision solutions for customer-defined applications.
Xometry offers a variety of aerospace CNC machining services in different materials, including stainless steel, aluminum alloys, titanium, composites, plastics, and many others. Some typical applications of CNC machining in the aerospace industry include oil tanks, landing gear, engine components, oil/fuel level components, fuel access panels, single-piece aerospace components, and more.
Advantages of Aerospace CNC Machining on Xometry
Aerospace CNC machining services with Xometry provide high precision components with tight tolerances. Xometry's quality assurance program and its many certifications—including ITAR, AS9100D, and ISO 9001:2015—meet or exceed the standards of aerospace regulatory bodies.
We offer standard and custom precision CNC machining services for a wide variety of materials using our advanced product testing facilities with automated manufacturing practices. Xometry has successfully supplied thousands of unique aerospace components in the aerospace and military industries for both commercial and government customers, making us uniquely suited for such manufacturing endeavors.
High Precision Components & Tight Tolerances
Expert Quality Assurance
Supplier Management and Industry Experience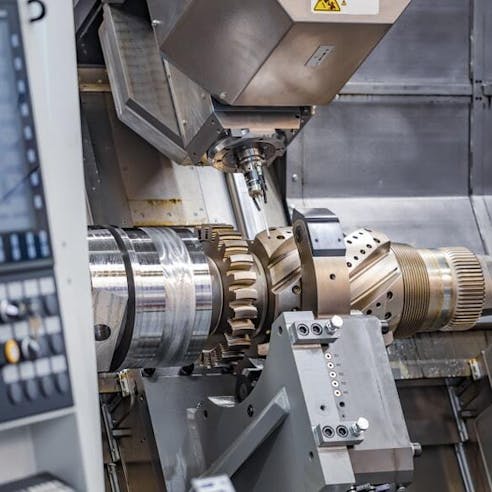 High Precision Components & Tight Tolerances
Xometry can manufacture and inspect to standard tight tolerances between +/-0.001″ – 0.005″, or to the exact specifications of your project, and will include GD&T callouts. The minimum feature size on CNC parts is generally 0.020" (0.50 mm), depending on part geometry and chosen material. We offer both standard and non-standard threads and tapped holes, and can reach a maximum single part size of milled parts up to 80" x 48" x 24" (2,032 x 1,219 x 610 mm) and lathe parts up to 62" (1,575 mm) long and 32" (813 mm) diameter.
Expert Quality Assurance 
Xometry holds all the qualifications necessary for aerospace-grade parts, offering exceptional workmanship beyond the industry standard. With our precision CNC machining services, we ensure uniform finish/plating coverage, no defects, machining marks, or foreign object debris (FOD), exact welds, countersinks, threading, and edge conditions, as well as Full Coordinate Measuring Machine (CMM) inspection reports, an ultrasonic inspection of raw material, and dye penetrant inspection of machined components. Xometry is ISO 9001:2015, ISO 13485, and AS9100D certified, ITAR registered, and we provide full inspection, hardware traceability, material certifications, and CoCs. See more on Xometry's Manufacturing Standards page.
Supplier Management and Industry Experience
Xometry has an extensive track record in optimizing aerospace projects with its supplier management and expert custom manufacturing services. We are trusted by aerospace engineers and designers at 9 of the top 10 Fortune 500 aerospace companies, including NASA, various US military branches, defense contractors, Tier 1 suppliers, aircraft OEMs, and many more organizations where security and quality count. Xometry takes full responsibility for its supply chain security, managing ITAR and other compliance regulations across federal agencies, large defense contractors, aerospace manufacturers, and each aerospace machine shop. Our file upload system for design files is highly secure, implementing security practices compliant with DFARS / NIST SP 800-171, ITAR, AWS US GovCloud, and other frameworks.
Aerospace CNC Machining Materials
Xometry can offer many different materials for aerospace CNC machining services, including aluminum, titanium, steels, and Inconel®, as well as high-performance plastic and engineering polymer blends. To see the full scope of our material selection, learn more at our Custom Online CNC Machining Service capabilities page. 
Aluminum and Aluminum Alloys
Titanium and Titanium Alloys
Steel & Stainless Steel
Inconel®
High-Performance Plastics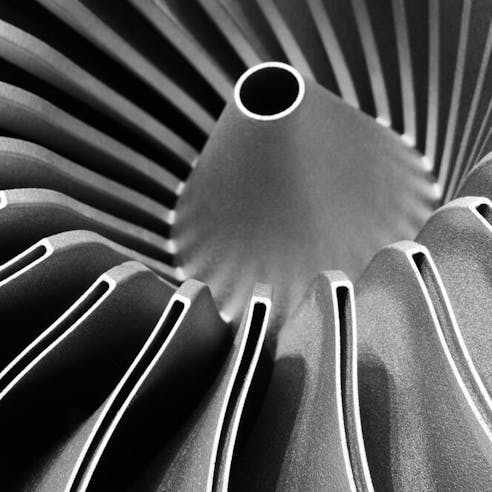 Titanium and Titanium Alloys
Xometry offers CNC machining in pure titanium (grade 2) and titanium alloys (Grade 5, or Ti 6Al-4V), as well as customer-defined titanium grades. As another lightweight engineering metal, titanium is roughly 30% stronger and 50% lighter than steel, with excellent resistance to high temperatures and corrosion. Unalloyed titanium is the easiest grade to machine, but alloyed grades offer exceptional strength and resistances far above pure titanium. It is one of the more expensive materials to implement, meaning designers should try to minimize its use where possible – to learn more, download our Design Guide on CNC Machining. In aerospace CNC machining, titanium and its alloys are regularly used in aircraft engines, airframes, external components, compressors, joints, structural components, and much more. Learn more on Xometry's Titanium CNC Machining page. 
Steel & Stainless Steel
Xometry offers CNC machining in carbon steel 4130, 4140, A36, 1215, and 4340 alloys, as well as stainless steel 15-5, 17-4, 18-8, 303, 304, 316, 416, 420, 440C, 410, and many others. As a material, steel is ubiquitous throughout every industry for its versatility, availability, strength, and cost-effectiveness. It is readily machined in its various forms and is found in large supply in every machine shop. In aerospace applications, both carbon and stainless steel is used to produce gears, shafts, general components, fasteners, structural parts, corrosion-resistant features, and much more. Learn more on Xometry's Steel CNC Machining and Stainless Steel CNC Machining pages. 
Inconel® 
Xometry offers CNC machining in Inconel® 718 and other alloys. Inconel® is a trademarked superalloy of nickel, containing chromium & iron, molybdenum, and other elements that give the metal impressive properties. Inconel® alloys maintain integrity even in the worst conditions with high corrosion resistance, oxidation resistance, strength at high temperatures, and creep resistance. It is reserved for the toughest aerospace applications, such as rocket engines, turbine blades, impellers, and other extreme-wear components. Though difficult to machine due to its toughness and tendency to work-harden during machining, Inconel® can be machined by sourcing the right advanced machine shops through Xometry's Manufacturing Partner Network. However, thanks to recent advancements in additive manufacturing, Xometry recommends using our Inconel® 3D printing service to reduce manufacturing costs, increase complexity, and allow for more alloy choices.
High-Performance Plastics
Xometry offers precision machining services for PEEK, acrylic, ABS, polycarbonate, nylon, phenolic, Garolite G-10, polypropylene, PTFE, PVC, HDPE, acetals, UHMW-PE, and many other performance polymers. High-performance plastics, though not typically used in structural or external components, offer a variety of benefits for internal, insulative, fire-retardant, decorative, and lightweight aerospace components where metals cannot be used. Machining these materials can sometimes be much cheaper than using metals, and they require less powerful CNC machines (but may not necessarily be easier to machine, depending on the plastic). Xometry uses high-performance plastics to create parts such as interior wall panels, ventilation ducts, aircraft doors, bearings, wiring conduits, and more.
Looking for Aerospace CNC Machined Parts?
Aerospace CNC Machining Processes
Xometry offers a variety of aerospace CNC machining processes, such as 3,4, and 5-axis CNC machine milling, CNC turning, and wire EDM machining. Note that the sizes or guidelines below are general, and if you have a need for a quote that is outside these boundaries, please make sure to request a quote review from us so we can take a look at your requirements and suggest the best options to manufacture your parts.
3-Axis CNC Milling
4-Axis CNC Milling
5-Axis CNC Milling
CNC Turning
Wire EDM Machining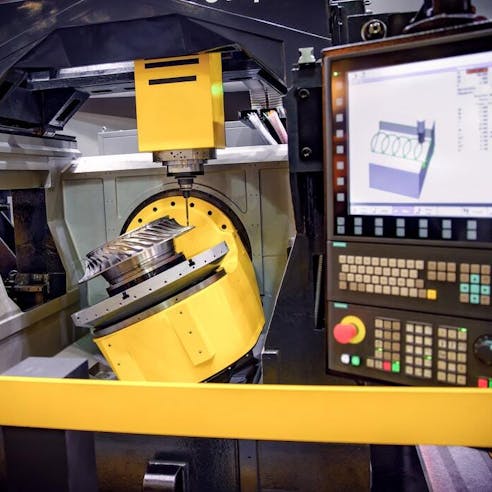 3-Axis CNC Milling
Xometry offers 3-axis CNC milling for parts up to 60″. 3-axis CNC machining is the most widely used type of CNC milling machine, where the spindle can move in the X, Y, and Z directions and where the workpiece is fixed. 3 Axis CNC mills are useful for a wide variety of work in the aerospace industry on general components. Learn more about milling processes on Xometry's Custom CNC Milling Service page.
4-Axis CNC Milling
Xometry offers 4-axis CNC milling for precision components up to 36″. 4-axis machining involves adding a rotational axis in the X plane (known as the A axis)  to the three existing XYZ cartesian axes, allowing for the machining of four sides of the workpiece and the production of complex profiles like camshafts, eccentric parts, and other geometries. Aerospace components that are complex but must be kept economically viable can benefit from 4-axis milling if 3-axis milling proves to be too difficult. 
5-Axis CNC Milling
Xometry offers 5-axis CNC milling for precision machined components up to 26″. 5-axis machining is one of the most complex CNC milling procedures, where the XYZ axes are supplemented by 2 rotational axes (either the A & C or B & C axes, based on the type of 5-axis CNC machine used). Either the workpiece or the spindle will rotate to provide additional degrees of freedom when fabricating, opening up 5 sides of the workpiece to machining operations. This system allows for highly complex part production and increased design versatility. Aerospace parts are usually highly complex – most have odd geometries that require difficult approaches and sophisticated work-holding solutions – and so 5-axis CNC milling is a vital tooling process when building parts for these applications. 
CNC Turning
Xometry offers CNC turning using dual spindle lathes with 32″ swing, 18″ max diameter, and 8″ chucks. CNC turning lathes (also known as live tooling lathes) hold the workpiece in a chuck and rotate it while a cutting tool removes material to create the part shape. A CNC lathe is ideal for cutting any symmetrical cylindrical or spherical parts about a common rotational axis. There are several types of CNC turning machines, but the most common are 2-axis CNC lathes and Swiss-type lathes. Swiss-type lathes are unique turning machines that are particularly useful for long, slender CNC lathe parts and micromachining. Some Swiss-type lathes also come equipped with CNC mill tools, allowing for multiple machining operations without moving to a different machine. Learn more on Xometry's CNC Turning Service page.
Wire EDM Machining
Xometry offers Wire EDM machining (also called Electrical Discharge Machining) for parts in just a few days, not weeks or months. Wire EDM machining uses a thin single strand of wire fed through the piece or part along with deionized water. The process uses electric current to cut away conductive materials from the part and leave behind a smooth surface that does not require post-processing. It offers exceptional accuracy and extremely small tolerances, allowing for highly fitting parts with smooth as-cut finishes. Learn more on Xometry's Wire EDM Machining Service page. 
Aerospace Manufacturing Certifications
Xometry is certified for precision CNC machining services for manufacturing in the aerospace industry with the certifications and registrations below:
ISO 9001:2015 and AS9100:D certified
ISO 13485 compliant  
ITAR registered
Can offer CoCs, material certifications, material and process lot traceability, full dimensional reports, inspection reports, and hardware certs.
All Fair Article Inspection Reports (FAIR) are completed using AS9102 forms to ensure full project requirements are understood and met. 
Copyright and Trademark Notices
Inconel® is a registered trademark of Huntington Alloys division of Special Metals Corp., Huntington, WV.
Why Choose Xometry for Aerospace CNC Machining?
Endless Options
Choose from millions of possible combinations of materials, finishes, tolerances, markings, and certifications for your order.
Easy to Use
Get your parts delivered right to your door without the hassle of sourcing, project management, logistics, or shipping.
Quality Assurance
We are ISO 9001:2015, ISO 13485 and AS9100D certified.
Ready to Get Aerospace Machined Parts?